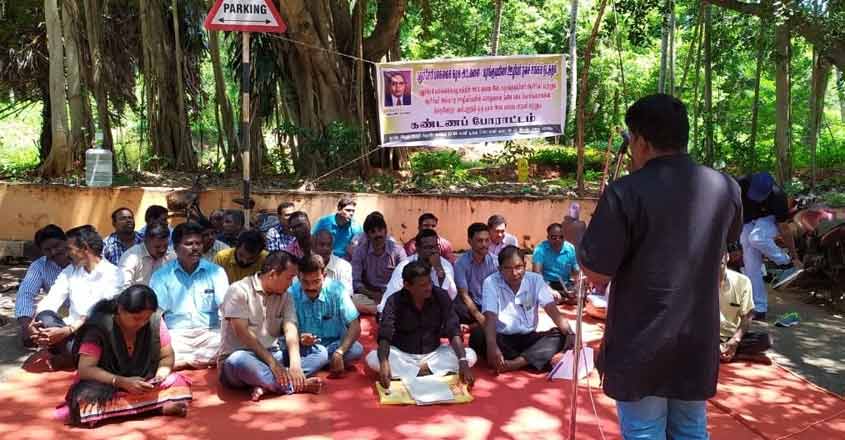 Puducherry: Pondicherry University has witnessed several student awakenings recently. Soon after their recent rallies and demonstrations objecting to hike in academic fees and transport charges, a section of the teaching and non-teaching employees of the University have come forward demanding speedy redressal of various grievances promised to those from the Scheduled Castes and Scheduled Tribes.
During a one-day token hunger strike called last Thursday, the protesters claimed the teaching and non-teaching employees who belong to the SC/ST categories have been facing several constraints in getting their rights fulfilled. The agitation that started around 10 am on October 3 saw the participation of around 65 to 70 employees. They shouted slogans and held up placards to invite the attention of higher authorities at the University.
Staff and non-teaching staff from various departments of the University and its Karaikal campus showed their support and solidarity.
"We strongly condemn this casteist attitude of the top-level officials of the University. We urge the administration to respect our demands. University officials refused a meeting with us as they have an impression that we are 'Untouchables' and 'Un-See-ables.' We demand the administration to address our grievances immediately and render proper justice," Jerome Samraj, President of the SC-ST Employees Welfare Association (SCSTEWA) and Assistant Professor of Department of Economics in Pondicherry University, told Onmanorama.
The executive council put forward over 22 demands, a major one being reservations for Economically Weaker Section (EWS) cannot be applied for backlog vacancies and it should be applied only for newly created vacancies that arose after February 1, 2019.
The Association charged the University administration of nepotism over extending multiple charges and portfolios to a select employees, thus demoralising others.
It also demanded proper promotion avenues for employees of all sections including the technical cadres and ensure financial benefits as per the UGC norms. A special reservation cell with suitable space and adequate manpower, proper disciplinary procedures and departmental action against officers who provide inaccurate report to the National Commission for Scheduled Castes were some other demands raised by the outfit.
"We have been facing systematic exclusion by the Pondicherry University administration in recruitment process, PhD admissions. SC-ST faculty and non-faculty association are denied space to conduct meetings inside the University premises," Srutheesh Kannadi, a PhD scholar of Mass Communication at the University, said.
"The academic agraharas continue to deny the constitutional rights of people coming from marginal backgrounds and force us to sit in protest on streets. We are getting treated as 'untouchables' and we seriously feel this as a kind of caste atrocity and basic human rights violation," the scholar added.
The strike concluded at 5.30 pm with the protesters drinking juice.