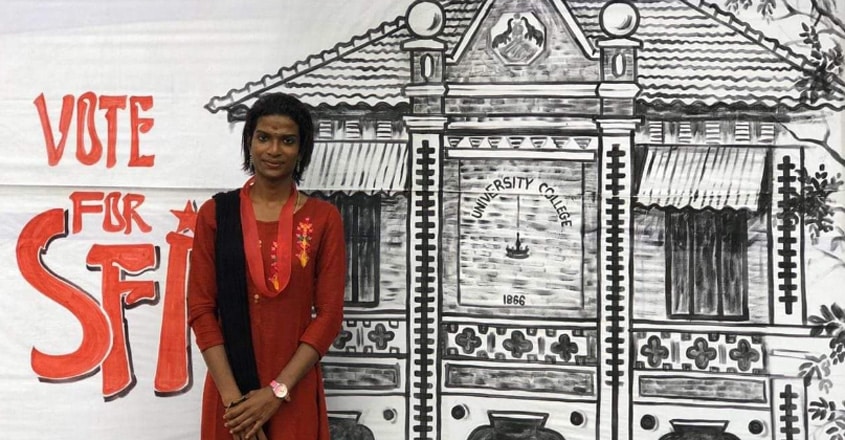 Transgenders have been derided and sidelined for ages. They are taking tentative steps to assimilate into the mainstream society with the help of laws that demand compassion and decency to fellow beings in various walks of life. Affirmative actions by goverments also enable the third gender to make their voices heard, join educational institutions and workplaces and even organise themselves.
Arunima Sulfikar, 19, is one among the thousands of trans people in Kerala which has been taking a few laudable steps to integrate and uplift her community.
Today the Leftist is the first-ever transgender student representative at the University College in Thiruvananthapuram. With her recent marriage to a man, who is also a communist, she has settled in the Kerala capital. She sees him, Sulfikar, as her biggest support. Hers could be one of the rare marriages of a politically active transgender, at least in India, though same-sex marriages of politicians have been reported from the West.
Here Arunima talks about her personal and political journey.
"Since childhoold I am associated with the CPM as I was born and brought up in a party family. I cut my teeth with its outfits Balasangam, SFI and DYFI. I am one of the two transgender members of the CPM in Kerala," she threw light on her political evolution.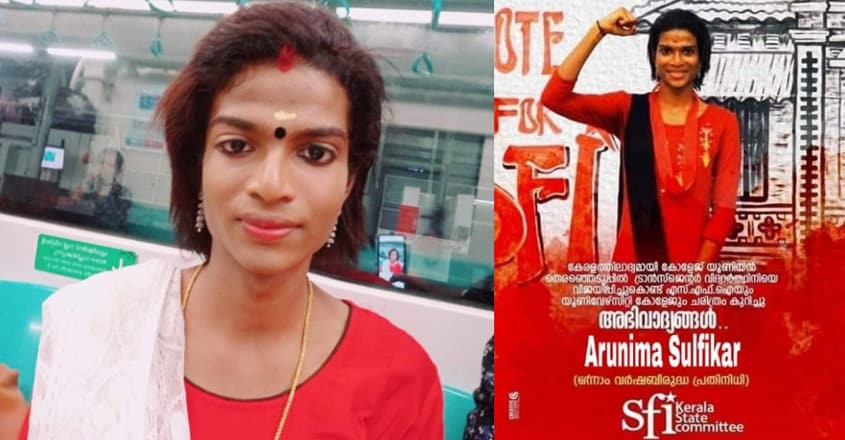 Marriage has not slowed down her activity in the public sphere. She is now the state secretary of CPM's All-India Transgender Association and the secretary of DYFI's transgender unit. She is also the secretary of Sree Suraksha Kudumbashree Unit of her community at her hometown Alappuzha.
"I maintain a good relationship with other parties, but I am in love with the SFI," she added. "Women empowerment is my focus. I want to fight for the general public not just for my community."
Her fiery spirit likely developed owing to her bitter experiences as a child. Like any transgender, Arunima had a traumatic experience while engaging with the general society since her schooldays. She refused to use the boy's toilet or sit with them. Her parents understood her strong urge to be a woman despite seeking professional advice to orient herself.
"I always knew I am a woman. I have a woman's heart on a man's body and I want to live and die as a woman. A woman who is strong enough to fight for other women. I have always tried my very best at everything I did," Arunima said while stating she had no doubt about her gender.
"I survived a lot to reach here. I was discriminated and ill-treated in school. I still remember at Christmas the cake was split between girls and boys and I was denied the slice. Trangenders are viewed badly. My cousin was insulted once over a visit to my home. I was blackmailed often but the police never supported. We protested against this and now the situation has got much better," she narrated her ordeals over the years.
Her interest in Law stems from police apathy she had come across.
Despite discrimination, Aruna fought back at school. "From KG to 12 I was selected as the class leader and school leader, and during my higher secondary I was the chairperson. I believe in having what is mine so people are usually afraid to mess with me. Even though they mocked and brought me down, I voiced my views fearlessly and that fight still continues," Arunima noted.
Arunima's misgivings about reception on the University College campus evaporated soon after she joined there.
"I was afraid whether people will accept me in college but I was received well. My teachers and friends supported me throughout and especially during the elections. This is the best atmosphere I have been in. I won without an opponent," she revealed.
"We need ministers, MLAs and MBs from transgender communities. Next election I am going to represent my district as a CPM candidate. I will ask the party because people from our community should also be represented," Arunima said as she raises the bar.
Her bonds with the transgender community developed in her late teens. She found her own mates while travelling by bus while she was in Class 12. It was around this time Arunima decided to publicise her true gender and started to demand the dignity she deserves.
"I saw two women who were like me, dressed up with lipstick and all. It was curiosity at first. Soon I became friends with them. That time there was no association for people like us in Alappuzha, but, today Sree Suraksha Kudumbashree Unit even runs a marriage bureau. It has already provided job for almost 10 members at the Amrita Hospital and two for Amazon.
Today things have improved but many trans people are in to sex work because of poor access to jobs, she added.
Arunima is well exposed to multiple faiths and cultures.
"I married a comrade. Our religions are different -- my father is a Hindu, and mom, a Christian and now my husband is a Muslim. I worship Naga gods, right from my childhood. My only prayer was to become a woman. I am happy now that it is fulfilled," she said ging a peek into her personal world.
She met Sulfikar for the first time during the last Kalolsavam, the annual arts fest of schools in Kerala. "We had a lot in common and soon became good friends. He loved the feminist in me. It has been three and a half months since we have got married," Arunima narrated her love story.
Arunima's favourite subject is English. She loves travelling, singing and public speaking.