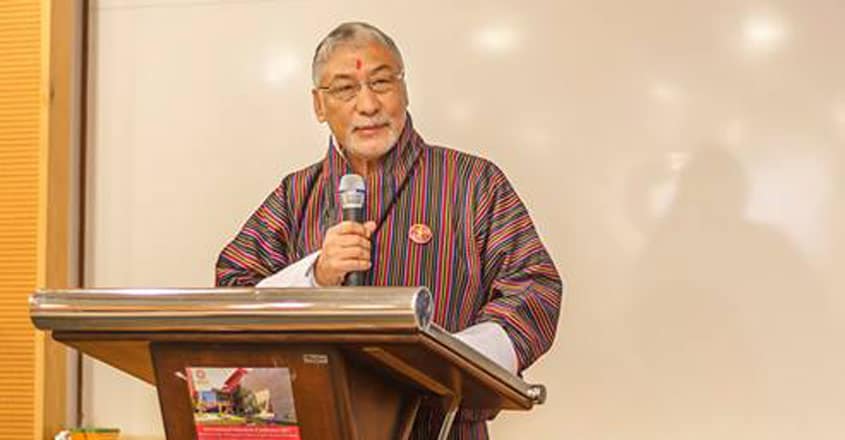 India and the Himalayan Kingdom of Bhutan share centuries-old cultural links and a bilateral relation spanning many decades.
An India-Bhutan Youth Summit was organised in New Delhi recently commemorating the golden jubilee of friendship between the two nations. Our Campus Reporter was a part of the delegation upon invitation by the Centre for Escalation of Peace in India and Bhutan's Royal Institute for Governance and Strategic Studies.
Delegates had the opportunity to interact with the top brass from both sides of the governments, particulary Bhutanese Ambassador to India Major General Vetsop Namgyel, Speaker of the Bhutanese National Assembly Wangchuk Namgyel, Minister for Economic Affairs Loknath Sharma and Minister for Health HE Dechen Wangmo. Piyush Srivastava, Joint Secretary in India's Ministry of External Affairs also met the delegates.
Here's an excerpt from an interaction with Vetsop Namgyel, Bhutan's Ambassador at the Royal Bhutanese Embassy in New Delhi.
Your Excellency, what are your thoughts on the unique bonhomie shared by India and Bhutan on the occasion of the 51st year of diplomatic relations between the two nations?
India and Bhutan share a deep-rooted relationship, one that has continued for more than half a century. It is indeed a moment of great joy. Geography had already dictated that the two nation states be partners with shared goals and aspirations. Both Hinduism and Buddhism agree on a common thread of karma, dharma, moksha and reincarnation. Lord Buddha and Guru Rinpoche (one of the founding fathers of Tibetan Buddhism) had called India their home.
Both our countries share a time-tested relationship, one that predates back to the age of the British Empire. When India had formally gained Independence and became a Republic, Bhutan was among the first nations to recognise its sovereignty.
India's former Prime Minister Jawaharlal Nehru, on the final leg of his official state visit to Bhutan in 1958, treaded on yak-back along the picturesque mountains of Paro. This humbling act by Nehru had struck a deep chord with the people. He had asserted that Bhutan remain as an independent country and choose its own way of life and path to progress.
The recent visit by Prime Minister Narendra Modi have raised ties to an all-time high.
I personally have a deep and profound relationship with this beautiful country. My formal education was done at Darjeeling's St Joseph's College, North Point. I was later called upon to join the Royal Bhutan Army during my training at the Indian Military Academy in 1972.
The exclusive connection the two countries share is unlike any other, and Bhutan regards India as its greatest friend and partner.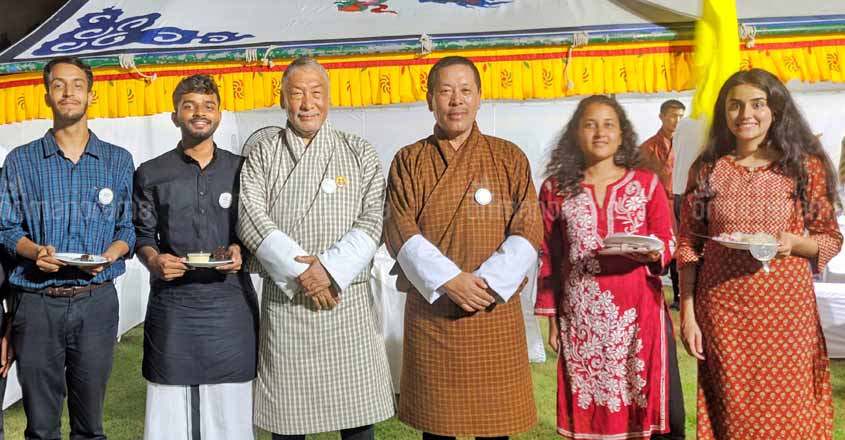 The Youth Summit has been a medium for both educational exchange and cultural discourse between both the countries. What do you think are areas of shared interests?
I do believe that the youth from both the sides are passionate and motive driven in their respective areas of expertise. In a quest for progress, the younger generation should ensure that their tradition and value systems do not suffer. Everything in the world today is well within the reach of anybody with a stable connection to the internet. It is important that the technology be used to aid in progress and holistic development. In both nations, fast food has slowly replaced traditional homemade recipes. English has evolved into the medium of instruction, replacing traditional dialects and languages. Our traditional clothing has made way to classy and trendier western wear. In Bhutan, the government has made it mandatory that everyone wear the traditional Gho and Kira. We believe that this is a sincere symbolism of our identity. The people have a strong conviction that with only money and no family values, life has no purpose. Our leaders had so introduced to the world, the philosophy of 'Gross National Happiness (GNH),' a concept used to measure the collective happiness and well being of a population.
Our youth should try and balance today's advent of opportunity and advanced technology with their true goals and aspiration, leaving no scope for addiction.
The Bhutanese administration has been shy on welcoming Foreign Direct Investment to the country in certain sectors. We'd found out from the interaction with our Bhutanese counterparts that the country is devoid of popular American fast-food chains like McDonald's, KFC, Subway and the likes. Why do you think the government has taken such a stance against such outlets?
I should say it is so as these retail giants do not comply well with Bhutan's GNH Policy. On a primary note, they are unhealthy on the people. And since the country strongly discourages animal slaughter, meat is mostly imported. Another important factor is the kind of disruptive business strategy on which these companies operate. Their annual turnover might be well over our whole country's gross product. Even while we lack such eateries, you will find every assortment of Indian, Korean, Japanese, Thai and Chinese restaurants scattered throughout our little towns. Eating outside on the contrary has not been a well accepted practice in our society. We believe that cooking and eating together at home contributes to a well-knit family.
In terms of a rather challenging economic situation around the world today, what do you feel are adequate measures in order to diversify the economy in the country?
Hydropower remains to be Bhutan's major export, but we cannot afford to rely on it eternally. We have been looking towards harnessing our natural reserves like calcium carbide and limestone to tap into the export market. Building an active entrepreneurship culture is also a goal.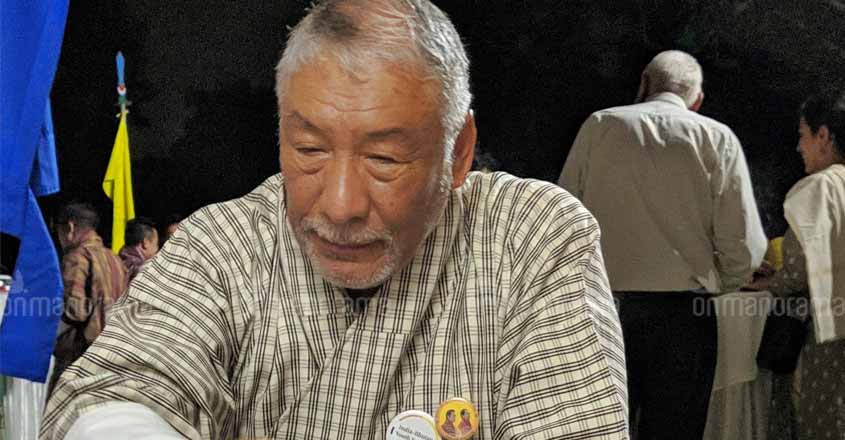 The government of Bhutan strongly adheres to a 'High Value, Low Impact' policy which leans towards environmental conservation even while promoting the country as a high-end tourist destination. Both our countries could equally benefit from such a lucrative sector. The Space and Information Technology sector is another field where both countries are seeking to benefit. ISRO's new ground station in Thimpu is an example for this sort of partnership. Fine-tuning the environmental policy is also on the agenda, with special emphasis on clean air and water. Playing to our assets of organic farming, soft skill and handicraft industry from villages would improve the lives of the primary, secondary and tertiary sectors alike. Similarly, in the service industry, we plan on investing in wellness centres, lying within the purview of the GNH policy. The education sector is poised to impart quality knowledge and information, such that the country could eventually open doors to foreign students to pursue their studies in the country.
Bhutan had recently transformed into a democracy. Has the newly formed machinery succeeded in alleviating the apprehensions of an emerging population?
Bhutan can be described as a constitutional monarchy. The initial process of democratisation was initiated by our third king Jigme Dorji Wangchuk in 1952, when he had established a 130-member National Assembly to run the country in a democratic fashion. Slavery was soon abolished in 1958 and the King included measures into the Constitution that sets a ruling monarch's retirement at 65 years of age, which he actually did in 2008.
The first democratic elections in the country was in 2007 and all the subsequent levels of government had been elected by vote in 2011. Our people have been apprehensive of a democratic form of governance. It should be noted that no single party in the last three terms have been re-elected. Credit could be given to the wise leadership of all our monarchs who had prioritised the welfare of their people above all else.
While our countries have an excellent track record for fostering friendship what are the challenges that need to be addressed ahead?
Quality education and skill development are the areas where both countries are looking into. The country has qualified professionals and educators from India who have been instrumental in the growth of the education sector. We hope to impart more emphasis in the field of STEM right from primary school levels. India's IITs and IIMs are the most sought-after institutions in the world with a very low acceptance rate. We hope to include more of Bhutanese students to study in these premier institutes. As Bhutan is transitioning into the IT age, the resources and infrastructure have to be developed. They are being done in partnership with India. Both our countries are faced with an overwhelming influx of tourists, and this has taken a toll on the biodiversity of the region. Policies aiming to promote the land as an exclusive tourist destination are in the framework, where the onus is on both the parties to conserve the environment.
Have sacrifices been made in terms of economic progress in the country while implementing Gross National Happiness over a concrete Gross National Product indicator?
Not actually. While shortcuts achieve the said targets on paper, every country should strive to bring about a permanent solution to the issues at hand. Conservation of the environment is one of the four pillars of the GNH philosophy. Today the country has a total forest cover of 71 percentage, which according to a constitutional mandate has to be maintained at a minimum of at least 60 percentage at all times. It is also the world's only carbon negative country i.e. Bhutan absorbs more CO2 than it produces. In terms of the long-term interests of the country, we believe the GNH indicator aims at a cleaner, more sustainable future where all the stakeholders are equally benefitted. A happy, healthy population is after all, a country's greatest wealth.