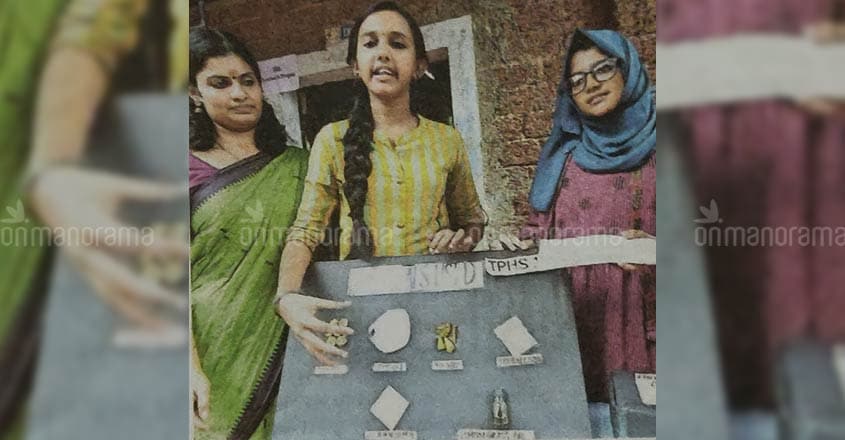 Personal hygiene concerns are behind the recent bids to promote the production and use of affordable sanitary napkins especially among underprivileged women. A 2018 Hindi film named 'Pad Man' is even based on a Tamil social activist who introduced low-cost sanitary pads.
At this year's Kerala School Science Fest, two Class-10 students -- PV Nayana and Fathimathul Nafra -- impressed spectators with organic sanitary napkin made from soybean.
With soybean as base for the disposable absorbent pad the duo not only introduced a unique method of making organic sanitary napkins but also pledged their commitment to nature.
Nayana and Nafra are students of the Higher Secondary School at Kadambur in Kerala's Kannur district.
They claim that the organic napkins are safe for use as chemicals are not used in it. Besides, these biodegradable napkins pose absolutely no harm to the nature.
Napkins made using organic and biodegradable materials like coconut fibre, water hyacinth, banana stem and jute are already in the market.
Nayana and Nafra said extensive research done in this field had inspired them.
Soybean' incredible ability to absorb water made us try out its possibilities, they added.
After making the napkins, they conducted further experiments and tests at SN College, Kannur, and also at a Bengaluru facility. The experiments there proved successful which further motivated the students to present it at this year's School Science Fest.
Besides soybean, organic materials like beeswax and cotton too are used in this sanitary napkin. Making a single piece of this organic soybean napkin would cost Rs 3. However, the students say that it would only cost Rs 1.5 per piece if the napkins are industrially produced.
Nayana and Nafra were guided by Roshita who is a teacher at their school.