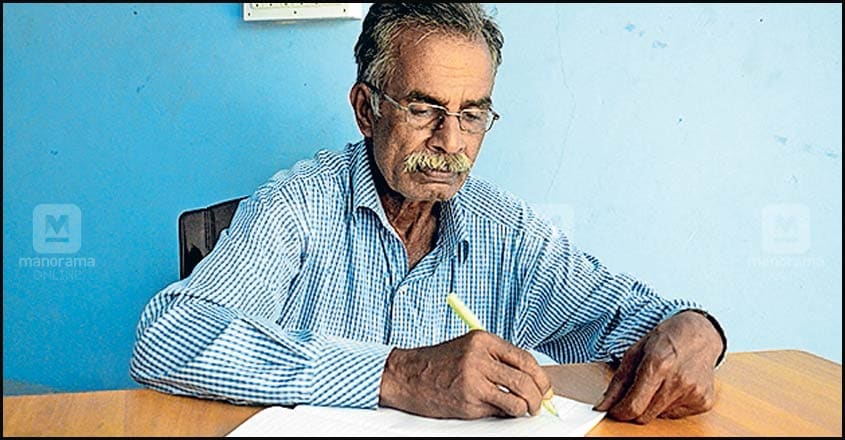 Haripad: Adult education is gaining currency as people who couldn't pursue studies when young avail opportunities to realise an unfulfilled dream. For instance K G Parameswaran Pillai, a second-year BCom student, is also planning to pursue Diploma in Electrical and Electronics Engineering and later B Tech. Pillai is 66 years old, but has the drive to study.

When people of his age are well into retirement, Pillai is gearing up to realise his childhood dream of becoming an engineer. Pillai was forced to take up employment after completing his matriculation due to financial crunch in his family, and worked in a factory in Chandigarh for 15 years.
As Pillai returned to his hometown, his wife and daughter stayed back in Haryana. He had the burning desire to continue studies and to fund his studies, Pillai opened a fertilizer depot at Pallipad market near here in Alappuzha district, and was also involved in the distribution of newspapers.
Later, he came to know about the B Com course under the literacy mission and joined it. But his ambition to become an engineer took him to Kottiyam Sree Narayana Engineering College in Kollam district where he enrolled for the evening batch of the Diploma course in Electrical and Electronics Engineering two months ago.
Everyone on the college campus respected Pillai who is older than the college principal, and he would be the chief guest in all the college functions. But Pillai had to discontinue his engineering studies as he couldn't raise Rs 35,000 as fees for the first semester. He is planning to rejoin the college next year after coughing up the requisite amount for remitting fees.
After completing diploma, Pillai is planning to graduate in Engineering.
"I am not studying to become a government employee. I want to start a business and give employment to people," says Pillai.