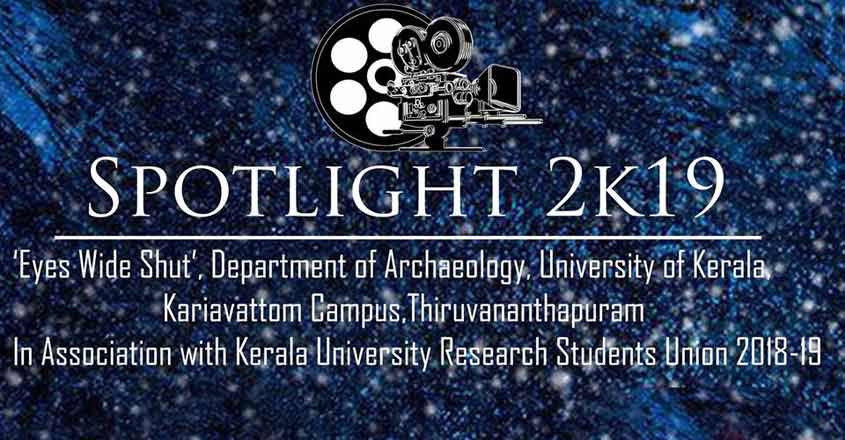 Thiruvananthapuram: The University of Kerala has called for entries to their film festival 'Spotlight 2K19' to be held in Karyavattom campus here on December 18. The film club of the campus 'Eyes Wide Shut' in association with Department of Archaeology and Kerala University Research Students Union will be organising the fest in two major categories- professional and non-professional.
Non-professional short films are those produced without any association with known film production houses, nor representing any film schools or involvement of popular technicians in the crew. The maximum duration of the film should be 30 minutes including titles.
Entries to the competition can be submitted at the reception cell of Department of Archaeology till December 10. Entries can also be submitted online. Films made after January 1, 2017 are eligible for the competition. Copy of the entry can be submitted in DVD format, pen-drive or hard disk. Registration fee per entry is Rs 500.
The judgement will be made by a panel chosen by the college authority. Selected 10 short films will be screened for the general public on the same day. There is also an option for the audience to choose their favourite film from the festival.
The best short film in the non-professional category will receive Rs 20,000, a certificate, and a memento. Second vest will receive Rs 10,000, and Rs 5,000 for the third best film. In the professional category, best short film will receive a cash prize of Rs 25,000, certificate and memento.
General category awards include popular short film, best director, best actor, best actress, best DOP, and best child artist.
For more details, contact: Ajith (9995832759), Muhasin (7907787148), or Rahul (9349202087).