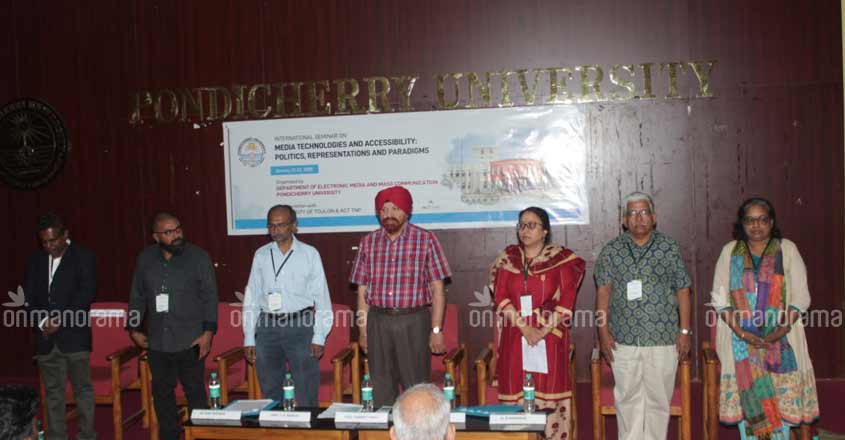 Puducherry: Department of Electronic Media and Mass Communication in Pondicherry University has begun this academic year by an Open International Media Conference for two consecutive days on January 21 and 22.
The department has organized for the first time an International Seminar on Media Technologies and Accessibility. The Conference emphasized on the topic 'Media Technologies & Accessibility: Politics, Representations & Paradigms'. The two days' conference and seminar have been organized in collaboration with University of Toulon, France and The Association of Communication Teachers Tamil Nadu and Pondicherry.
Vice Chancellor of Pondicherry University Dr. Gurmeet Singh confirmed his presence was present at the inaugural ceremony. A total of 85 papers were presented in three parallel sessions over two days.
Three presentations from University of Toulon, France were presented through Skype.
The seminar was conducted in the Lecture hall of EMMC Department. The major significance of the event was, the Seminar has marked the 100th anniversary of Journalism & Communication in Tamil Nadu and India.
Another attraction of the conference was the paper presentation by academicians, research scholars and media professionals. The call for papers on various media themes were invited from December 2019 itself. Registration was opened for faculty from Universities/ deemed Universities, Government & Aided Colleges, faculty from Self -Financing Institutions, Junior Research Fellows and Non – NET fellowships, Industrial Practitioners and Faculty from Abroad.
Peruvemba Jaya, an Associate Professor from the Communication Department in University of Ottawa, Canada and Vijay Devadas Faculty from School of Communication in University of Auckland were the speakers from foreign Universities. They detailed about the scope of media technologies in contemporary global village.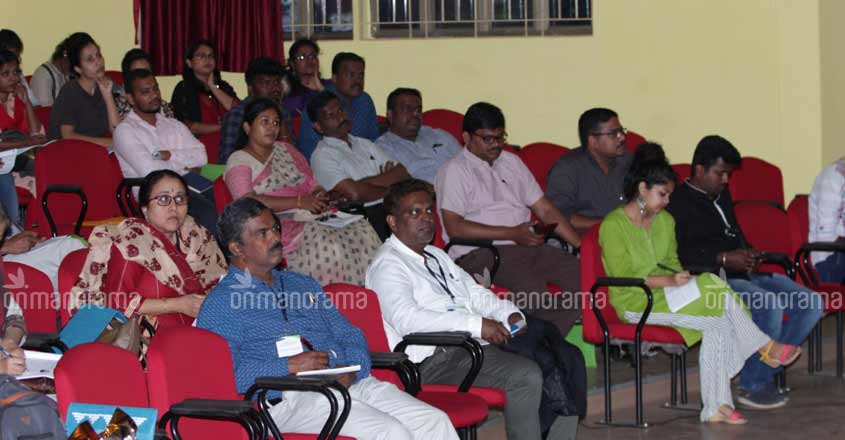 Women/ LGBTQ/ Queer visibilities in Media, Body positivity in media/ social media, Surveillance, Access and Control Society, Media and Critical theory, Social media politics and performativity are the crucial media related topics discussed during the conference.
"The Seminar attempts to capture 'access' and its varied contextual meanings in relation to traditional band digital technologies. What constitutes access also leads us to engage with what constitutes subject. Further, access to technology as well as content is an enabling factor in today's post-human social world," Dr. Mohammed Haneef, HOD of EMMC told Onmanorama.
The selected papers would be considered for publication in an edited book volume of an International publisher with ISBN immediately after the conference. Organizing secretaries were the faculty members of EMMC Department, i3m Ingemedia Department, University of Toulon and ACT-TPN. Conference has aimed to discover several dimensions of media access and related concepts from multiple perspectives. The event also aims at probing in to the realms of access to technology. Seminar has discussed on digital divide and how women having no access to public sphere with Wi-Fi zones.
The conference seeks to concentrate on the rise of technologies in media professions and how it overshadowed by perceptions of access.
"I have really enjoyed my two days here. I would like to thank the organisers. It's been a pleasure to participate and to enjoy the interesting ideas from younger scholars. We have learnt many new things from the young scholars. We have to be very careful about how we use methodology. We have to be very careful while representing a particular community. Be more rigorous and aware" Peruvemba Jaya from University of Ottawa said.
At last during the valedictory session Binek Krishna, a research scholar from University of Madras has condemned CAA implementation in India and had praised Rabeeha Abdurahim, A former student in EMMC department at PU who has rejected her gold medal from President of India during convocation ceremony in University. The scholar has appreciated the faculty in EMMC department for producing students like her.