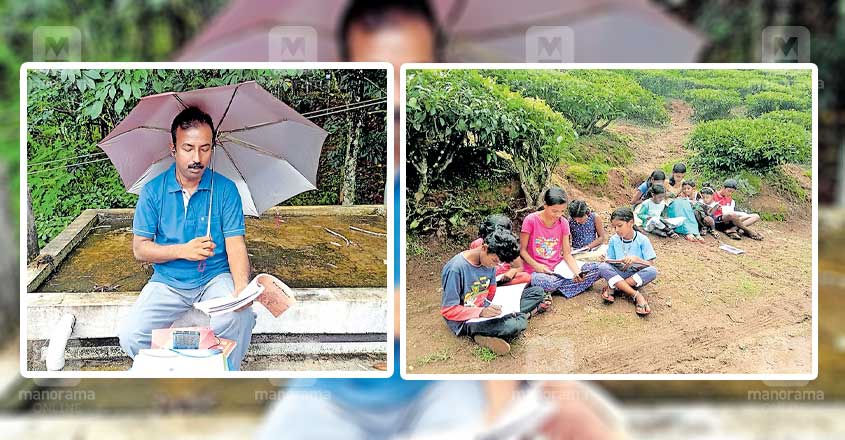 Kaduthuruthy: As Kerala switched to the digital mode of education owing to the shutdowns of public places over the COVID-19 pandemic, many households have by now realised the need for either broadband linkage or robust mobile network in their area. Both teachers and students are desperately on the lookout for areas where they can access the internet without any trouble while using smartphones or laptops so that they don't miss out on the online classes. 

Such is the plight of some owing to connectivity issues that Shino Joseph, a teacher at the Holy Kings Public School at Piravom in Ernakulam, has to climb to the rooftop of his house to take classes!
A native of Arunassery in Kottayam, Shino faces poor network connectivity issues at his home and premises. Thus, Shino has been taking the online classes using his mobile phone from the rooftop since the start of the academic year in June. 
With an umbrella in one hand and the mobile phone in the other, Shino climbs on top of his house. Even then he faces connectivity issues at times. 
The teacher said that he was ready to go to any extent for the sake of his students' education. Shino is the English teacher for students from class 6 to 10. 
Students trek around
In the neighbouring district, Idukki, a bunch of students pack their lunch and leaves for the plantations in the morning. They are not going to work at the plantations. Instead, they are heading for their digital classes. 
Most of the estates in Munnar do not have mobile network coverage. But in certain estates and hilltops, students are able to access the internet.
The students need to walk for several kilometers to reach such areas, where they are assured of better network connectivity. 
Students with mobile phone roam around the plantations with the gadget in the mornings. When they locate areas with network coverage, they call out to their friends. As all of them do not have the gadgets, a group of four or five students use one mobile phone. 
Even plantations near the Munnar town suffer from poor network connectivity.
Students at the Pazhayakadu and Anamudi divisions of the Periyavarai estate have to walk for 5km to reach areas with better mobile network connectivity.