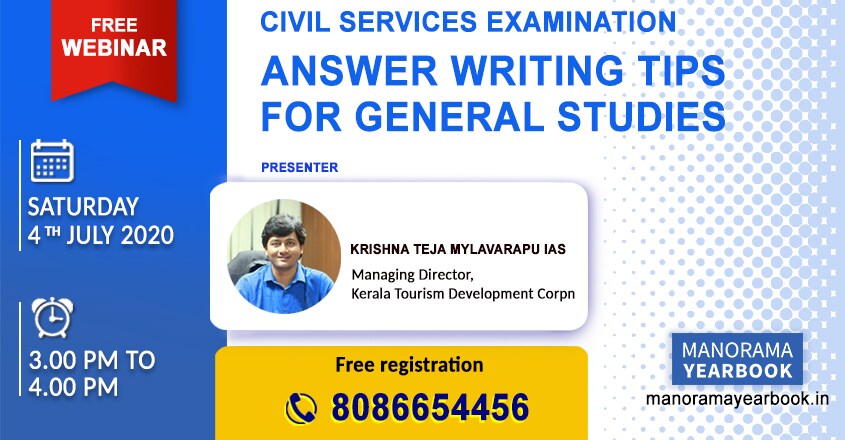 General Studies is a major part of the UPSC Civil Services Examination. A clear plan is a must for preparing for this portion though the exam pattern and weightage of marks may change over the years.  

A candidate gearing up for the exam is expected to have a thorough knowledge over national and international issues, topics of social relevance etc. Hence the preparation of General Studies, which covers current events, history, governance, economic and social development and other general issues, demands a sound strategy.
To help devise new methods of preparation, Manorama Yearbook Online is organising a free webinar on 'Answer Writing Tips for General Studies' on July 4, from 3 pm to 4 pm.
The session, fourth in the series of webinars hosted by YB Online, will be presented by Krishna Teja Mylavarapu, IAS, Managing Director of the Kerala Tourism Development Corporation.
To register, visit https://bit.ly/2VvxbPL or dial 8086654456.
Manorama Yearbook Online is a platform exclusively for UPSC aspirants. The content includes daily current affairs, quizzes, mock tests and videos that help users prepare better for exams. The daily updates complement the wealth of information available in the print version of the Yearbooks.
Visit: https://www.manoramayearbook.in/home.html