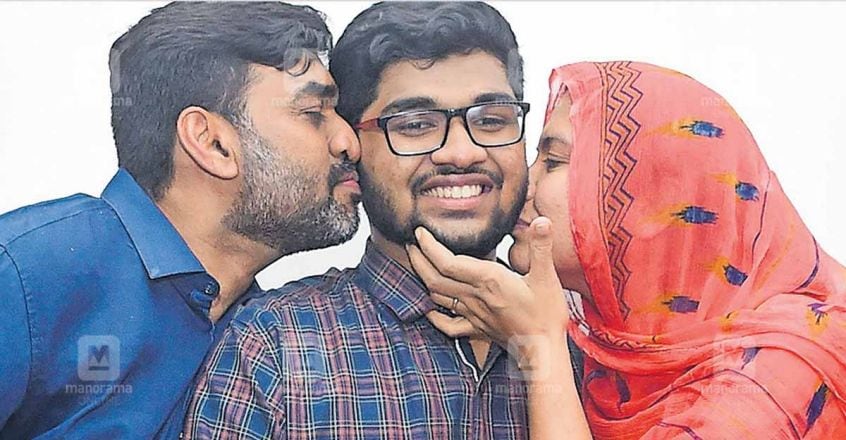 New Delhi: Kasaragod native Ibrahim Suhail Harris is the state topper in the Joint Entrance Examination (JEE)-Advanced with an all-India rank of 210. He scored 261 out of 396 marks.
Results of the JEE-Advanced, for admission to IITs, were declared on Monday.
Alan Babu of Peroor in Kollam is at the second spot in the state with an all-India rank of 237. He is followed by Adithya Baiju of Vettilathazham in Kollam with an all-India rank of 592.
Aiming high
After completing class X, Ibrahim had relocated to Kottayam for entrance training.
"IIT was my sole aim when I left Kasaragod for my studies. I was determined to make it to the premier institution," said Ibrahim.
This is his second attempt. Last year, he had qualified for JEE-Advanced, but his rank was 6,100. After realising that he would not get his preferred course, he decided to dedicate one more year for entrance training. And his efforts proved to be fruitful.
Lockdown was beneficial
Ibrahim said that as the exam got delayed due to the COVID-19 lockdown, it benefited him.
"I studied for more than seven hours every day during the lockdown. I also used half of my time to attempt mock tests," he explained.
He had secured 960th rank for JEE-main exam.
Ibrahim wants to join BTech computer science at IIT Madras or Bombay. He is also trying to gain more knowledge about artificial intelligence and block chain technology.
Ibrahim is the son of Chattanchal natives M A Harris and Sameera.
Topper not joining IIT
Chirag Falor of Pune notched up the first rank in the JEE-Advanced. But he is not joining the prestigious IIT. Chirag had joined the Massachusetts Institute of Technology (MIT) in the US in March itself. He is currently attending the online classes from his home in Pune.
Chirag had secured 352 marks out of 396 marks. In the weeks running up to the JEE-Advanced exam, Chirag was preparing for the entrance during the daytime even while attending the MIT classes in the night.
Chirag said that he had preparing for the IIT entrance for the past four years, and that no other exam has such a vast and difficult syllabus. But for MIT, personality and potential are also evaluated, he added.