I was attending a full-house talk by renowned journalist P. Sainath whose work I have closely followed and admired. And as I was engrossed in appreciating his command over the state of affairs in rural India, I noticed he had asked the audience an extremely thought-provoking question: "Do you realize your kids will never meet a bonafide freedom fighter who gave everything and gained nothing for our independence?" And the question gave me goosebumps and I was left experiencing a strange sense of uneasiness that refused to go away for a while.
On my way back home, I pondered how unfortunate it was for our future generations who will miss out on hearing first-hand narratives of our freedom struggle. For a brief moment in time, I felt unfortunate for not having heard these stories from my paternal grandfather who passed away years ago. It's only when my dad recalls and narrates his heroism that I listen with awe-inspiring interest. During the Quit India movement in 1942, my granddad and his fellow comrade were jailed for un-hoisting the Union Jack from Chikkajajur police station, under the then Mysore Presidency. Until his last days, he received a pension for this brave act of nationalism.
Unlike my paternal grandfather, my maternal granddad was no bonafide freedom fighter, but like everyone else who fought for the independence we enjoy today, he had interesting tales to tell. For a man suffering from Parkinson's, he seemed to distinctly recall this from his fading memory – the freedom struggle days during which their brand new Philips radio repeatedly blurted out curfew warnings.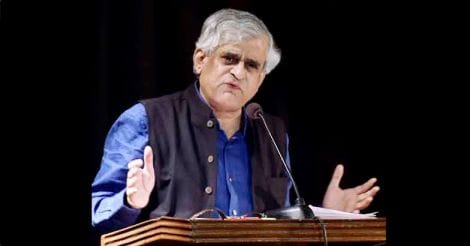 P Sainath
PARI: preserving the narratives
Coming back to my chain of thoughts, I again felt sad for our current generation not having done enough to preserve archives of recorded history that celebrate many revolutionary acts of courage and valor that ultimately made India an independent nation. Our heroes who fought for independence will be gone soon and it's appalling to note that their tales of patriotism will also be gone, leaving behind a few shattered memories to share.
Sainath's People's Archive of Rural India (PARI) blog might be the right step in recognizing and preserving many such visual narratives under their domain 'Foot- Soldiers of Freedom.' But what about those many stories, like the little anecdotes I shared about my grandfathers, who as young students, contributed to ousting the British Empire from their beloved Bharat. I'm sure many such stories exist in our backyards, waiting to be fondly recalled and proudly shared. Do we want our millennials to feel guilty of not having listened patiently to their grandparents memoirs of freedom struggle? Or do we wait before a new age mental illnesses like Alzheimer's and Dementia buries them all?
Countless episodes buried in time
I must admit that I feel slightly ashamed whenever my dad shares heavy names from popular chapters of freedom struggle and I'm left pardoning my ignorance in identifying many of them. This despite my considerable interest in Indian history, which I have inherited from my father. So, if that's the case with well-documented episodes, I wonder what would be an average Indian youngster's knowledge about revolutions like that of the 'Toofan Sena' in Maharashtra, the Issuru rebellion in Karnataka or the Ratnagiri jail break that is famous for the escape of 40 freedom fighters.
Sainath, in his piece in PARI, says how a 94-year-old Ramachandra Sripathi Lad (also fondly known as Captain Bhau, meaning elder brother in Marathi), and his comrades looted the entire payroll of the Bombay Presidency in the biggest recorded train robbery in the British Empire, in 1943. Armed with just sickles and crude country bombs, Captain Bhau's 'Tofaan Sena' (whirlwind army) succeeded in looting and distributing the English money dedicated to paying salaries of the sahibs, among their provisional government in Satara district.
Issuru, near Shivamogga, in Karnataka is credited to be the first village in India that started a 'prati sarkaar' (provisional or parallel government) in 1942, soon after Gandhiji's call for Quit India movement. Not only did the revolutionaries of Issuru draft their own rules and regulations, but also fined the British representatives who dared to enter their village. In a brilliant move of ingenuity, they made 16-year-old children who couldn't be jailed or killed, the functionaries of their new parallel government.
Lest we forget their supreme sacrifice
These incidents are among the many revolutionary episodes that embody the spirit of India's armed rebellion that fearlessly took on the British Raj. However, unless students specialize in history at the college level, they rarely know of these stories of our freedom fighters who laid down their lives to pay for our independence.
Kudos to efforts like that from PARI - who do a commendable job of video archiving brave stories of our last few freedom fighters, so that our kids can listen to them, experiencing the same goosebumps moment that some of us luckily did. However, that's not sure enough. I'm not even sure what can be done on a bigger platform to ensure that the tales of the revolutionary freedom fighters don't go unheard. But I would like to leave my readers with a humble request - if you still have grandparents who can recall days of India's independence struggle, do talk to them today and listen carefully. I sincerely believe that's the least we can do to honor the ideals of nationalism and freedom that they so valiantly fought for. We live in an age of constitutional amnesia, where memories and nostalgia are all dictated to align with our pseudo peace loving sensibilities. In this context, we should not regret not having paid much heed to the many revolutionary narratives of our ancestors who are also our last surviving independence heroes.