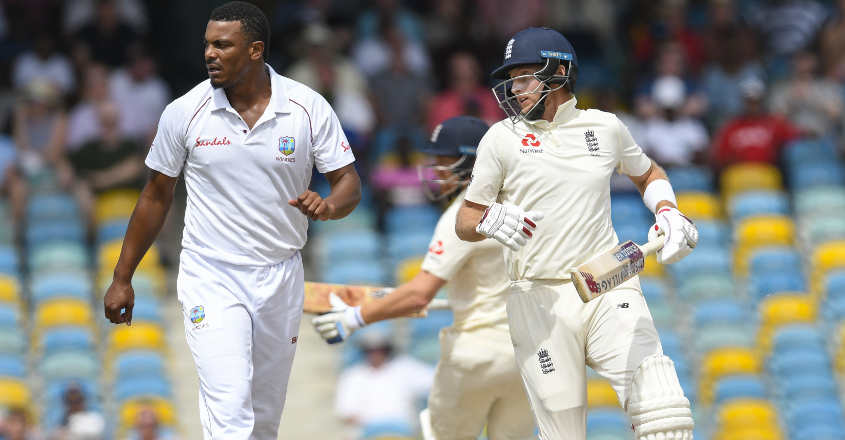 Wikipedia defines sledging in cricket as a practice whereby some players seek to gain an advantage by insulting or verbally intimidating an opposing player. In general terms it means the chatter that is indulged in by the fielding side with the intention of distracting the batsman so that he either gets provoked or reacts to it, thus losing his concentration in the process. Though this practice is an old one, this has been in cricketing news of late on account of certain instances wherein what was spoken crossed the borders of decency. The last of such incidents took place during the Test between the West Indies and England at St Lucia last week on account of which Shannon Gabriel of the host side was handed a four-match ODI ban by the match referee.

The incident happened like this. Joe Root, the England skipper tried to play a bit of mind game on Gabriel by staring at him when the latter was getting ready to bowl. This rattled the bowler who was already feeling the stress of bowling when the match was evenly poised. He asked Root why he was staring at him and whether he liked boys, to which the England skipper replied that there was nothing wrong with being gay. Gabriel retorted that he too had no issues with that but Root should stop smiling at him. Part of this exchange was picked up by the microphone kept close to the stumps and soon snowballed into a controversy that resulted in Gabriel being penalised with suspension. The West Indies fast bowler, on his part, did not contest the charge and apologised for his words. He also spoke to Root, who confirmed that he had "no bad feelings" about what transpired.

This incident tells one about how quickly an attempt at mind games can develop into a major incident. It also shows that the line between innocuous banter and insulting remark is very thin and one needs to tread carefully while indulging in such practices. The presence of stump microphones which tend to pick up part of conversations, thus tending to distort them out of context is an added menace that players should be wary of. This brings one to the question - is there too much of policing being done in a cricket field these days?
Verbal volleys
In this context, it should be remembered that cricket is a game that is played over a longer period of time than most, with the longer version lasting up to five days. Hence it is only natural that there would be some amount of verbal interaction between players of opposing sides. Bowlers and other members of the fielding side might let off steam or show their frustration occasionally but such instances that happen in the heat of the moment are invariably forgotten by the close of play. Most of the players take comments of opponents in their stride and do not allow that to upset their concentration.
It were the Australians who started the practice of employing verbal intimidation to disconcert the opposing batsmen. The Aussies always played the game hard with the intention of winning and never gave up till the last ball was bowled or the final run scored. The image of "Ugly Aussie" was developed during the era when Ian Chappell was the captain and the side had the presence of larger than life characters as Dennis Lillee in its ranks. However, it was Allan Border who started using the tactic of mind games as a part of team strategy to defeat opponents on the cricket field. Steve Waugh, who came later, took it to the next higher level and coined a new word "mental disintegration", may be as a measure to lend credibility for the actions.

An example of how Aussies went about with this approach has been detailed by Shane Warne in his book "No Spin". In the first Indian Premier League in 2008, Rajasthan Royals under Warne took on Delhi Daredevils in semifinals. Virender Sehwag and Gautam Gambhir opened the batting for Delhi side and after the former was dismissed cheaply, Warne went up to the latter, who was standing at non-striker's end and said. "Absolutely no one at this venue, including the Rajasthan Royals has spoken a word about you. It's Sehwag we were worried about, not you, so you might as well get out because it doesn't really matter what you do out here - no one cares"! Warne said that Gambhir was so infuriated on hearing these words that he looked as if he would commit murder. In anger, he slashed at one in the next over and was dismissed, caught at point. Warne knew that Gambhir was prone to bouts of anger and provoked him into losing his cool to secure a quick dismissal.

Initially other sides were taken by surprise at the approach of Australians, which they felt went against the spirit of the game and sense of fair play. However, as time went by, realisation dawned on others that Aussies themselves did not like it when they were paid back in the same coin. Thus, teams which had earlier stayed away from verbal wars also got into the act. The net result was that the amount of chatter going on in a cricket field increased. Further, this practice permeated down to the domestic and even junior level and local matches. The choice of profanities used also became more colourful as did the quantum, leading to a considerable drop in the decorum and dignity of on field exchanges in the one time "gentleman's game".
Classy pacers
It should be pointed out that not all players or sides took to this approach. The West Indian fast bowlers seldom opened their mouths when play was in progress; such was the menace they exuded that no-one dared to sledge them either. Similarly only the hare-brained ones dared to taunt batsmen of the calibre of Viv Richards and Sachin Tendulkar. Once a bowler told Richards after he had managed to beat the outside edge of the great man's bat on couple of occasions "It is red in colour and weighs five ounces; see if you can hit it with the bat". Richards smashed the next delivery out of the ground and told the bowler, "Since you know how it looks, you can go and find it now"!! Sreesanth once tried to stare at Tendulkar during a Challenger Trophy match and the result was that the next ball was deposited in the stands!
There also used to be some sense of humour involved in such verbal jousts. Derek Randall of England, who used to love to get under the skin of the Aussies, turned around and asked Rod Marsh, the wicketkeeper after taking guard, "How are you doing today Marshey?" Marsh was not amused and shot back, "What do you think? That you have come for a f***ing tea party?"! Randall smiled impishly and started batting! In the Centenary Test at Melbourne, Lillee bowled a bouncer which struck Randall on the head. Those days when batsmen batted without helmets, such blows could cause serious injury but Randall carried on batting, much to the annoyance of Lillee, who peppered him with more bouncers, both with the ball and orally. However, Randall was unruffled and went on to play a brilliant innings of 174. During the awards ceremony he got back at Lillee saying, "Thanks for the blow Dennis; it would have hurt had it struck me anywhere but the head"!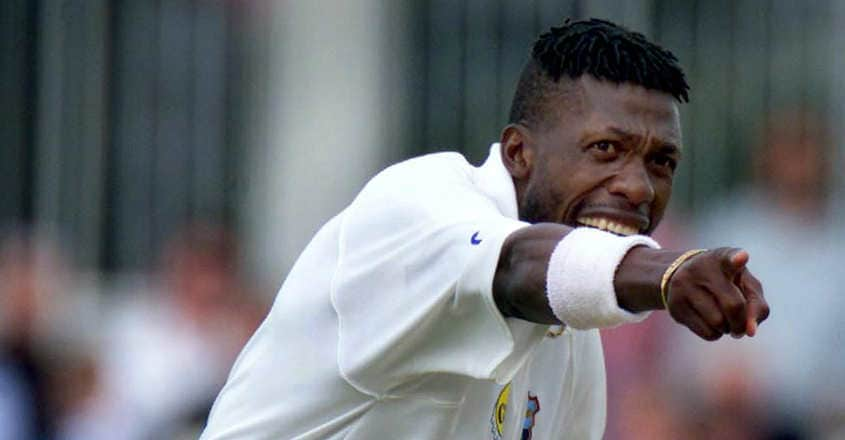 It merits mention that occasionally such exchanges add to the excitement on the ground and produce fascinating cricket. During the quarter final of the 1996 ICC World Cup played between India and Pakistan at Bangalore, Aamir Sohail became a bit cocky after hitting Indian medim-pacer Venkatesh Prasad for consecutive boundaries and pointed to the bowler where he would smash the next ball. This infuriated Prasad who clean bowled the left-hander with the very next ball. Prasad did not forget to show Sohail the way back to the pavilion either! The eyeball to eyeball confrontation between Steve Waugh and Curtly Ambrose during the Test match at Trinidad in 1995 was frightening to the onlookers. It pumped up Ambrose to bowl one of his best spells in Test cricket (five wickets for 45 runs off 16 overs) while Waugh showed remarkable courage and sound technique to stand tall among the ruins with an unbeaten innings of 63, which was the only half-century scored in the match.
Fine line
Thus it can be seen that verbal volleys between players of the opposing sides during the course of a cricket match is not always in bad taste. Everyone would agree that exchanges between players should meet with the canons of decency and not descend into mouthing of insults or personal nature. However, in practice it is very difficult to draw a line which is acceptable to everyone. As an umpire I know from experience that it is the norm for players to use profanities on the field, which is generally taken in one's stride. In most instances it is not the use of a particular word but the manner in which it is uttered that makes the difference. Like in the instance cited earlier involving Gabriel, no cuss words were used but the tenor of the conversation indicated bad taste and thus invited action. Similarly there should be no tolerance for taunts with racist connotations nor any remarks insulting the family members of opponents. If these basic principles are adhered to, on field chatter between cricketers of opposing sides would stay healthy and only add to the fun and excitement of the game.

Finally, a word about the origins of the term "sledging" in cricket. There are many stories in this regard but since they are the self professed pioneers of this "art" it is not surprising that Aussies have claimed credit for the parentage of the name as well. John Benaud, better known as the younger brother of former Australian skipper and legendary commentator Richie Benaud, is credited by Australia cricketers with coining this term. John, who was a decent cricketer, let it rip on a opposing player who got under his skin during a first class match. In John's own words he came down "heavily like a sledgehammer"! The word sledgehammer got compressed into "sledge" on repeated usage, and "sledging" came to be acknowledged as its noun form!

(The author is a former international umpire and a senior bureaucrat)