Kochi: Kochi Metro is a pathbreaker in more ways than one. The solar panels fitted atop the Muttam Metro yard and the 11 stations from Aluva to Palarivattom could partially meet the energy needs of the Kochi Metro Rail Limited.
The KMRL's push for renewable energy has earned the Metro heaps of praise on social media at a time when massive hydel power plants raise concerns.
The first leg of the Metro could use up 2.15 megawatt of electricity generated from the 12,500 solar panels atop the yard and the stations. Metro would be generating 4.5 megawatts of power once the track is completed between Tripunithura and Petta. The solar projects in the yard would take the total output to 6.5 megawatts.
The KMRL estimates that the Metro would need 2 crore units of electricity to run services between Aluva and Palarivattom for a year. The authorities expect to generate at least 17 percent of the requirement from solar energy. Once the Metro project is completed, solar energy would power the line for two months a year. Metro would draw energy from the substation installed at each station.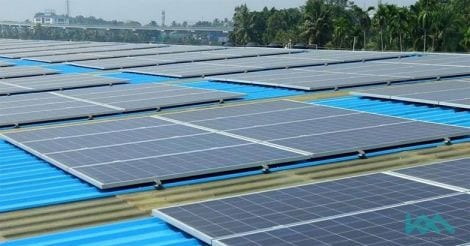 Solar panels power Kochi Metro's surge. Photo: KMRL, Facebook
The KMRL also plans a unique project to generate energy from the friction caused when the trains apply brake. The project could take a year to complete.
The solar power project has been contracted to Hero Future Energies, which will bear the expenses and sell electricity to the KMRL at Rs 5.51 per unit. The Rs 26 crore contract is for 25 years.
Hero Future is also generating solar power for the Jaipur Metro.
The KMRL could buy solar power at the same rate even if the electricity charge goes up in Kerala. The company could draw from the grid whenever there is a shortfall in solar power due to a lack of sunlight.
The company decided to utilize the space in the Muttom yard for solar power generation as the Metro did not need the entire land allotted to the yard. The land may be used for other development activities in future. The depot has taken only 31.1 acres of the total 52.3 acres in the yard.