• Holiday declared for educational institutions in Kerala

• Shutters of five dams opened
• Landslips and flash floods across the state
• Dams brimming, alerts sounded for residents along Neyyar and Pepara dams
• Rain may continue till September 21 Rain Fury in Kerala

Clouds have lined up heavily over the Bay of Bengal as well as the Arabian Sea. Photo: Josekutty Panackal

Rain Fury in Kerala

District administrations are being forced to surrender to the fury of nature and declare holidays. Photo: Josekutty Panackal

Rain Fury in Kerala

The current thundershowers could be a relief before the thunderous monsoons strike in mid-October. Photo: Josekutty Panackal

Rain Fury in Kerala

Several houses have been damaged and cultivated areas washed off. Photo: Josekutty Panackal

Rain Fury in Kerala

Roads and low-lying areas in Kochi are inundated. Photo: Josekutty Panackal

Rain Fury in Kerala

Continuing rain is expected to compensate for the recorded shortage in the rain. Photo: Josekutty Panackal

Rain Fury in Kerala

The weather bureau predicts extensive rains in Kerala and Lakshadweep until September 21. Photo: Josekutty Panackal

Rain Fury in Kerala

Heavy rain continues to lash different parts of the state causing flash floods and landslides. Photo: Josekutty Panackal
Kottayam: Heavy rain continued to lash different parts of Kerala causing flash floods and landslides on Sunday, pushing up the water level in dams and forcing authorities to declare holidays surrendering to the fury of nature.
Late monsoon onslaught brings Kerala to its knees: 3 killed, schools & colleges shut

A nine-year-old girl died in Palakkad when she fell into a water-filled pit near her house.
The rain has been particularly heavy in central and north Kerala, and with more downpour predicted for the coming two days, educational institutions in the state have been given a holiday for Monday after the State Disaster Management Force advised the authorities concerned to do so. The chief minister took to Facebook to announce holiday for schools and colleges on Monday.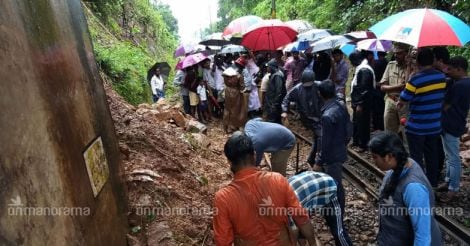 Rail tracks were buried in mud near Chingavanam: Photo | Jibin
However, Cusat VC announced that the varsity will run classes in all centers except in Kuttanad.
Exams postponed
Universities in the state have postponed exams scheduled for Monday. The revised schedule will be issued later. Chief minister Pinarayi Vijayan has asked the revenue, disaster management and fire and rescue departments to be on high alert.
Dam gates opened
Gates of five dams in various parts of the state, including Neyyar, Karukutty and Malankara have been opened. The water level in the Mullaperiyar dam has risen to 126 feet.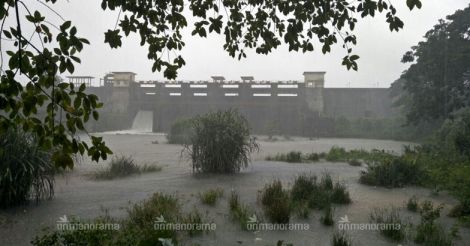 The shutters of the Malankara dam was opened following rising water levels: Photo | Onmanorama
A landslide has been reported from Thekkady, and widespread agricultural losses are feared.
Roads inundated
Roads and low-lying areas in Kochi were inundated in the rain even as incessant downpour continued to batter Palakkad. Traffic has been stalled along the mountain roads leading up from Palakkad to Attapady. Landslides were reported from two locations and places like Puthur and Jellypara suffered immense agricultural damage.
Earlier on Sunday, rail traffic through Kottayam was affected when rain buried the tracks at Chingavanam in loose mud.
The police and fire force have been pressed into service and control rooms opened in Palakkad. People traveling to the hilly areas and coastal regions have been asked to be cautious.
The weather bureau predicts extensive rain in Kerala and Lakshadweep until September 21. The current thundershowers, similar to the 'thulavarsham' in Kerala, could be a relief before the thunderous monsoons strike in mid-October.
Clouds have lined up heavily over the Bay of Bengal as well as the Arabian Sea. Weather experts say the monsoon will intensify across the state by next week. Some pockets in the state is expected to receive heavy rain till September 19.
On Saturday, Thaliparamba received 6cm rain while Vaithiri got 5cm. Hosdurg, Kudlu, Thalassery, Chalakudy, Ernakulam, Perumbavur, Kottayam and Vaikom received three centimeters each. In another 36 locations, it rained one to two centimeters.
Extensive damage to agriculture has been reported in many places. Palakkad, which has been receiving heavy rains witnessed landslides. An incident was reported from Anakkal in Attapadi, Palakkad district even though the extend of damage has not been fully assessed. However, reports say several houses have been damaged and cultivated areas washed off. Torrent of gushing water has also been reported from several locations.
The Idukki dam is brimming, having touched the half-mark of its full capacity. Houses have been damaged in Thamarassery and Kuttiyadi.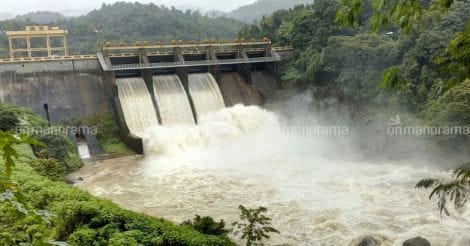 Three shutters of the Kallarkutty dam have been opened: Photo | S V Rajesh
In central Kerala, heavy showers are continuing in many places including Kottayam and Alappuzha. Fisherman have been alerted as the sea is rough. Strong winds are also feared.
Kochi is waterlogged in many places after overnight rain. Traffic has also been affected badly.
Pathanamthittta district received the season's heaviest rain. The district received 155 centimeters as against the projected 157. Continuing rain is expected to compensate for the recorded shortage in the rain.
Kottayam district is just behind with six percent shortfall while Kollam needs seven, and Ernakulam nine percent to hit the target. These districts are also expected to meet the projected targets if the rain continues at the same pace.
Kerala as a whole needs 16 percent to fulfill the target. Two weeks ago it was 30 percent. Wayanad lags most with a 45 percent shortfall in spite of good rain.
Read more at: Latest in Kerala | Nadhirshah takes a U-turn, says cops did not threaten to arrest him