Kanhangad: C Narayanan and A Joy had given up on hope when their ship was rocked by Cyclone Ockhi. The tax consultant from Kanhangad and the public works contractor from Chayyoth had a nightmarish experience as they voyaged on a family vacation to the Maldives.
The two families boarded Italian cruiser Costa NeoClassica from Kochi on November 28. They were scheduled to reach the island destination on November 30 morning but the captain received a message on November 29 to divert the ship to stay away from a possible storm.
That was the last message the ship received. In the absence of any further direction, the captain steered the ship 480 kilometers to the east.
It later turned out that the captain's hunch saved about 1,400 passengers and 700 crew members from the fury of Cyclone Ockhi which danced over the original route of the ship. Still the vessel was rocked by gigantic waves that swept over the sea. The ship could not come anywhere near the port in the Maldives.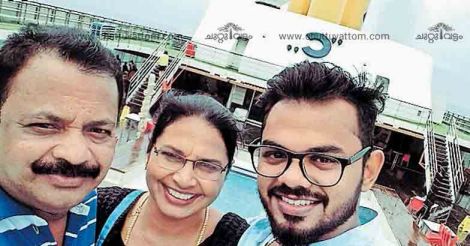 Joy and family onboard the cruise.
Waves whacked both the sides of the 14-deck cruise. The passengers clung to their dear lives for almost 24 hours. They were taken to the shore in smaller boats on December 1. They were later flown to Thiruvananthapuram.
Joy and Narayanan were among the 450 Malayalis on board the cruise. Joy was accompanied by wife Jolly and son Renju while Narayanan's family consisted of wife K Ramani, three sons and their families.
They said they could not thank enough the captain for his presence of mind that saved their lives.
Read: Latest Kerala News