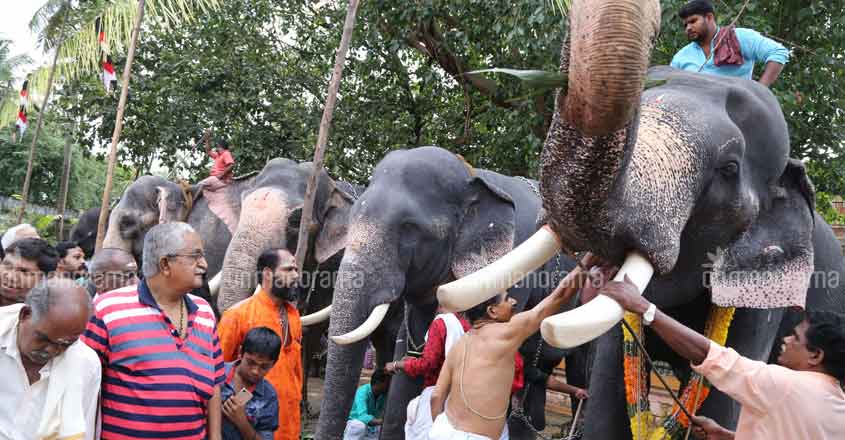 Kerala becomes the first state in the country to have a DNA database of its captive elephants. A DNA database is considered an effective means to prevent the illegal trade in captive elephants.
Using the technical knowhow of Rajiv Gandhi Centre for Biotechnology (RGCB), the Forest Department has completed the DNA profiling of 519 captive elephants in the state. The RGCB director Prof M Radhakrishna Pillai handed over the project report and the details of the DNA profiling to head of forest force and chief wildlife warden P K Kesavan here on Tuesday.
The blood samples of elephants were collected by the Department during August this year, and the RGCB analysed the microsatellite markers in the blood to prepare the DNA fingerprint of an elephant. (A microsatellite is a tract of repetitive DNA in which certain DNA patterns are repeated, typically 5–50 times. They occur at thousands of locations within an organism's genome. They have a higher mutation rate than other areas of DNA making them the ideal pointers of genetic diversity.)
Henceforth, the Forest Department will provide each elephant with an identity card complete with a QR code that will contain all DNA details. This is expected to make it easier for the Department to tackle any dispute regarding the ownership of the elephant in the most transparent and effective manner.
End to illegal trade
However, putting an end to the illegal trade in elephants will be the biggest gain. The microchip has been found too inadequate as an identification tool. There are widespread complaints that microchips of dead elephants are being taken out and inserted into elephants smuggled in from Bihar or Assam. It was one such complaint registered by K Venkitachalam of Heritage Animal Task Force that had prompted the Forest Department to launch the DNA profiling drive.
Mostly, blood samples were collected. Nonetheless, the exercise was flexible in that dung was also accepted as a sample for elephants in 'musth,' a period during which these animals are said to be highly unpredictable, and also when they are found nervous. Two popular elephants in the festival circuit, Pampady Rajan and Nedumkunnam Ganapathy, had their droppings taken as both were in 'musth' during the profiling process held during early August this year.' The sample extraction process were coordinated by assistant forest conservators in each district.
Second time lucky
An earlier attempt in 2011 to create a DNA database had failed. Then, blood alone was the sample. "This made it convenient for elephant owners to block veterinarians from going anywhere near their elephant saying it was in 'musth' and any invasive procedure could provoke the beast. The owner also had the fear that a blood sample would reveal the ailments that an elephant was suffering from at that point, like tuberculosis. Such a discovery would have prevented him from using the elephant for festivals or other remunerative work. This non-cooperation finally led to the programme being called off," a top Forest Department official said.