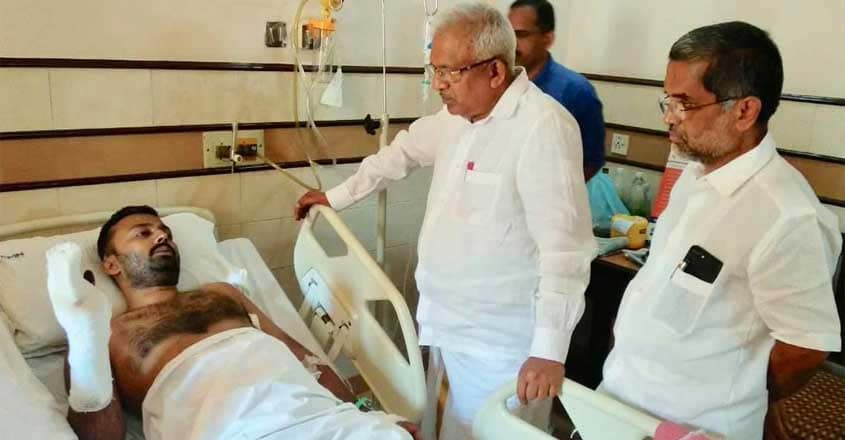 Kozhikode: The Attack on CPM rebel candidate in Vadakara COT Naseer, just before the counting of the Lok Sabha election, has brought to the fore the rift within the CPM in Malabar.
Supporters of P Jayarajan, who was the CPM candidate in Vadakara, sees the attack as an attempt to tarnish him.
Jayarajan, who was formerly the party district secretary in Kannur, visited Naseer at the hospital, in an attempt to alleviate any concerns about him being involved in the attack.
Soon after P Jayarajan's visit, M V Jayarajan, who is now the district secretary, also visited Naseer at the hospital.
However, in the second and third statements to the police, Naseer reiterated that close aides of Thalassery MLA A N Shamseer was behind the attack.
Meanwhile, Congress leaders from Kannur, invited him to the party and offered protection to him if Nasser joins or supports the party.
However, Naseer told Onmanorama that he is yet to take a decision on joining any other party.
"It is strange that the police is reluctant to handover the copy of my statements given to them taken from my home twice. Today (Wednesday), I got a copy of the first information report (FIR), which was prepared on the day of the attack, and I was unconscious to give any exact details. I have reiterated the role of Shamseer in the attack, and surprisingly, chief minister Pinarayi Vijayan told the Assembly yesterday that Shamseer is not named in the statement," Naseer said.
After the allegations against Shamseer, P Jayarajan had demanded a party-level probe into the attack.
Shamseer is a confidant of CPM state secretary Kodiyeri Balakrishnan.
The defeat in Vadakara had put Jayarajan also in fix as he does not hold any prominent post in the party too.
Jayarajan was shifted from the post of district secretary to contest in LS election, which he lost to Congress leader K Muraleedharan.