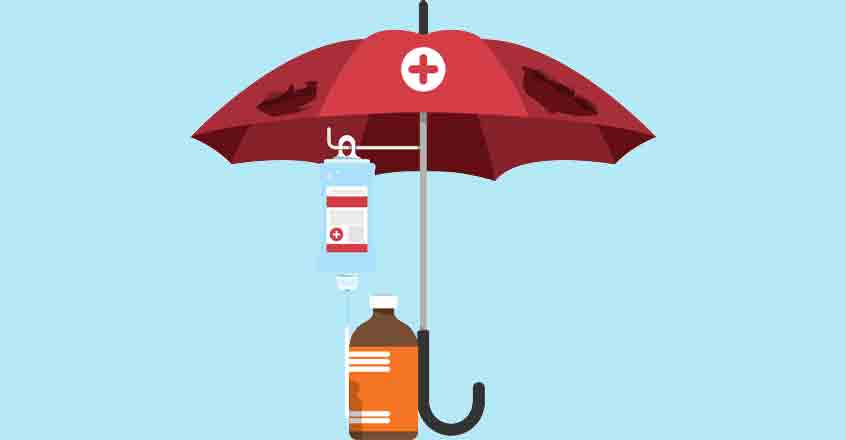 Thiruvananthapuram: The Kerala Government is set to revise upward the prefixed treatment rates for which cover will be allowed under its medical insurance scheme. The move is aimed at ensuring more participation of private hospitals in both its new comprehensive health insurance scheme dubbed Karunya Arogya Suraksha Paddhati (KASP) and the Medical Insurance Scheme for State Employees and Pensioners (MEDISEP).
The insurance premium for the MEDISEP scheme will increase when the treatment rates are hiked. It is currently Rs 250 per month.
Insurees need not have to pay premium for joining KASP.
In all 41 lakh families have so far enrolled for KASP and 11 lakh families for the MEDISEP.
The Kerala government's contract with Reliance General Insurance Company Limited for the MEDISEP had to be cancelled as many private hospitals had stayed away from it alleging that the rates offered for treatment were very low.
The present insurance cover for different treatment rates are: Injuries due to accidents Rs 30,000 to 75,000; angioplasty Rs 60,000; leukemia-Rs 5,000 to Rs 50,000; Caesarean-Rs 12,000; serious injuries to spinal cord Rs 60,000; and serious head injuries Rs 55,000.  
Only 112 private hospitals had facilitated the MEDISEP while only government hospitals were part of the KASP.
The revised rates are unlikely to come into effect this financial year as the new insurer is yet to be awarded the contract.
After the contract with Reliance was cancelled on August 19,the government hoped to conclude a new deal within three months. However, the files related to the scheme are still awaiting approval. Treatment rates can be revised only within three months after the appointment of a committee to study the issue at the earliest. Another two months was required for tender. The project which the government promised to implement in April this year was dragging on.
Central scheme
The treatment packages have already been revised for the mega Ayushman Bharat-Prime Minister Jan Arogya Yojana (AB-PMJAY). The centre cancelled 554 treatment packages and added 237 new ones to this pan-India scheme which Kerala is yet to put to effect. It also increased the rate of 270 packages.
The Union government had funded Rs 130 crore out of the Rs 700 crore for KASP.
Centre has agreed to consider the local needs while introducing its health insurance scheme in Kerala.
The Kerala government's new health insurance slabs may also reflect the changes in the rates of the ambitious national health protection scheme.