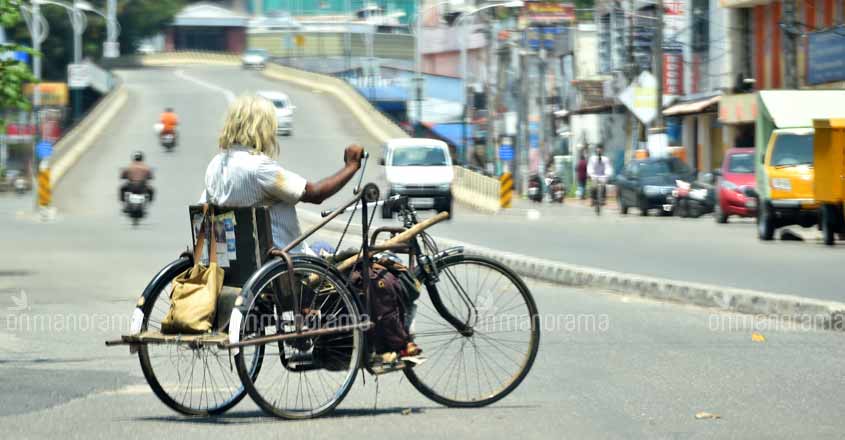 Thiruvananthapuram: A few hours after Kerala eased the lockdown restrictions in seven districts - where government says chances of COVID-19 spread are very low - on Monday, people and vehicles poured onto the streets.
Shops, business establishments, restaurants and salons opened shutters, giving false indications that coronavirus and the disease caused by it (COVID-19) do not threaten the south Indian state any more.
The people's action has put heavy pressure on law enforcement agencies and health workers.
In the meantime, a letter from the Union Home Secretary Ajay Bhalla to Kerala Chief Secretary Tom Jose began doing the rounds. The letter, written on April 19, referred that Kerala's decision (taken on April 15 and 16) contravened the centre's lockdown guidelines and the state should comply with the lockdown measures.
It stated that Kerala's decision to allow opening of restaurants, book shops and other establishments were in violation of lockdown measures. "This amounted to dilution of guidelines issued by the home ministry and violation of its April 15 order issued under the Disaster Management Act 2005," the letter stated.
The home ministry's missive meant that many of the relaxations were short-lived as the state decided not to allow dine-in at the restaurants and haircutting at the salons. But it said online deliveries can continue and hair dressers may visit homes to offer their services. Manorama News TV reported that the state would bring in more restrictions by Monday evening.
No dilution, says Kerala minister
Kerala Tourism Minister Kadakampally Surendran said the Centre has objected to Kerala's plan because of some 'misunderstanding'. He denied that Kerala had diluted the lockdown guidelines.
"We have given relaxations in accordance with the Centre's guidelines. I think there is some misunderstanding,based on which the Centre has sought an explanation. Once we give an explanation, it will all be sorted out. The Centre and the state have the same stand with regard to fighting the pandemic. There is no contradiction in the stand taken. It's just a misunderstanding we will clear it," the minister told mediapersons.
Kerala's zones
The Kerala government had divided the districts into four zones for containing the COVID-19 pandemic.
Red zone - Kasaragod, Kannur, Kozhikode and Malappuram.
Orange (A) zone: Pathanamthitta, Ernakulam, and Kollam. Lockdown till April 24.
Orange (B) zone: Alappuzha, Thrissur, Palakkad, Thiruvananthapuram, and Wayanad.
Green zone: Kottayam and Idukki.
What's allowed in the Green and Orange (B) Zones
• takeaway in restaurants
• online delivery of food till 9pm
• distribution of essential goods
• MGNREGA works following strict social distancing norms
• collection and distribution of milk and other dairy products
• barbers can visit homes and cut the hair
• plantation activities can continue with 50 per cent of the normal workforce
• pisciculture and agriculture
• construction work
• government staff commuting to office
• banks with limited staff
• hospitals and pharmacies
• industrial estates,business units outside the municipal limit
What's not allowed
• more than one rider on two wheelers
• inter-district travel
• travel without mask
• visiting public places
• more than five people gathering at a place
• autos, taxi services