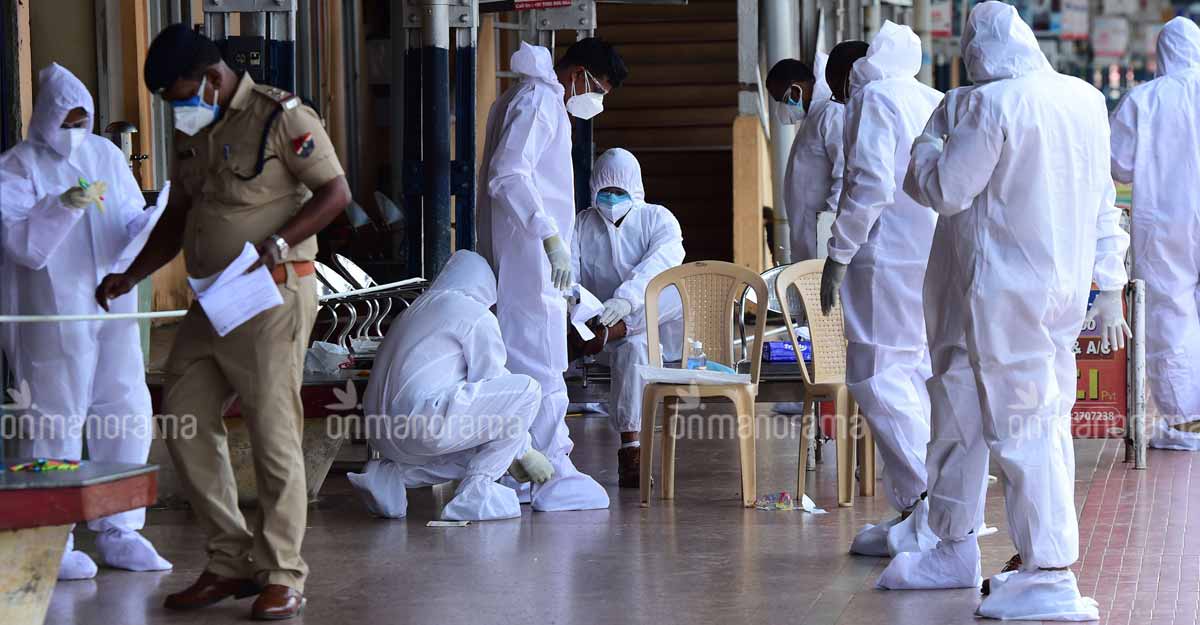 The COVID-19 curve in Kerala is moving upward faster than the infection rate during the second stage. The state reported 53 new COVID-9 cases on Sunday. This is the second consecutive day when more than 50 cases have been reported. The number of active cases in the state stands at 322.
A 53-year-old woman from Wayanad succumbed to COVID-19 in Kozhikode on Sunday. An 18-year-old youth who was quarantined in Kannur also died on Sunday. He had returned from Chennai. His samples have been taken for tests.
Among the latest cases, 12 each are from Thiruvananthapuram and Kannur districts. Five cases each are from Malappuram and Kasaragod. Alappuzha, Ernakulam and Palakkad districts reported four cases each. The remaining cases are from Kollam (three) and Pathanamthitta (two) and Kozhikode (one). One patient is a native of Tamil Nadu.
The pattern of infection witnessed in the past few days also continues. Most of the infected are those who returned from other states -- 29. Of them, 19 came from Maharashtra, five from Gujarat, three from Tamil Nadu and one each from Delhi and Madhya Pradesh. Among the new cases, 18 are returnees from abroad (UAE-11, Oman-3, Saudi Arabia-3, Kuwait-1).
Five people, including a healthcare worker in Palakkad, contracted the disease through contacts.
Five recover
Five persons were cured of the disease on Sunday – three from Wayanad and two from Kasaragod. So far, 520 people have been cured of COVID-19 in the state.
The current number of active cases – 322 – is higher than the highest number of cases reported in the state during the second wave of infection. The highest number of active cases reported before the influx of people returning from abroad and other states was 266 on April 6. It had come down to just 16 on May 8. While there was only one confirmed case on May 8 and two the next day, the spike started from May 10 when seven were tested positive. From May 13, there has been no going back to single-digit cases. This week, barring two days, more than 20 cases were confirmed every day.
State Health Minister KK Shailaja on Sunday said the present situation was much anticipated and the government has taken all precautions to check the spread of the virus. She also cautioned against violating quarantine rules. She reassured that there has been no community spread in the state yet.
Surge in Thiruvananthapuram
The state capital which had only eight active cases on Friday jumped to 20 on Sunday. Of the 12 cases reported on Sunday, three came from abroad. Eight people came from other states. Of them, seven came from Mumbai in two batches of four and three in two vehicles. A 28-year-old woman returned from Delhi by train.
A Venjaramood native (40-year-old man) contracted the disease through contact.
Most cases in Kannur
The northern district has the highest number of active cases now – 59. Of the 12 new cases, three came from the Gulf. Five came from Ahmedabad and one from Maharashtra. Three people from Dharmadam contracted the disease through contacts.
In neighbouring Kasaragod, once the most affected district, five cases were confirmed on Sunday. All the five are men returned from Maharashtra. Of the 36 cases reported in the district in the third phase, 21 are from Maharashtra. A healthcare worker of Kasaragod general hospital who was tested positive recovered on Sunday.
Active cases in Palakkad rose to 48 on Sunday with four more testing positive. The new cases include a 20-year-old healthcare worker who was posted at Walayar checkpost. Of the remaining three, two came from Chennai and one from Madhya Pradesh.
18 more hotspots
Eighteen more regions have been converted into hot spots. They are: Kodom-Belur in Kasaragod, Amabalathara, Vellinezhhi, Ottappalam municipality, Vallappuzha, Perumatti, Mundur and Kadambazhipuam in Palakkad, Vellavoor and Meenadam in Kottayam, Pandanad, Chengannur municipality in Alappuzha, Azhiyoor and Onchiyam in Kozhikode, Koodali, Kanichar, Peralassery and Panniannoor in Kannur.
There are 55 hotspots in the state.
A total of 95,394 people are under observation in various districts. Of these, 94,662 are under home quarantine and 732 are in hospitals. 188 people were admitted in hospitals on Sunday.
So far, 53,873 individuals (including the augmented sample) have been sent for testing. Of these, 52,355 samples tested yielded negative results.
Also, as part of Sentinel Surveillance, 8,088 samples were collected from priority groups, such as health workers, guest workers and social contacts. Of them, 7,588 have returned negative.