On May 19, Kerala Chief Minister Pinarayi Vijayan declared that there was no community transmission of COVID-19 in the state.
Here is why he was confident. Till then, 5,340 samples of people with high social exposure were taken over a month-and-a-half and only four had tested positive. "This means there is no community transmission of COVID-19 in Kerala," Pinarayi Vijayan said.
In the next six days, till May 25, 10 health workers have tested positive. They include nurses, ASHA workers, hospital attendants and ambulance drivers.
No one has any idea how nine of them had been infected. In the case of one person, an ambulance driver of Navayikulam Primary Health Centre in Thiruvananthapuram who was declared positive on Monday, it is suspected that he was infected by a patient he had taken to Parippally Medical College four days ago.
"This is a clear sign that the virus is spreading undetected in the community," a top community medicine expert said.
Four nurses in Palakkad District Hospital have tested positive in the past six days, the highest in a district. Two of them, 20 and 22 years old, were posted at the Walayar check-post. Though it is impossible to pinpoint their source of infection, it can at least be said that they got seeded by one of the arrivals at the check-post.
Entry in a Trojan horse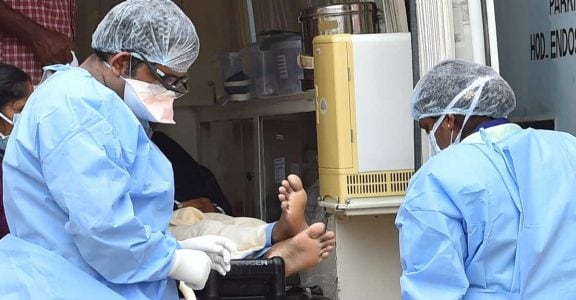 This is not the case of the other two nurses on duty at a non-COVID ward in Palakkad District Hospital. "They could have got the virus from a patient who had visited the hospital for some other ailments, the patient as a Trojan horse to carry the virus unseen, or it is also possible they were infected by some carrier outside the hospital, says the dealer of a ration shop they had gone to," a doctor at Palakkad District Hospital said.
It has been established that the two nurses at the district hospital had not come into contact with the other two after they were posted at Walayar.
It is a fact that many visit government hospitals not knowing they are carriers. For instance, an autorickshaw driver who was rushed to Pariyaram Medical College after a jackfruit fell on his head, it turned out, was a Sars-CoV-2 carrier.
PPE breach or quarantine violation
The source of infection of even nurses who worked with COVID-19 patients is at best vague. Two nurses who were on duty at the COVID-19 isolation ward of Thalassery General Hospital, Kozhikode, were declared positive on May 23. They were on duty even on the day they tested positive.
The exposure of health workers in a COVID-19 isolation ward to the virus has raised two major questions. One, have the nurses failed to adopt proper safety precautions. And two, were the personal protective equipment (PPE) kits given to them of suspect quality.
"Since they were posted at the COVID-19 isolation ward, they were adequately safeguarded. They were also properly trained to adopt precautions," said a health official at Thalassery General Hospital. "However, the wearing and removal of PPE kits are a delicate operation. Any minor fault could expose health workers to risk," the official said. In other words, they could have been infected even if the PPE kits were of the highest quality.
The two nurses of Thalassery hospital have only mild symptoms, and this has raised yet another possibility. "If these nurses were infected by the patients, the viral load that would have gone into them would be high. Their mild condition virtually rules out that possibility but suggests that they could have got it from outside. Especially, if they had not strictly observed their quarantine period of 14 days they had to undergo after every 14 days of duty," the official said.
Government hospitals or COVD-19 Ground Zero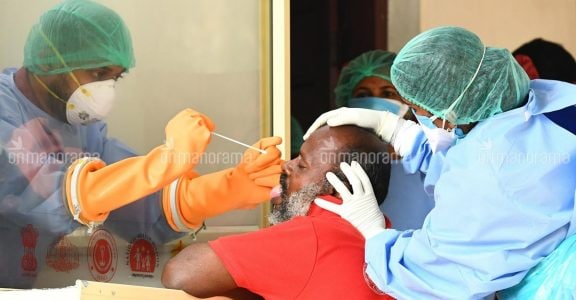 They could have got the virus from various sources but, if left undetected, the possibility of health workers in government hospitals radiating the virus to the society is sky-high.
On May 21, a pregnant tribal woman in Kannur tested positive on May 21. The woman came from an area where no cases have been reported but developed COVID-19 symptoms after she was admitted to Kannur District Hospital. Soon, when a random test was done, it was found that three nurses in the district hospital who had not come into contact with the tribal woman were positive. This also meant that more people linked to the district hospital, both employees and patients, could be carriers.
Sars-CoV-2 carriers in khaki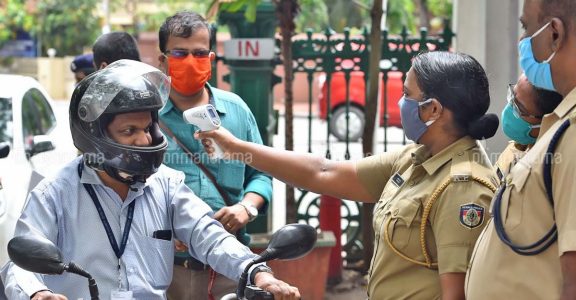 Community medicine experts also feel that health workers other than doctors are lazy about following safety protocols. "This is why most of the positive cases are either nurses or ASHA workers. Nurses in government hospitals are given the same quality protective gear as doctors," a community medicine expert said.
He said the police, too, could be as vulnerable as health care workers. "If a high number of positive cases are seen among health workers, it is only because most of the samples are collected from this group. If more samples of policemen are taken, we would see a spike in the number of COVID-19 cases among them also," the community medicine expert said.