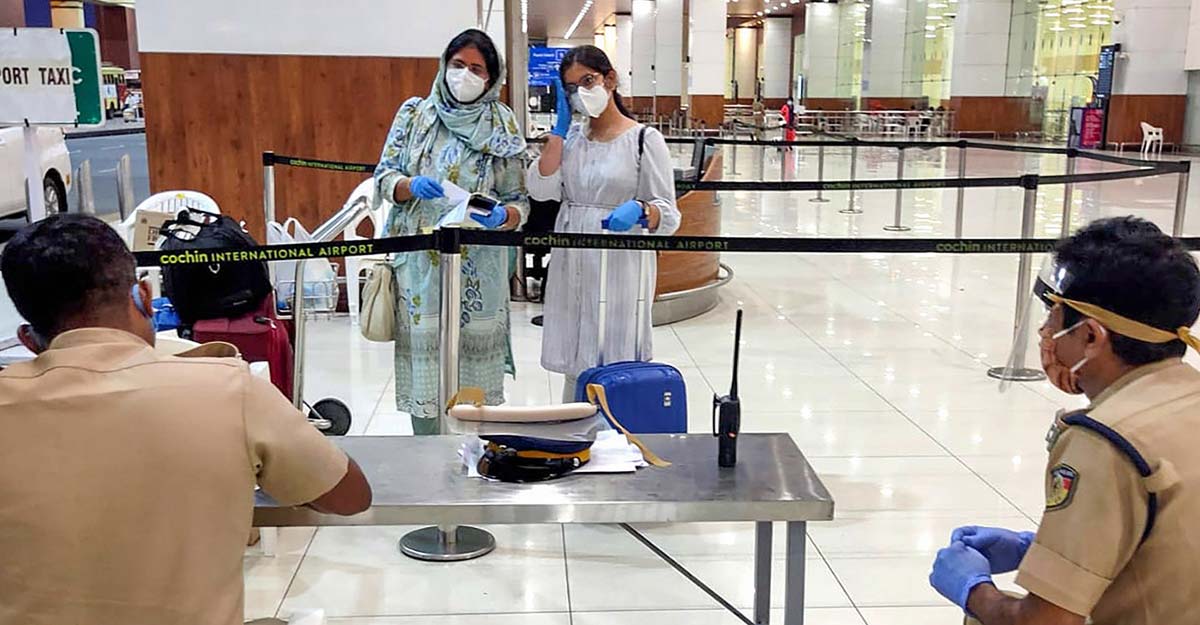 Kerala recorded 58 more COVID-19 cases on Saturday. With this, the number of active cases became 624.
Ten people from Thrissur, nine from Palakkad and eight from Kannur tested positive. The remaining cases were reported from Kollam, Idukki, Ernakulam, Kozhikode (four each), Kasaragod (three), Thiruvananthapuram, Alappuzha (two each) and Kottayam (one). Apart from this, seven employees of Air India were also tested positive.
The number of cases includes a patient who died in Alappuzha on Friday. The test results of Jose Joy, who was undergoing treatment for liver disease, came after his death.
Chengannur native Jose Joy's funeral will be held at Alappuzha municipality's crematorium. Though his relatives had planned to conduct his funeral at his parish church in Chengannur, the district administration did not allow it citing lack of facilities to comply with COVID-19 protocol.
Meanwhile, the relatives of P T Joshy, who died at Kottayam Medical College on Friday, alleged that he was not given proper treatment at Pathanamthitta General Hospital, where he was initially admitted. The family said that they had to spend Rs 85,000 for medicines. However, the medical college authorities said the medicine was brought from abroad on request of the family as a last resort.
The pattern of the infection in the third wave continues. Most of those who tested positive are returnees from other states (31), followed by those who came back from abroad (17). Six patients each returned from Kuwait and UAE, two from Oman and one each from Saudi Arabia, Qatar and Italy. The split-up of those from other states are as follows: Maharashtra – 19, Tamil Nadu – 9, Telangana, Delhi, Karnataka – one each. Two patients contracted the disease through contact. One female healthcare worker in Palakkad is also among the infected.
Ten patients recovered on Saturday. Four of them were undergoing treatment in Malappuram, three in Thrissur and one each from Thiruvananthapuram, Kottayam and Kannur. So far, 575 patients have recovered in the state.
Of the 1,30,157 people under observation for suspected infection, 1,28,953 are home/institutional quarantined and 1,204 hospitalised. As many as 243 people were hospitalised on Saturday.
Of the 65,002 samples sent for tests, 62,543 have turned negative. Samples of 12,255 people among priority groups were tested as part of sentinel surveillance. Of them, 11,232 have turned negative. In the past 24 hours, 3,206 samples were sent for tests.
There are 106 hotspots in the state. Newly included hotspots are Thachampara, Pattambi and Palakkad municipality in Palakkad district and Madappally in Kottayam.
Infection rate in Palakkad continues to rise. There are 128 active cases – highest in the state – in the district. Of the new nine cases in the district, two each came from Chennai, Kuwait and Oman. One came from Telangana. What is to be noted is that three from abroad – one from Kuwait and two from Oman – were in the primary contact list of two other infected people.
An ambulance driver at Kottayi and a healthworker posted at Walayar checkpost also are among the infected. Their source of infection has not been identified yet.
All the four new cases in the account of Ernakulam came from outside the state – one each from Kuwait and Abu Dhabi and two from Maharashtra.
The lone case reported in Kottayam is a 26-year-old pregnant woman of Perumpanachi near Changanassery. She had been home quarantined after she came back from Dubai on May 11. Her samples were taken on May 28 after five of her co-passengers tested positive. The district has 20 active cases now. A Kuwait returnee who was tested positive on May 21 was discharged on Saturday.