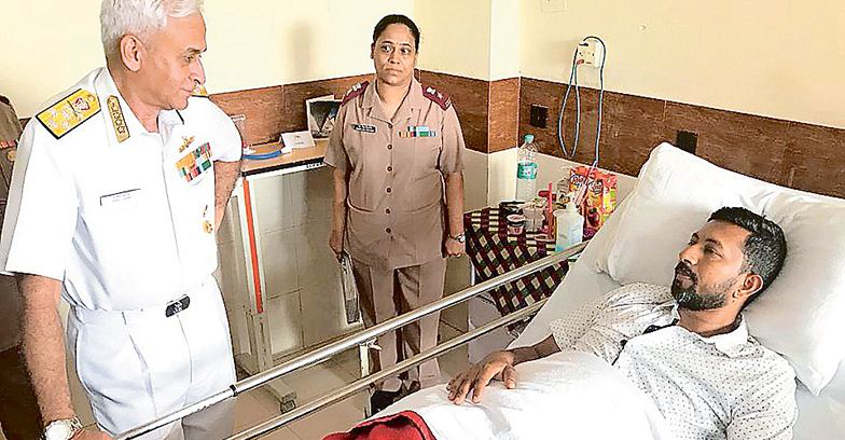 New Delhi: Indian sailor Commander Abhilash Tomy, who suffered a severe back injury during Golden Globe Race 2018 (GGR), has underwent a successful surgery and was recuperating well, officials have said.
The surgery was held at the Army hospital in New Delhi.
Following the surgery, Navy Admiral Sunil Lanba visited him and also held talks with the doctors who conducted the surgery.
Tomy was participating in the GGR representing India in the historic around the world race without modern navigation aids.
His sailing vessel, 'Thuriya, was dismasted on September 21 after being caught in a violent storm in the South Indian Ocean, approximately 1,900 nautical miles West of Perth, Australia.
As he had suffered a severe back injury, he dropped out of the race. He was rescued from the Indian Ocean in a multi-nation operation.
The Indian Navy launched 'Operation Raksham' to rescue the injured officer by immediately deploying the Long Range Maritime Reconnaissance Aircraft P8I in the area staging through Mauritius for providing close support and monitoring the rescue operations and diverted INS Satpura and Jyoti to undertake rescue operations.
The Australian Rescue Coordination Centre at Canberra coordinated the rescue mission in conjunction with many agencies, including the Australian Defence Department and the Indian Navy.
On September 24, French fishing vessel Osiris reached the spot where the vessel was detected and carried out a successful rescue operation and later shifted Tomy to Ile Amsterdam.
INS Satpura safely evacuated Tomy using the ship's helicopter on September 28.
Read more: Latest India news