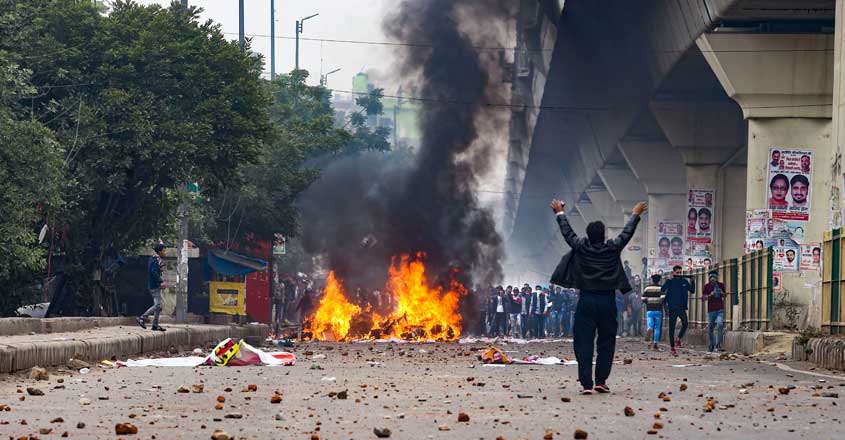 New Delhi: A 25-year-old man set himself ablaze on Wednesday near the iconic India Gate here amid protests demanding the revocation of the Citizenship Amendment Act.
The youth identified as Kartik Maher from Odisha has suffered 90 per cent burns and his condition is critical, hospital authorities informed. Police, however, maintain that the act was not connected to the protests.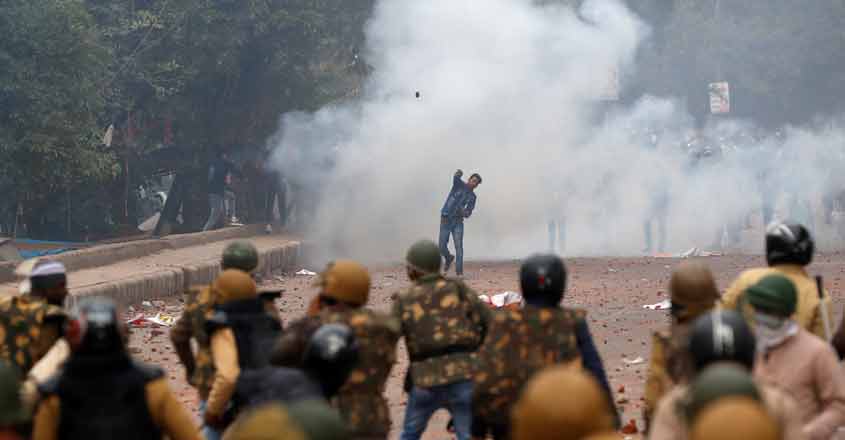 "His brother told us that he is mentally unstable," Deputy Commissioner of Police Eish Singhal said.
Section 144 imposed in Delhi's North East
With prohibitory orders in effect in northeast Delhi, assembly of more than four people have been banned. The development comes in the wake of violence in Seelampur following protest over the Citizenship Amendment Act.
The newly amended law seeks to grant citizenship to non-Muslim migrants belonging to Hindu, Sikh, Buddhist, Christian, Jain and Parsi communities who came to the country from Pakistan, Bangladesh and Afghanistan on or before December 31, 2014.
Six people have been arrested and three first information reports (FIRs) have been filed in connection with the violence. An additional FIR has also been filed for stone-pelting that broke out in the Brij Puri area.
The police have indicated that people with criminal backgrounds had been part of the protest and may have been the ones who incited violence.
On Tuesday, angry protesters demanding scrapping of the amended citizenship law torched several motor bikes, pelted stones at police personnel and damaged buses and a police booth in Northeast Delhi's Seelampur area.
Police resorted to baton charge and fired tear gas shells to disperse the protesters. Plumes of smoke billowed from at least two localities as the standoff continued for around one-and-a-half hours. Police said the situation has been brought under control.
They said two bikes of traffic cops were burnt by the demonstrators, adding a police booth in the area was vandalised and CCTV cameras installed there were taken away by the mob.
Some security personnel were also injured in the incident, the police said.
Unrest in Delhi
The clashes erupted two days after violence broke out during a protest in the New Friends area in South Delhi near Jamia Millia Islamia. Protests were also reported from Brijpuri in northeast Delhi around 8:30pm, but were brought under control.
A large number of policemen were deployed as tension prevailed in Seelampur and adjoining areas following the violence.
Police said the protesters were marching from Seelampur towards Jafrabad. Clashes erupted at Seelampur Chowk when the security personnel tried to stop the protesters from moving ahead.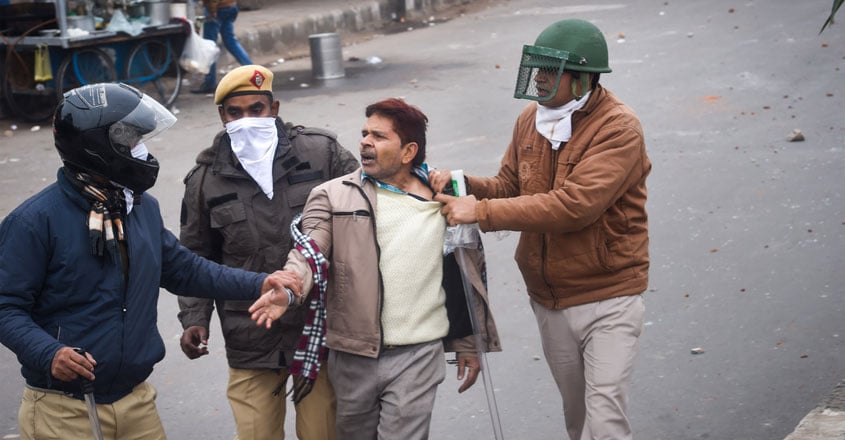 According to a senior police officer, the protest began at around 12 noon. The protesters raised slogans against the new law as well as the National Register of Citizens (NRC).
Faisal Ahmed, a protestor, said, "We have come here to raise our voice against CAA and NRC. I got injuries on my right leg during police attack."
Police said there were initially small groups of people who started the protest against the CAA and they went in lanes and bylanes of Seelampur.
By the time they came on the Jafrabad main road, there were almost 3,000 people and the police were escorting them.
They were moving towards Seelampur T-point where barricades were placed, an officer said, adding that several announcements were made requesting them to disperse.
"When they started dispersing, suddenly stones were hurled. We made several requests to them not to pelt stones, but they did not relent, forcing us to use tear gas to disperse them," he said.
The protesters indulged in vandalism. He said they also damaged a police booth and torched a motorcycle parked near it.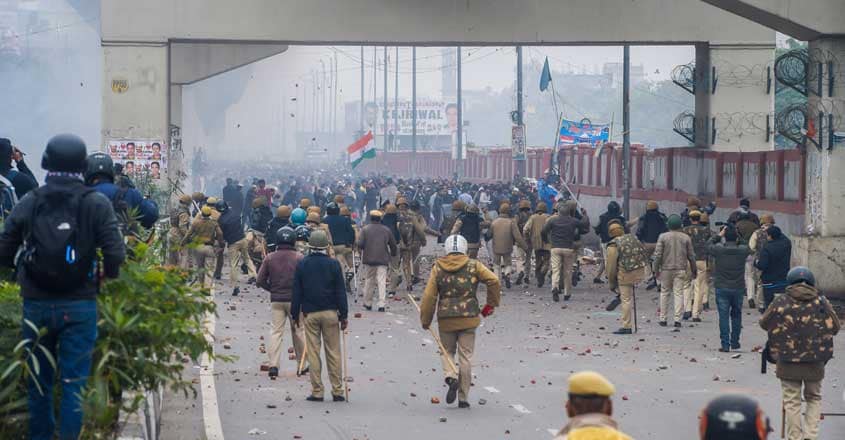 An officer said some police personnel were injured and the windshields of two buses were damaged by the mob. A Rapid Action Force bus was pelted with stones.
"We have taken the locals into confidence through respectable people in the area and also through mosques and madrassas there. Police have been deployed in the area," the officer said.
When asked about the damage to property due to the violence, he said they are in the process of taking stock of destruction caused by protestors.
On the Brijpuri protests, an official said people had pelted stones on police personnel. The situation is under control, he said.
Gates of seven metro stations were closed in the wake of the protest, and five of them were reopened after some time. Traffic was also diverted from the area.
Appeal for peaceful protest
Delhi Chief Minister Arvind Kejriwal appealed to Delhiites to maintain peace, saying violence cannot be tolerated in a civilised society.
The Aam Aadmi Party and its Seelampur MLA Haji Ishraq urged the people to register their protest peacefully after the area witnessed violence.
"I am appealing all the people to register protest and convey their message peacefully," Ishraq said in a video message.
He urged locals and youngsters not to venture out on the main roads of the area to protest.
Senior AAP leader Sanjay Singh said people should maintain peace and protest peacefully.
On Sunday, scores of people, including Jamia students and policemen, were injured, four DTC buses were set afire and over 100 private vehicles were damaged when protesters opposing the amended Citizenship Act clashed with police near New Friends Colony.
Police used batons and tear gas shells to disperse the protesters and entered the Jamia campus where several people were detained. Protests were held on Monday in the national capital and campuses across the country over the alleged police excesses during the incident.
Locals helps restore peace
Quick action by locals helped in restoring the situation to normal in relatively short time in Seelampur area in North East Delhi that was rocked by violent protests over the amended citizenship law on Tuesday.
A senior police officer said the volatile situation was brought under control as responsible people from the area and members of peace committees and those at mosques and madrasas were roped in to appeal to protestors to maintain peace.
"We started the protest peacefully. But, some outside elements among us resorted to stone pelting," claimed Mohammad Anis, a local social worker in Seelampur.
Appeals were made for peace through public announcement systems of mosques in Seelampur and Jaffrabad areas.
"We appealed to people to refrain from violence and they were allowed to protest peacefully by the police. People were also asked to go back to their homes," said Maulana Mohammad Daud, Imam of Madarsa Babu Uloom.
Shops and markets were shut amidst stone pelting and heavy police presence in the area.
A call for 'bandh' (shutdown) was given by some persons and there were posters on shutters of some shops stating that they were closed in protest of CAA and NRC.
After normal situation was restored, locals came out on the roads to interact with police officials and media persons.
"Violence is not good for anyone. The locals had no role in what happened today and outsiders were involved," said Mohammad Anas, who has a garment business.
Many locals spoke vehemently against the amended citizenship act, saying it should not have been brought about in a country like India.
"This country belongs to all. Things like NRC and CAA divide people. The Modi government should refrain from coming out with such steps that create tension and fear among people," said Mohammad Jamil, an elderly resident of Jaffrabad.
A member of the Aman (peace) committee in the area, Shahid Changezi, said tempers were charged up as stone pelting and police action took place.
"The peace committee members urged people to stage dharna peacefully or go back to their homes. The violence and arson was unfortunate," he said.
Twenty-one people were injured in the violence in the area and several motor bikes were torched and buses damaged during the protest.
(With inputs from PTI)