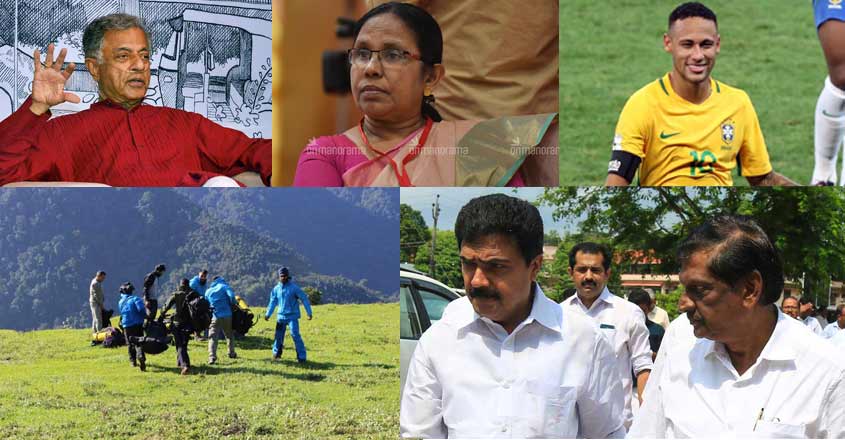 June 1
US decision to end preferential trade status 'unfortunate': India
The US has said with effect from June 5, it will withdraw incentives to Indian exporters provided under its Generalized System of Preferences programme.
Sonia Gandhi elected leader of Congress Parliamentary Party
Sonia Gandhi, after thanking the 12.3 crore voters who voted for the Congress in Lok Sabha elections, lauded the role of Rahul Gandhi as Congress president for his 'valiant and relentless campaign' in this poll.
June 2
Football star Neymar denies alleged rape in Paris
The accusation was the latest blow for the Brazilian, who last month was stripped of the captaincy of the national team and has seen his international reputation suffer amid incidents of indiscipline.
June 3
IAF aircraft goes missing with 13 on board near China border
The IAF said the aircraft took off from Jorhat 12:27pm for the Menchuka advance landing ground in Shi-Yomi district in Arunachal Pradesh, and its last contact with the ground control.
Congress boots out Modi-bhakt Abdullakutty
The opposition party took the extreme step after Abdullakutty stood firm on his stance despite a notice.
Doval stays put as NSA, gets Cabinet rank
In Ajit Doval's previous tenure, India conducted surgical strikes on Pakistan in the aftermath of the 2016 Uri attack and the 2019 Pulwama attack.
Draft education policy tweaked after opposition to Hindi imposition
Students who wish to change one or more of the three languages they are studying may do so in grade 6 or 7, so long as they are able to demonstrate proficiency in three languages in modular board exam, the new draft states.
Neymar denies rape accusation with accuser's chat video
The accusation was the latest blow for the Brazilian, who last month was stripped of the captaincy of the national team and has seen his international reputation suffer amid incidents of indiscipline.
June 4
Youth in Kochi hospital tests positive for Nipah virus
Kerala Health Minister K K Shailaja urged everyone who have symptoms to seek treatment immediately.
Crime Branch to retrace Balabhaskar's fatal trip
With the relatives alleging foul play over the death of the violinist, the probe officers have decided to collect detailed information about the journey.
June 5
Condition of Nipah patient improves, 5 await test results
The blood samples of the patients under observation in the Kalamassery Medical College has been sent for testing to Alappuzha, Manipal and Pune virology institutes.
Balabhaskar did not drive the car, Crime Branch heads to conclusion
Balabhaskar's wife Lakshmi had said that driver Arjun had driven the car and that she was sitting in the front with her daughter.
June 6
Despite Nipah scare, infections under control in Kerala
When compared to the five month period from January to May last year, the incidence of infections like dengue, malaria, typhoid and chikungunya have shrunk considerably, in some cases by even half.
June 7
World Bank to loan Rs 1,750cr to Kerala for flood recovery
The amount has been agreed on the basis of World Bank representatives' assessment held in the state.
Centre rejigs key panels, Rajnath finds place in 4 more
Finance Minister Nirmala Sitharaman's name figured in all but one of the committees.
Toyota launches Glanza in India, price starts at Rs 7.22 lakh
The Glanza has been tagged at an introductory price ranging from Rs 7.22 lakh to Rs 8.9 lakh.
June 8
Kerala as important as Varanasi, says Modi at Guruvayur rally
In his first public engagement after leading the BJP to a grand victory in the LS polls, Modi said he made Kerala his first stop after the win despite having no MP from the state since it was as dear to him as his constituency Varanasi in Uttar Pradesh.
June 10
Three get life imprisonment for rape and murder of Kathua girl
The abduction, rape and killing of the child was part of a carefully planned strategy to remove the minority nomadic community from the area.
Film, theatre maestro Girish Karnad no more
In a career spanning four decades, Karnad composed several plays, often blending history and mythology with contemporary issues.
It's time to move on: Yuvi announces retirement
Yuvraj last played for India in a T20I against England in 2017. His last Test appearance was back in 2012.
Kerala govt announces two major reliefs for farmers
The decision to censure coopearative banks from implementing the provisions of the SARFAESI Act was announced by Chief Minister Pinarayi Vijayan during the discussion in the Assembly.
June 12
Right-wing activist nabbed in Pansare, Lankesh killings
Kalaskar, 25, was arrested by the Maharashtra ATS after the famous arms haul case in Nalasopara last year.
Messi dethrones Mayweather as highest paid athlete
Juv forward Cristiano Ronaldo ($109 million), PSG forward Neymar ($105 million), Mexican boxer Canelo Alvarez ($94 million) and Swiss tennis great Roger Federer ($93.4 million) rounded out the top five.
Amitabh Bachchan pays off loans of 2,100 farmers from Bihar
This is not the first time Amitabh has helped farmers. Last year, the "Piku" star had cleared the loans of over one thousand farmers in Uttar Pradesh.
June 13
3 Keralites among 13 on board IAF's crashed AN-32 dead
The Russian-origin AN-32 aircraft was going from Jorhat in Assam to Menchuka advanced landing ground near the border with China on June 3 when it lost contact with ground staff.
Badminton legend Lee Chong Wei retires after cancer battle
The three-time Olympic silver medallist said he would now like to rest and spend time with his family.
June 14
Indo-Pak ties at 'lowest point', but hopeful of Modi: Imran Khan
The Ministry of External Affairs last week said that no bilateral meetings had been planned between Modi and his Pakistani counterpart Khan on the sidelines of the SCO Summit.
Doctors on the warpath to support colleagues' stir in Kolkata
The medicos in a few Indian cities struck work over the protests by their fraternity in Kolkata.
Lalithakala Akademi secretary defends controversial cartoon
After the cartoon row, Akademi members have been receiving threatening phone calls. Most calls were reportedly traced to foreign countries.
June 15
Kerala totally secure from Nipah virus for now
Several bats from Kerala are currently being examined for the virus at the Pune institute.
Actor Vinayakan booked for 'abusing' woman activist
The woman activist's Facebook post in this regard had created a furore on social media recently.
June 16
Jose K Mani elected KC(M) chairman; split inevitable?
The Kerala Congress (Mani) seems to be heading to an inevitable split as the party elected Jose K Mani its chairman despite stiff opposition from the faction led by senior leader P J Joseph.
June 17
Jolt for Jose K Mani as court stays his election as KC(M) chief
As per the stay order, Jose K Mani is not allowed to handle the office of the party chairman. He cannot conduct organisational elections.
Live stunt by magician 'Mandrake' in Hoogly river turns fatal
Chanchal Lahiri, 40, who tried to do tricks like legendary magician of escape games Harry Houdini, drowned in river Hoogly while trying to perform an underwater live stunt.
June 18
Bar dancer accuses Kodiyeri's son Binoy of sexual abuse, cheating
An FIR for sexual assault, cheating and intimidation has been registered against Binoy Kodiyeri based on the complaint from the 33-year-old Mumbai-based victim, who hails from Bihar.
Move to give Kerala police magisterial powers put on hold
'The government is in no haste to implement the system. It will be done only after holding wide discussions and evolving a consensus on the issue,' Chief Minister Pinarayi Vijayan said in the Assembly.
Four get life term for Ayodhya terror attack conspiracy
The court has also imposed a fine of Rs 20,000 each on the convicted persons - Asif Iqbal, Mohammed Shakeel, Irfan, and Mohammed Naseem. One accused, Mohammad Aziz, has been acquitted due to lack of substantial evidence.
Govt sacks 15 customs, central excise officers on charge of corruption
According to Finance Ministry sources, these officers either had corruption cases registered against them by the CBI or were involved in bribery, extortion and disproportionate assets cases.
June 19
Congress dissolves Karnataka unit, spares Gundu Rao
The move comes a day after the party suspended senior legislator from Bengaluru Roshan Baig for "anti-party activities".
Dhawan ruled out of World Cup with thumb fracture
As a consequence, the 21-year-old Pant, whose omission from the original squad had kicked up a storm given his exceptional form in the past one year, has got the big break.
June 20
Gujarat ex-cop and Modi critic Sanjiv Bhatt gets life term
The verdict for the 1990 custodial death case came after the Supreme Court last week rejected Bhatt's plea seeking fresh examination of witnesses, contending that this was key to arrive at a proper judgment.
Kallada bus driver arrested for misbehaving with TN woman
The driver has been nabbed on by the police near Thenhipalam in Kerala's Malappauram district following a sexual assault complaint filed by a woman passenger.
All 13 bodies recovered from AN-32 crash site
The wreckage of the aircraft was located at a remote place in Arunachal Pradesh on June 11 and since then efforts had been on to reach the site and recover the bodies.
DRDO appoints top UAV brain as CEMILAC chief executive
CEMILAC is a pivotal arm of DRDO that provides airworthiness certification support to desi missions in addition to clearing upgrades and integration of imported and indigenous systems.
Indian IT sector to suffer as US mulls caps on H-1B visas
India is the largest recipient of these temporary visas, most of them to workers at big technology firms.
June 21
Fresh triple talaq bill introduced in Lok Sabha
The Muslim Women (Protection of Rights on Marriage) Bill, 2019, will replace an ordinance issued in February by the previous BJP-led NDA government.
Hotels, firms cut back on water use as taps run dry in Chennai
Chennai is one of 21 cities that a government think-tank warned last year could run out of groundwater by 2020. This year's monsoon is delayed, further compounding problems across India.
Fernando Torres calls it a day
Torres, who scored more than 100 goals across two spells at his boyhood club Atletico Madrid, also played for Premier League sides Liverpool and Chelsea and Italy's AC Milan.
June 22
Kodiyeri says CPM won't protect his rape accused son Binoy
Describing the case against Binoy as a matter concerning an individual, Kodiyeri said it was the responsibility of the accused to prove his innocence.
Mobile phones, narcotics seized in early-morning raids at central jails
Mobile phones, cannabis, nicotine, cash, coconut scraper, iron rod, SIM cards, phone batteries and radio were seized from the prisoners' cells at the Kannur Central Jail.
Kerala to feel the crunch as Centre to cut Rs 6,000cr from its loan: Thomas Isaac
The Centre did not respond favourably to Kerala's suggestion to increase spending and relax the fiscal deficit target for overcoming the economic slowdown, state's Finance Minister Thomas Isaac said.
June 23
TN govt makes frantic bid to appease rain gods
Senior AIADMK leader and Fisheries Minister D Jayakumar said performing yagna was "an expression of faith", hoping that the Almighty will answer their prayers for rain.
India trashes US govt report on status of minorities
The report said that mob attacks by violent extremist Hindu groups against the minority communities, particularly Muslims, continued in India in 2018, amid rumours that victims had traded or killed cows.
Kohli fined for breaching code of conduct against Afghanistan
Kohli has been fined 25 per cent of his match fee for excessive appealing in the tense World Cup contest.
June 24
Mayawati calls Akhilesh anti-Muslim, says BSP to contest polls alone
The announcement comes a day after the BSP supremo held a meeting with party workers to review her outfit's showing in the recent Lok Sabha polls.
RBI Deputy Governor Acharya quits six months before end of term
Viral Acharya is returning to the New York University Stern School of Business in August instead of February next year, according to the report.
Yemeni rebels target Saudi airport again, 1 killed
On June 12, a rebel missile attack on the international airport in the southwestern city of Abha had wounded 26 civilians.
June 25
Mehul Choksi could be extradited to India: Antigua PM
Choksi and his nephew Nirav Modi, who is currently in a London jail, are wanted by the Enforcement Directorate and the CBI for allegedly defrauding the Punjab National Bank to the tune of Rs 13,400 crore.
AMMA forms special internal complaint cell for women
The Association of Malayalam Movie Artists (AMMA) is all set to welcome new changes in its organisational structure.
June 26
Over 1 lakh more excluded in fresh Assam NRC list
The NRC in Assam is being updated under the monitoring of the Supreme Court and the final list is scheduled to be released on July 31.
Modi fan Abdullakutty joins BJP after trysts with CPM, Congress
Abdullakutty, an ex-MP of the CPM, was thrown out of the Congress early this month after praising Prime Minister Narendra Modi for the BJP-led NDA's massive victory in the Lok Sabha election.
US Secretary of State Mike Pompeo meets PM Modi
Pompeo and Indian leaders discuss agenda for the US-India strategic partnership.
Rahul Gandhi rejects MPs' demand to remain Congress chief
MPs like Shashi Tharoor and Manish Tewari urged Rahul to continue as the party chief.
Modi is 'more democratic' than other PMs: Alphons Kannanthanam
June 27
Murdered 3-year-old Sherin's foster father Wesley Mathews sentenced to life
Wesley Mathews, the Indian-American foster father of three-year-old Sherin Mathews, was sentenced to life by a judge in Dallas for the tragic death of the Indian toddler in 2017, in a case that attracted international attention. He will be eligible for parole after 30 years' imprisonment.
Kerala medical college admissions hit a roadblock
The self-finance medical college managements have refused to begin the admission process without a final decision on the year's fees.
Air India's Mumbai-Newark flight lands in UK after bomb scare
All flights at Stansted have been temporarily grounded, according to British media reports.
June 28
G20 summit: BRICS bloc call on world nations to prevent terrorism
In a joint statement after their informal meeting on the sidelines of the G-20 summit, BRICS leaders also reiterated their commitment to fight the exploitation of internet for terrorist purposes.
Modi-Trump meet on sidelines of G20 summit
The Modi-Trump meeting assumes significance as the US president, championing his 'America First' policy, has been a vocal critic of India for levying "tremendously high" duties on US products.