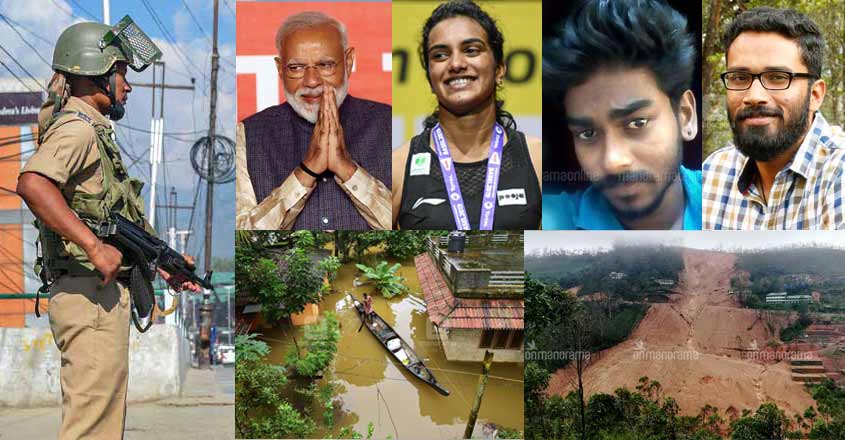 August 1
Unnao rape case: SC awards 25 lakh compensation for the victim
SC's crucial intervention: Shifts all five cases to New Delhi, asks special judge to complete the trial in 45 days and directs the government to provide CRPF protection to the rape survivor.
5% hike in dearness allowance of centre, state govt employees
The hike comes as the annual average of the All India Consumer Price Index (AICPI), used to calculate the DA, has increased from 294.83 points to 306.08 points. This is the biggest rise in five years.
August 2
Govt can now tag individuals as terrorists, RS clears amendment
Under the bill the government can designate individuals as terrorists if they commit or participate in acts of terrorism, prepare for acts of terror, promote terrorism or are otherwise involved in terrorism.
August 3
Journalist killed as IAS officer Sriram Venkitaraman's car rams his bike
Though the blood sample of Venkitaraman's friend was collected, the police informed that some legal formalities have to be followed for collecting his samples.
Many leave Kashmir valley amid army build-up
While the authorities were drafting contingency plans, discussing and re-drafting them, the common man in the Valley was making his plans to adjust to the administrative and security arrangements.
August 4
30 dead in mass shootings in Texas and Ohio in less than 24 hrs
The second shooting was reported from Dayton in Ohio when a man, who is yet to be identified, opened fire outside a bar.
Thailand Open: Satwiksairaj and Chirag create history
Satwiksairaj Rankireddy and Chirag Shetty stunned third seeds Li Jun Hui and Liu Yu Chen of China 21-19, 18-21, 21-18 in the summit clash to become the first Indian pair to win a BWF Super 500 event.
August 5
Kashmir: Modi govt removes J&K's special status without voting
Home Minister Amit Shah introduces two other bills to strip Jammu & Kashmir's statehood and split it into Union Territories of Ladakh and Jammu and Kashmir.
August 7
Sr Lucy, who protested against Bishop Franco, expelled
"I have nowhere to go. I have devoted my entire life to the congregation," says Sr Lucy, who has been ordered to leave the convent in 10 days.
President declares abrogation of provisions of Article 370
The President's order came after both houses of Parliament passed a resolution in this regard.
August 8
Deadly landlside rattle Wayanad and Malappuram
Puthumala in Wayanad and Kavalappara in neighbouring Malappuram had been rocked by a series of landslides which claimed several lives.
Floods kill 34, displace thousands in Maharashtra, Karnataka
The tally of dead in the floods was 25 in Maharashtra, while government data in neighbouring Karnataka showed 9 dead.
South Africa's Ackermann claims T20 world record seven wickets
Malaysian bowler Arul Suppiah held the previous world record when he claimed 6-5 for Somerset against Glamorgan in 2011.
August 9
Over 20 people die across Kerala amid incessant rain
Landslides have been reported from a few places as the state was lashed by heavy rains.
Pak bans cultural exchanges with India, consults China
Pakistan Foreign Minister Shah Mahmood Qureshi has left for China to hold consultations with the Chinese leadership over India's decision to revoke Article 370 that granted special status to J&K.
National Film Awards: Uri director, Gujarati film bag top honours; Keerthy Suresh Best Actress
The much-awaited and long-delayed 66th National Film Awards has been finally announced. The awards were postponed this year due to the Lok Sabha election.
August 12
Street-vendor contributes 10 sacks of clothes for the flood-affected
A video of Noushad handing over new clothes to volunteers has went viral on social media.
Tourism ministry makes 'wildlife' a theme for Incredible India
This follows a Discovery channel show called 'Man vs Wild' featuring Prime Minister Narendra Modi.
Pay more for Class 10, 12 exam, CBSE announces hike after 5 years
The hike is applicable from the 2019-20 academic session.
August 13
New US rule to halve legal immigration, deny entry to poor
The new rule would reject applicants for temporary or permanent visas if they fail to meet high enough income standards or if they receive public assistance such as welfare, public housing or Medicaid.
August 14
IAF braveheart Abhinandan to be conferred with Vir Chakra
Varthaman became the face of a tense military confrontation between India and Pakistan when he was captured by the Pakistani Army earlier this year.
August 15
Landslides batter Pathar village, its residents escape miraculously
'Had the landslides occurred at night, it would have been one of the biggest natural calamities in Kerala'.
PM Modi announces Chief of Defence Staff post to head forces
Prime Minister Narendra Modi announced creation of a chief of defence staff (CDS) as head of the tri- services-Army, Navy and the Air Force.
August 16
Cricketing fraternity shocked over former Indian opener VB Chandrasekhar's death
A news report quoted Chandrasekhar's family member as saying that the 57-year-old was upset over the losses incurred while running a regional league team and committed suicide.
August 17
India breaks down 'piece by piece' Pak-China bid to internationalise Kashmir at UN
The rare closed-door consultations on Kashmir by the Security Council ended without any outcome or statement from the powerful 15-nation UN organ.
Restrictions in Kashmir valley eased, mobile services restored in parts of Jammu
Restrictions on the movement of people in the Kashmir Valley were eased on Saturday, with landline services restored in some areas of the city.
August 18
At least 63 killed as blast rips through Kabul wedding
The blast comes at a greatly uncertain time in Afghanistan as the United States and the Taliban near a deal to end a nearly 18-year war, America's longest conflict.
James Bond's Aston Martin DB5 sold for a whopping $6.4 million
Aston Martin made its debut in the popular film franchise some five-and-a-half decades ago as the vehicle of the British spy in 'Goldfinger' released in 1964.
August 19
Sriram Venkitaraman's driving licence suspended over drunk-driving case
Earlier, the department was of the stance that licence can be cancelled only if rules are violated frequently.
Wreckage of IAF craft missing since '68 found
The Western Command launched an operation on July 26 to recover the mortal remains of over 90 missing soldiers who were on board the AN-12 BL-534 aircraft which went missing on February 7, 1968.
August 20
Chandrayaan-2 successfully enters Moon's orbit
The challenging operation with regard to the entry into the lunar orbit lasted 1738 seconds.
August 22
Kevin murder: Ten convicted in Kerala's first honour killing case
Four of the accused including Neenu's father Chacko John have been acquitted in the Kevin Joseph murder case in Kottayam.
August 23
Kerala's climate activist chosen for UN Youth Climate Summit
Vishnu P R, from Thiruvananthapuram is the CEO of 'Change Can Change Climate Change (C5) Foundation', an organisation focused on climate change mitigation and adaptation projects.
August 24
Former Finance Minister Arun Jaitley passes away
The BJP leader's last rites will be held at the Nigambodh Ghat on Sunday.
Keralite IAS officer quits in bid to regain freedom of speech
Political pressure allegedly forced Kannan Gopinathan, the power secretary in the Union Territory of Dadra and Nagar Haveli, to quit the coveted position.
August 25
BWF Worlds final: Sindhu crushes Okuhara, makes history
Ace shuttler PV Sindhu became the first Indian to win the BWF World Championships, crushing Japan's Nozomi Okuhara 21-7, 21-7 in just 36 minutes in a one-sided final.
BM Kutty, Pakistani politician with Kerala roots, passes away
Born at Tirur in present-day Kerala's Malappuram on July 15, 1930, Kutty had migrated to Pakistan in 1949 and rose to prominence in Pak politics. The 89-year-old was a popular Left leader in India's neighbouring country.
NASA to probe into first-ever 'space crime'
Astronaut Anne McClain is accused of identity theft and improperly accessing her estranged wife's private financial records while on a sixth-month mission aboard the International Space Station.
August 26
RBI to transfer Rs 176,000-cr surplus to government
Last financial year, with an interim transfer of Rs 28,000 crore in February this year, the government got a total Rs 68,000 crore from the central bank.
The Amazon fires are sparking a crisis for Brazil and the world
The Amazon - 60% of which is in Brazil - is the world's largest tropical rainforest. It is considered a biodiversity hot spot, with many unique species of plants and animals.
August 27
Kevin murder case: All 10 convicts get double life sentence
https://english.manoramaonline.com/news/kerala/2019/08/27/kevin-joseph-honour-killing-case-sentence.html
In the first conviction for honour killing in Kerala, the Kottayam Municipal Sessions Court awarded double life sentence to all 10 convicts in the Kevin Joseph murder case.
August 28
Centre gets SC notice over pleas against scrapping Article 370
The SC also sought responses from the Centre and Jammu and Kashmir administration on a plea seeking removal of restrictions imposed on journalists after Article 370 was scrapped.
August 29
Sweeping changes proposed in Income Tax rates, here's what it means
If the recommendations are accepted, people earning between Rs 2.5 lakh to Rs 5 lakh per year will have to pay a higher income tax of 10 per cent as opposed to 5 per cent earlier and those earning Rs 5 lakh to 10 lakh will have to pay a lower income tax of 10 per cent as opposed to 20 per cent earlier. The tax for the income bracket Rs 10 to Rs 20 lakh per annum has been lowered from 30 per cent to 20 per cent.
Kotak, Mhambrey replace Dravid as India 'A', U-19 head coaches
Former Saurashtra captain Sitanshu Kotak and ex-India seamer Paras Mhambrey have replaced Rahul Dravid as head coaches of India 'A' and U-19 sides following a reshuffle in support staff for juniors.
August 30
'Will we?' to 'we will' is new India, says PM Modi at Manorama News Conclave 2019
The Prime Minister said that the essence of New India was that its people had risen above self-interest and had demonstrated a spirit of sacrifice that would have done Mahatma Gandhi proud.
After Modi's language mantra to unite India, Tharoor launches #languagechallenge
Modi urged the media to publish one word each day in 10-12 different languages spoken across the country.
Nirmala's next mega move: 10 public sector banks to be merged
The banks to be merged are Punjab National Bank (PNB), Oriental Bank and United Bank; Canara Bank and Syndicate Bank; Union Bank, Andhra Bank and Corporation Bank; and Indian Bank and Allahabad Bank.
Four, including TO Sooraj, arrested over Palarivattom flyover scam
The shoddy construction of an flyover in Palarivattor in Kochi city had raised corruption allegations.
GDP growth slows to over 6-year low of 5%, modest stimulus in pipeline
Sharp deceleration in manufacturing output and subdued farm sector activity pulled down India's gross domestic product (GDP) growth to a more than six-year low of 5 per cent in the April-June quarter of 2019-20.