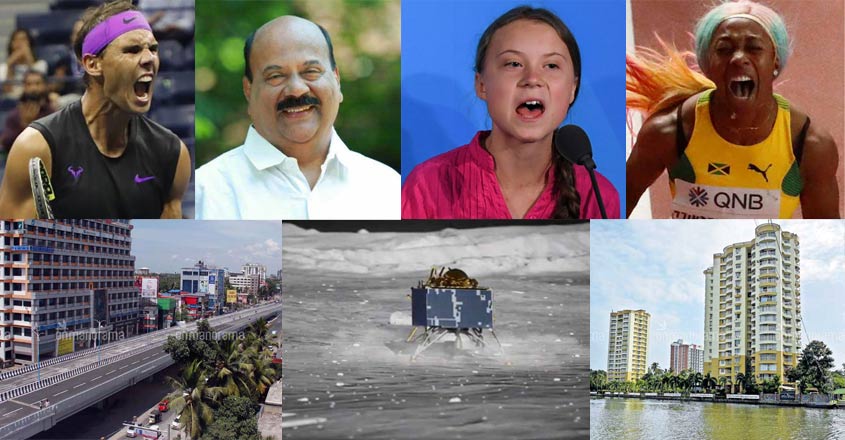 September 1
'Foreigner' tag irks ex-servicemen left out of Assam's National Registry of Citizens
The centre has promised that those excluded from the list will neither be discriminated in their homeland nor declared foreigners.
French Formula Two driver Anthoine Hubert dies after crash
The 22-year-old was hit by Ecuadorian-American driver Juan Manuel Correa after he had already gone off into the barriers at the Spa-Francorchamps track's fast Raidillon corner.
September 2
Indian diplomat meets Kulbhushan Jadhav after Pak nod
While Pakistan claims that its security forces arrested Jadhav from the restive Balochistan province, India maintains that Jadhav was kidnapped from Iran where he had business interests after retiring from the Navy.
September 3
Kochi metro extends to Thykoodam, city traffic to ease
The new stations between Maharaja's College and Thykkoodam are Ernakulam south, Kadavanthra, Elamkulam and Vytila.
Rift in Kerala Congress(M) leaves Pala candidate bereft of 'Two Leaves'
PJ Joseph said he was not inclined to sign the nomination papers of the candidate as he had been suspended from the party.
Mithali Raj bids adieu to T20I cricket
She holds the distinction of being the first Indian to reach the landmark of 2000 runs in T20Is.
September 4
India formally dubs Azhar, Saeed, Dawood, Lakvi terrorists
The government's move comes a month after the Parliament passed an amendment to the Unlawful Activities Prevention Amendment (UAPA) Bill, 1967.
September 5
HC lets off 8 convicts, serving life term for Paul Muthoot murder
Paul was stabbed to death on August 21, 2009, at Ponga junction on Alappuzha-Changanassery road.
India extends $1bn credit for development of Russia's Far East
PM Modi, in the presence of Russian President Vladimir Putin, also unveiled the 'Act Far East' policy to boost India's engagement with Russia's Far East region.
September 6
Wesley Mathews, serving life for death of adopted child, denied re-trial
The Keralite had pleaded guilty on June 24 to a lesser charge of injury to a child in Sherin's death and was sentenced to life imprisonment in the US.
Arif Mohammad Khan sworn in as new Kerala Governor
Despite being in the city, CM Pinarayi failed to greet the new Governor at the airport, but made it up by calling on Khan at his residence later in the day.
September 7
Chandrayaan-2: Vikram lander lost links with the orbiter, says ISRO
Officials at the space agency's telemetry, tracking and command network are analysing how the lunar mission lost track at the critical phase.
September 8
Ram Jethmalani, eminent lawyer and former minister, passes away
He had fought several high-profile cases over a long career.
Andreescu topples Serena Williams in US Open final for maiden Grand Slam
The 19-year-old became the youngest Grand Slam winner since Maria Sharapova at the 2006 US Open.
September 9
Nadal downs Medvedev in an epic to clinch US Open
Spain's Rafael Nadal won his fourth US Open title and 19th major championship with a 7-5, 6-3, 5-7, 4-6, 6-4 win over Russia's Daniil Medvedev.
September 10
Maradu municipality orders 346 families in 5 apartments to vacate
The Supreme Court has directed to raze the five buildings constructed in a notified Coastal Regulation Zone.
September 11
Chandrababu Naidu, son put under house arrest ahead of protest
Naidu's son Nara Lokesh, who came out of the house, took strong exception to the police action.
Apple reveals triple-camera iPhone 11, undercuts streaming services
The Apple Watch Series 5 will have an always-on display, an 18-hour battery life and international emergency calling in over 150 countries.
September 13
First arrested landing of Naval LCA successful | Video
This development will now steadily pave the way for this desi platform to undertake aircraft carrier landing demonstration on board the INS Vikramaditya.
Kerala Blasters cancel UAE tour citing poor arrangements
Blasters ended the UAE tour abruptly because of the indifference of one of the sponsors, Emirates First Business Service MD Jamad Usman said.
September 14
Modi, Shah greet nation on 'Hindi Diwas'
'The simplicity, spontaneity and elegance of a language provide meaningfulness to expression. Hindi has incorporated all of these aspects beautifully,' PM Narendra Modi said.
US busts drug ring importing opioids from India with 8 arrests
The epidemic of opioids has become a national crisis in US with 47,600 deaths from overdoses in 2017.
September 15
Deadline to vacate Maradu flats ends, govt finds shelters for relocation
Sources in the revenue department said that Kanayannur Taluk officials have arranged shelters for 375 families.
Sourabh Verma wins Vietnam Open title
Second seed Sourabh recovered from a mid-game slump to beat Sun Fei Xiang 21-12, 17-21, 21-14 in the summit clash.
September 16
'Metro man' E Sreedharan to rebuild faulty Palarivattom flyover in one year
The works will commence by the first week of October and completed within a year.
Kerala PSC test to be conducted in Malayalam: PSC chairman
The decision was made in a meeting attended by in a meeting attended by Kerala Chief Minister Pinarayi Vijayan and PSC chairman MK Sakeer.
September 17
Don't give assault visuals to Dileep, Kerala govt tells SC
The actress, who was assaulted a couple of years ago in a moving vehicle, also pleaded not to hand over the clips to the actor who is the eighth accused in the case.
Boost for Gehlot govt, all 6 BSP MLAs join Congress
The merger would help the Congress in the ensuing Panchayat and Civic elections.
September 18
SIT to probe into theft of hard drives from INS Vikrant in Kochi
Indian Navy has downplayed the theft, noting that the aircraft carrier is not yet part of the service.
Govt bans production, import of e-cigarettes
The ordinance will likely be replaced with a bill in the next session of Parliament. Once the Parliament approves the bill, the proposed ban on such products will get legal backing.
SC sets Oct 18 deadline for completion of Ayodhya hearing
The Supreme Court said parties to the Ram Janmabhoomi-Babri Masjid land dispute case can amicably resolve the matter through mediation if they want to.
September 19
Call centre for free ambulance service 'Kanivu 108' inaugurated
The call centre for the free ambulance service network in Kerala has been inaugurated by Health Minister K K Shylaja.
National industrial corridor to extend till Kochi through Palakkad
Though the Palakkad district geologist submitted a report on this, the mining and geologist director K Biju allegedly did not take any follow-up action.
September 20
Government slashes corporate tax for domestic companies
The corporate tax rate will be 22 per cent for domestic companies, if they do not avail any incentive or concession.
Rape accused BJP leader Chinmayanand arrested in UP
Chinmayanand was not charged with rape for almost a month, after the woman filed a police complaint.
September 21
HAL readies new variant of Tejas ahead of maiden flight
The first Light Combat Aircraft is set for independent and integrated system checks at Hindustan Aeronautics Ltd.
Fadnavis announces BJP-Shiv Sena alliance in Maharashtra polls
The CM also exuded confidence that he will retain the post after elections.
Resignation of Madras HC Chief Justice Tahilramani accepted
The transfer of Justice Tahilramani to the Meghalaya High Court had snowballed into a major controversy with lawyers in Chennai as well as in her home state of Maharashtra coming out in protest against the Supreme Court collegium's decision.
GST on caffeinated beverages doubled, hotel tariffs slashed
The tax changes came on a day the government announced big bang reduction in corporate tax rates.
September 22
Terror in Thrissur bar as armed youths let loose dogs
Four German Shepherds ran amok, scaring the boozers away. Hundreds of glasses and beer bottles were broken in the commotion.
September 23
Maradu flat demolition: SC 'shocked' over Kerala's inaction, says 'no' to extension plea
'We are really shocked. What action the government has taken against illegal constructions?' asked Justice Arun Mishra.
Amit Shah pitches for a multi-purpose identity card
Informing that the 2021 census would be the most costly exercise done so far, the home minister said a total of Rs 12,000 crore was being spent this time.
'How dare you?' Greta Thunberg asks world leaders at UN

A visibly angry Greta Thunberg berated world leaders as she addressed a UN climate summit last week, accusing them of betraying her generation by failing to tackle greenhouse gas emissions and asking "How dare you?"
September 24
Setback for Boris Johnson, SC annuls shutdown of British Parliament
Some lawmakers, including those thrown out of Johnson's Conservative Party for rebelling against his Brexit plans, had said he should resign if he was found to have misled the Queen.
Imran Khan regrets Pakistan's role in 'war on terror' after 9/11
Speaking at the Council on Foreign Relations think-tank, the Pak PM said the least he expects the international community to do is to urge India to lift the curfew in Kashmir.
September 25
UP student abused by Chinmayanand arrested for extortion bid
The student has alleged she was raped and physically exploited for over a year by Chinmayanand, who was arrested on September 20 and remanded to judicial custody for 14 days.
September 26
Govt takes over Piravom church, protesters removed
Members of the Jacobite faction occupied the Church premises to prevent rival Orthodox priests from offering prayers.
N Srinivasan's daughter Rupa Gurunath elected TNCA president
Rupa is the wife of Gurunath Meiyappan, who is serving a life ban for his involvement in the 2013 IPL spot-fixing scandal.
September 27
Mani C Kappan ends Kerala Congress (M)'s reign in Pala
LDF candidate Mani C Kappan scripted history when he defeated UDF candidate Jose Tom Pulikkunnel by a margin of 2,943 votes to win the Pala assembly byelection in his fourth attempt.
SC asks Kerala to demolish Maradu flats, owners to get Rs 25 lakh
The bench comprising Justices Arun Mishra and Ravindra Bhat also directed Kerala government to pay interim compensation of Rs 25 lakh to each apartment owner.
September 28
Maradu flat owners threaten fast, issue four-point demand list
Their demands include a chance to inspect the centres where the families will be sheltered after being evicted from the flats.
Scorpene-class attack submarine INS Khanderi commissioned
India's second Scorpene-class attack submarine INS Khanderi is expected to increase the country's maritime combat lethality by several folds.
September 29
Owners of Maradu flats facing demolition agree to vacate
They said they were cooperating with the state government on realising about the latter's limitations in view of the apex court order.
BJP chooses Suresh, not Kummanam for Vattiyoorkavu byelection
A quick tactical reassessment done by the central leadership found less merit in having Kummanam fight a byelection.
TN cops nab Kerala agent in NEET impersonation case
Already 9 people have been arrested and they include four MBBS students from Tamil Nadu and their guardians.
Centre prohibits export of all varieties of onions amid rising prices
The Union Ministry of Commerce and Industry has amended the export policy of onions.
September 30
Fraser-Pryce blazes to history with fourth world gold

Jamaica's Shelly-Ann Fraser-Pryce powered her way to 100 metres gold on Sunday to become the first person to win four gold medals over the distance at the athletics world championships.
Star as big as Sun sinks into black hole! NASA sat shoots stunning event
Scientists have captured a view of a colossal black hole violently ripping apart a doomed star, illustrating a extraordinary and chaotic cosmic event from beginning to end for the first time using NASA's planet-hunting telescope.