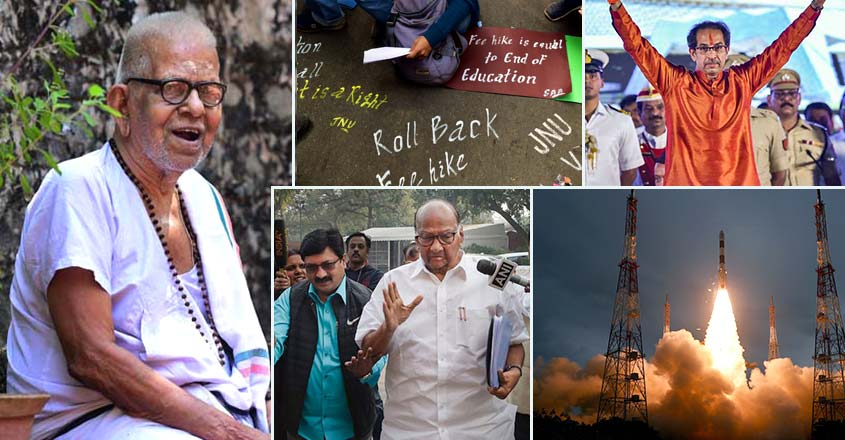 November 1
Jose K Mani not chairman of Kerala Congress (M): Sub court
'The court's verdict is not final. The court can summon a party meeting and find out who the majority of the party members support,' Jose K Mani said while responding to the court verdict.
Islamic State names Baghdadi successor, vows revenge against US
The group confirmed his death in an audio tape posted online and said a successor, identified as Abu Ibrahim al-Hashemi al-Quraishi, had been appointed.
Kerala gets DGCA nod for aerial survey of semi high-speed rail line
The exact alignment of the 'Silver Line' would be finalised based on the aerial survey and the boundaries for the line on both sides would be determined only with the approval of the state government.
November 2
2 students booked under UAPA over 'pro-Maoist' pamphlets
The arrested duo are Taha Fazal and Alan Shuhai, the former a Journalism student and the latter a Law student. The students are reportedly members of a CPM branch committee.
November 3
WhatsApp had alerted govt about spyware attack
The messaging-giant had alerted the government in September about the attack, but IT ministry has contended then that the information received was inadequate and incomplete.
November 4
Palarivattom flyover scam: HC grants bail to Sooraj, two others
Four were arrested on August 30 by the Vigilance and Anti-Corruption Bureau after a probe found irregularities in the construction of the flyover at Palarivattom.
November 6
Bail denied, UAPA-charged Kozhikode students to move High Court
The arrested students have decided to move the High Court against the district court order.
Two soldiers held for sharing crucial border details with Pak woman agent
The two soldiers were identified as Lance Nayak Ravi Verma and soldier Vichitra Bohra, who were arrested in a joint action by CBI and IB teams while they were going to their village.
BSNL notifies VRS, scheme open till December 3
The success of the VRS is critical to the survival of BSNL, whose 1.75 lakh strong work force consumes 75 per cent of the company's revenues in wages.
November 7
PM Modi asks ministers to avoid unnecessary remarks on Ayodhya
The Supreme Court is likely to deliver its verdict on the emotive Ayodhya issue before Chief Justice of India Ranjan Gogoi retires on November 17.
Fake IPS officer, who duped banks, nabbed in Kerala
The police have found that Vipin and mother had taken loan from various banks at Guruvayur to buy 12 cars and these were later sold off.
Votes in the name of religion: Petition against Anto Antony
A petition challenging Congress nominee Anto Antony's election from the Pathanamthitta Lok Sabha seat on the above grounds has been held as maintainable by the court.
November 8
Moody's lowers India's credit rating outlook to 'negative'
The revision will put additional pressure on Finance Minister Nirmala Sitharaman to take more measures to kickstart the economy.
November 9
Ayodhya verdict: SC directs centre to form trust for temple construction
A 5-judge Constitution bench, headed by Chief Justice Ranjan Gogoi, had reserved the judgement on October 16 after marathon hearing of 40 days.
November 10
New SC bench to take up any review plea on Ayodhya verdict
The options available before those who oppose the verdict are review petitions and if that too fails, they may submit a correction petition.
Rijosh murder suspects kill his daughter too before suicide bid
The duo had fled the state after allegedly murdering Rijosh and burying his body near the farmhouse at Shanthanpara in Idukki.
Cyclone Bulbul makes landfall in West Bengal, 4 killed
The cyclonic storm is set to weaken gradually as it moves into Bangladesh through the Sunderban delta.
Maruti Suzuki cuts production for 8th straight month
The production of passenger vehicles was down 117,383 units from 148,318 in October last year.
November 11
Sena's Sawant quits Modi ministry as party eyes tie-up with NCP in Maharashtra
Addressing a press conference, Sawant accused the BJP of reneging on its promise to the Sena for equal division of seats and power and forcing the Uddhav Thackeray-led party to snap ties.
November 12
High Court orders probe into Maoist encounter killings in Agali
Justice R Narayana Pisharadi directed the police to conduct a probe into the circumstances leading to the killing of two suspected Maoists in an alleged encounter in Agali forests of Palakkad district last month.
Dates set for razing Maradu buildings, to be gone in 12 secs flat
The buildings will be brought down on January 11 and 12, 2020 using controlled explosion. When the flats are razed , people in the 200-metre radius would be evacuated.
November 13
CJI's office comes under RTI Act, says Supreme Court
A five-judge constitution bench had earlier reserved its verdict on appeals filed in 2010 by the SC secretary general and its central public information officer against the HC and the Central Information Commission's orders.
IIT-Madras faculty blamed for Fathima's suicide
The family of the 18-year-old student Fathima Latheef met Kerala Chief Minister Pinarayi Vijayan and sought a fair police probe into the circumstances leading to her death.
November 14
Women can go to Sabarimala, legal battle goes to 7-judge bench
Apart from Sabarimala, the bench will re-examine some other issues, including Muslim women's entry at mosques, the right of Parsi women who married outside community to access the Tower of Silence.
Disqualified Karnataka MLAs join BJP
BJP, which aims to win a majority of the 15 constituencies where bypolls will be held, is likely to field most of them as the party candidates.
Supreme Court gives clean chit to Modi govt in Rafale deal
The apex court rejected contention that there was need for registration of FIR in connection with the deal.
November 15
Crime Branch to probe into IIT student Fathima's suicide
The probe officers would summon and question the teacher, against whom the deceased Fathima Latheef had levelled allegations.
Next Maharashtra CM will be from Shiv Sena, says NCP leader
Leaders of Congress, NCP, Shiv Sena said they would meet the governor to convey the decision.
SC holds ex-Ranbaxy promoters guilty of contempt of court
The Japanese firm had filed a contempt petition against the former Ranbaxy promoters alleging that execution of their arbitral award had been in jeopardy as the Singh brothers disposed of their controlling stakes in Fortis Group to the Malaysian firm.
Kerala enacts new law to curb vandalism during hartals
Revenue recovery proceedings can be initiated to levy the compensation ordered by the court.
November 16
Maharashtra politics: Shiv Sena accuses BJP of horse-trading
The Shiv Sena alleged that the BJP exuded confidence of forming government in Maharashtra after backing off initially, makes its intention of horse-trading under the guise of President's rule evident.
Bloomberg Billionaires: Bill Gates regains lead, Ambani 14th richest in the world
In 2018, Jeff Bezos had ended Gates' 24-year run as the richest man with a net worth of $160 billion.
November 17
Ayodhya case: Muslim Law Board to seek review of SC verdict
The board has also categorically refused to take five-acre land in Ayodhya in lieu of the mosque.
November 18
JNU students' protest rocks national capital
The students, who were holding a protest on the university's premises for the last three weeks, hit the streets seeking to get the attention of Parliament about their demands, asserting they will not relent until the government withdraws the hike.
November 19
Godman Nithyananda's institute accused of keeping 2 girls in confinement
Petitioners Janardana Sharma and his wife told the court they had admitted their four daughters to an educational institution run by Swami Nithyananda in Bengaluru in 2013 when they were in the age group of 7-15 years.
November 20
Citizens register will be drafted across country, says Amit Shah
The Home minister said the Government accepts that refugees - Hindu, Buddhists, Jain, Christians, Sikhs and Parsis - who left Pakistan, Bangladesh and Afghanistan due to religious atrocities should get Indian citizenship.
November 21
Judicial probe ordered into Walayar deaths
The Cabinet has appointed former Vigilance Tribunal judge S Haneefa to head the probe.
Snakebite in classroom: 10-year-old dies, teacher suspended
The class-5 student, S Shehala, daughter of the lawyer-couple Abdul Aziz and Shajna from Chitoor in Puthankunnu, was sitting in her class when the snake surfaced from a hole in the classroom and bit her and quickly disappeared.
November 22
Snake bite death at Wayanad school: Head teachers suspended, PTA dissolved
Wayanad district collector Adeela Abdulla has asked the education department to ensure all schools are reptile-free and clean the school premises immediately.
With new bill, Kerala to proscribe arms training on temple premises
According to the draft Bill, the properties of the Devaswom should not be used for anything other than matters related to the temple or its traditions.
43% of unaccounted cash siezed is in form of Rs 2000 notes: Nirmala Sitharaman
The Rs 2000 notes, released by the Reserve Bank of India post November 2016 demonetisation of Rs 500 and Rs 1000 banknotes, has now emerged as the favourite currency for hoarders.
November 23
Devendra Fadnavis sworn in as Maharashtra CM; Ajit Pawar deputy CM
Fadnavis was sworn in as CM and NCP chief's nephew Ajit Pawar as the deputy chief minister at 8:00am on November 23 morning after the President's Rule was revoked at 5:47am.
List of NCP MLAs given by Ajit Pawar not official: Sharad Pawar
'First it was in Bihar, then Haryana and now Maharashtraa. They break parties and legislators, and we exposed them. We are together with the NCP now and shall take the future steps unitedly,' Uddhav Thackeray asserted.
'Party and Family splits,' admits Sharad Pawar's daughter Supriya
Sources said it could be a blessing in disguise as Sharad Pawar will be able to settle his daughter Supriya Sule as the undisputed leader of the NCP.
November 25
Ajit Pawar gets clean chit in 70,000cr Maharashtra irrigation scam cases
The cases, among others, collectively known as the Rs 70,000 crore 'irrigation scam' were allegedly perpetrated around 10 years ago and had created a massive political furore.
November 26
Maharashtra crisis: SC cites Karnataka case, old orders on floor test
While ordering floor test for Maharashtra CM Devendra Fadnavis, the Supreme Court referred to its past decisions on Karnataka, Uttarakhand, Uttar Pradesh and Jharkhand where it had ordered similar exercise in times of political crisis.
Devendra Fadnavis steps down as Maharashtra CM after Ajit Pawar quits
Maharashtra Chief Minister Devendra Fadnavis, who sworn-in on November 23, resigned a few hours after the Supreme Court asked to prove his majority in the Assembly.
Sabarimala: Trupti Desai's visit aborted, Bindu Ammini attacked in Kochi
Bhumata Brigade is a Pune-based social activist organization dedicated to fighting injustice to women and against corruption.
November 27
UAPA arrests: High Court denies bail to CPM workers Alan, Thaha
The court, while rejecting their plea, said bail could not be granted because the police is still investigating the allegations against them.
Protem Speaker administers oath to Maharashtra MLAs
One month after the results of the assembly polls were announced, the newly-elected members took oath after the Supreme Court's order.
Ajit Pawar back in NCP fold, hugs cousin Sule
On his visit to 'Silver Oak', his uncle and NCP president Sharad Pawar's residence, Ajit Pawar said, 'It is my right to meet my leader.'
ISRO launches advanced observation satellite CARTOSAT-3
The space agency launched CARTOSAT-3 satellite, ninth in the series, from the second launch pad at spaceport of Sriharikota, about 120kms from here on November 27 at 09.28am.
Sanju Samson replaces injured Dhawan in Indian T20 team
The 25-year-old may get a chance to play in front of his home crowd with Thiruvananthapuram slated to host the second match against the West Indies on December 8.
November 28
Uddhav Thackeray takes oath as Maharahstra CM
Thackeray would be taking over as chief minister more than a month after results of the Maharashtra Assembly elections were declared on October 24.
BJP drops Pragya Thakur from defence panel after Godse-remark
Thakur created a controversy with her remark in the Lower House during DMK member A Raja's narration of a statement by Nathuram Godse before a court on why he killed Mahatma Gandhi.
INX-Media case: SC reserves verdict on Chidambaram's bail plea
Solicitor General Tushar Mehta, appearing for the ED, told the court that Chidambaram continues to wield 'substantial influence' on crucial witnesses even from custody.
Manchester City to buy 65 per cent stake in Mumbai City FC
The ISL team would become the eighth club in the CFG network. CFG will become a majority shareholder in the Mumbai club.
November 29
SC lets Dileep to watch visuals of actress attack, denies copy
The SC bench led by Justice A M Khanwilkar rejected Dileep's petition against an earlier Kerala High Court ruling on the crucial evidence in the sensational case. The trial court proceedings in the case can be resumed now with this judgment.
Four held for rape, murder of Hyderabad veterinarian
Those detained include a truck driver and a cleaner. The police suspect the girl was gang raped by the accused, who later strangulated her to death and burnt the body.
Akkitham, proponent of modernism in Malayalam poetry, wins Jnanpith Award
Akktiham thus became the sixth Malayalam writer to win the prestigious award.
Pragya Thakur apologises for Godse remark in Lok Sabha
The Bhopal MP, who faces charges in the Malegaon blasts case, said she respects the service of Mahatma Gandhi for the country and condemned the way her statement was interpreted.