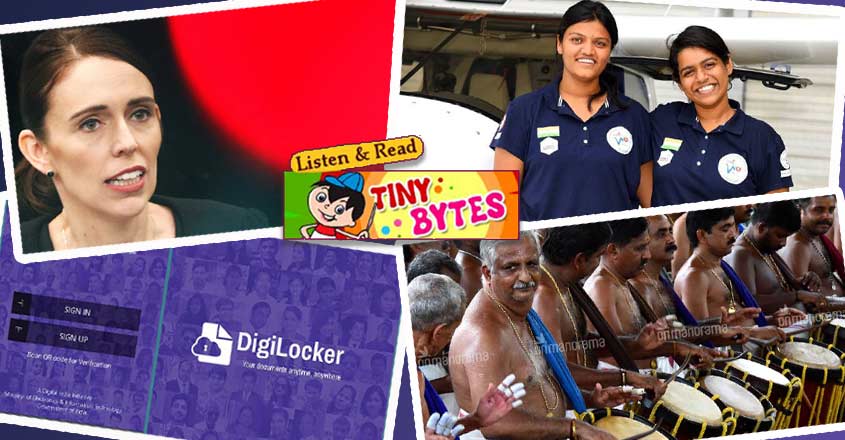 Soon, SSLC document will be available in digital format
Kerala has been in the forefront of employing information technology (IT) both in the public education and public administration sectors. From July 15 this year, SSLC certificates of students who sit for Class 10 exams will be available on DigiLocker and they can be used as original certificates.

DigiLocker is an online way of storing all important certificates as e-documents. CBSE certificates are already available on DigiLocker, while those of the Board of Public Examination which conducts the SSLC (Secondary School Leaving Certificate) examination makes its debut this year.

DigiLocker is a "digital locker" service of the national government. A DigiLocker account can be opened using mobile and Aadhaar numbers on the site digilocker.gov.in.

Ardern returns girl's 'dragon research' bribe

Prime Minister Jacinda Ardern has rejected a "bribe" from an 11-year-old girl who wrote asking the government to conduct dragon research, her office confirmed on Tuesday.
The girl, identified as Victoria, wanted to be given telekinetic powers so she could become a dragon trainer, the BBC reported. She included NZ$5 ($3.20) with her letter, apparently as a bribe.
Writing back on official letterhead, Ardern said: "We were very interested to hear your suggestions about psychics and dragons, but unfortunately we are not currently doing any work in either of these areas.
"I am therefore returning your bribe money, and I wish you all the very best in your quest for telekinesis, telepathy and dragons." In a handwritten note, Ardern added: "P.S. I'll still keep an eye out for those dragons. Do they wear suits?"
Explaining the niche request, the girl's brother said her interest in telepathy comes from the Netflix sci-fi series "Stranger Things", which features telepathy and telekinesis - the power to move things using one's mind.
Mumbai woman pilot crosses Atlantic solo in sport aircraft - a first
Captain Aarohi Pandit, a 23-year-old pilot from Mumbai became the world's first woman to cross the Atlantic Ocean solo in a Light Sports Aircraft (LSA), thrilling her family, friends and aviation circles here on Tuesday.

She achieved the feat around midnight Monday-Tuesday (May 13-14) when she landed her tiny aircraft at Iqaluit Airport in Canada, after a gruelling 3,000 km long flight, under adverse and extreme weather conditions following take-off from Wick, Scotland (United Kingdom), with brief stopovers in Greenland and Iceland.

A commercial pilot and LSA licence holder, Pandit and her best friend Keithair Misquitta left India on the Women Empower (WE) Expedition in the tiny aircraft christened 'Mahi.'
Copyright for Thrissur Pooram? Why you can't upload Ilanjithara Melam clip
A controversy has been triggered over the rights of the performance of the percussion ensemble for the 'Thrissur Pooram'. Pooram aficionados are complaining of the inability to share videos and audio clippings of the 'Ilanjithara Melam' and 'Panchavadyam' on online platforms like YouTube, since the performances are claimed to have been 'copyrighted' by a private music company.
The Ilanjithara Melam, Panchavadyam and Panchari Melam of Thrissur Pooram were recorded earlier for the multilingual movie 'The Sound Story' featuring Resul Pookutty in lead role.
Copyrights for these went to producers Sony Group along with the songs recorded for the movie. Once a copyright is obtained for a song, that music or anything similar cannot be uploaded online. There have been various complains of people who were denied from uploading a video or audio clip that contains the performances claiming copyright issues.
However, the pooram enthusiasts are questioning its application on Thrissur Pooram and its percussion performances by eminent artists, including the percussion maestro Peruvanam Kuttan Marar.