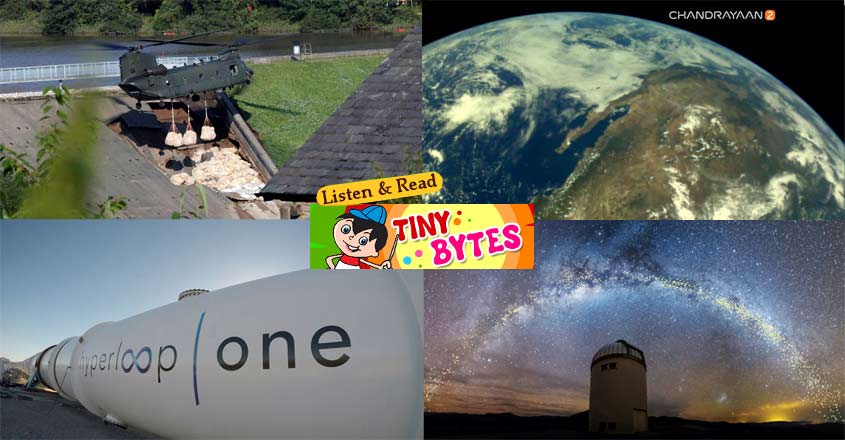 British military called in to stop dam collapsing and flooding town
A British military helicopter dropped sacks of ballast onto the outer slope of a reservoir dam in central England on Friday in an effort to prevent it from collapsing and flooding the town below.

Police were evacuating more than 6,000 residents of Whaley Bridge, telling them to take pets and any medication they needed with them after the dam was badly damaged during heavy rains.
Officials said the dam, holding back 300 million gallons of water, was in danger of failing, putting lives at risk.
Engineers have been pumping water out of the reservoir to get the level down, reduce pressure on the wall and allow repairs to begin.
Police said the level had fallen by 0.5 metres (20 inches) but still needed to drop by several more metres until it was below the damage - an operation that could take several days. A Royal Air Force Chinook helicopter was shifting 400 tonnes of aggregate - a mixture of sand, gravel and stone - onto the reservoir wall to reinforce it.
Evacuated residents would be allowed to briefly return to their homes to collect animals and belonging under police escort.
See how Earth looks from up-above, ISRO shares images captured by Chandrayaan-2
The Indian Space Research Organisation (ISRO) on Sunday released the first set of pictures of the earth captured by Chandrayaan 2, the country's second Moon mission launched a fortnight ago.
The pictures were captured by L 14 camera on board Chandrayaan II. The pictures show the earth in different hues.
On July 22, the Chandrayaan-2 was injected into an elliptical orbit of 170x45,475 km by India's heavy lift rocket Geosynchronous Satellite Launch Vehicle-Mark III (GSLV Mk III) in a text book style. The spacecraft comprises three segments -- the Orbiter (weighing 2,379 kg, eight payloads), the lander 'Vikram' (1,471 kg, four payloads) and rover 'Pragyan' (27 kg, two payloads).
Pune-Mumbai in 35 mins soon to be reality with hyperloop
In an impetus to the dream journey between Mumbai and Pune in under 35 minutes, the Maharashtra government has approved the Virgin Hyperloop One-DP World consortium as the "Original Project Proponent" (OPP) for the Pune-Mumbai hyperloop project -- a move that will generate jobs and over $36 billion in various socio-economic benefits.
According to Virgin Hyperloop One, the state government -- one of the first proponents of hyperloop technology in the world -- has deemed hyperloop a public infrastructure project, setting it up to be the first hyperloop project in the world. DP World (DPW), a global trade leader and a major ports and logistics operator in India, is set to invest $500 million to complete phase 1 of the project, which will certify this new technology for passenger operations.
The hyperloop project will link central Pune with Mumbai in under 35 minutes, as opposed to the current over 3.5-hour journey by road. Virgin Hyperloop One has projects underway in Missouri, Texas, Colorado, North Carolina, the Midwest, India, Saudi Arabia and the UAE.

Astronomers find that Milky Way is a warped and twisted galaxy

Astronomers have created the most precise map to date of the Milky Way by tracking thousands of big pulsating stars spread throughout the galaxy, demonstrating that its disk of myriad stars is not flat but dramatically warped and twisted in shape.

The researchers on Thursday unveiled a three-dimensional map of the Milky Way - home to more than 100 billion stars including our sun - providing a comprehensive chart of its structure: a stellar disk comprised of four major spiral arms and a bar-shaped core region.
Until now, the understanding of the galaxy's shape had been based upon indirect measurements of celestial landmarks within the Milky Way and inferences from structures observed in other galaxies populating the universe. The new map was formulated using precise measurements of the distance from the sun to 2,400 stars called "Cepheid variables" scattered throughout the galaxy.
The map showed that the galaxy's disk, far from flat, is significantly warped and varies in thickness from place to place, with increasing thickness measured further from the galactic center. The disk boasts a diameter of about 140,00 light years. Each light year is about 6 trillion miles (9 trillion km).