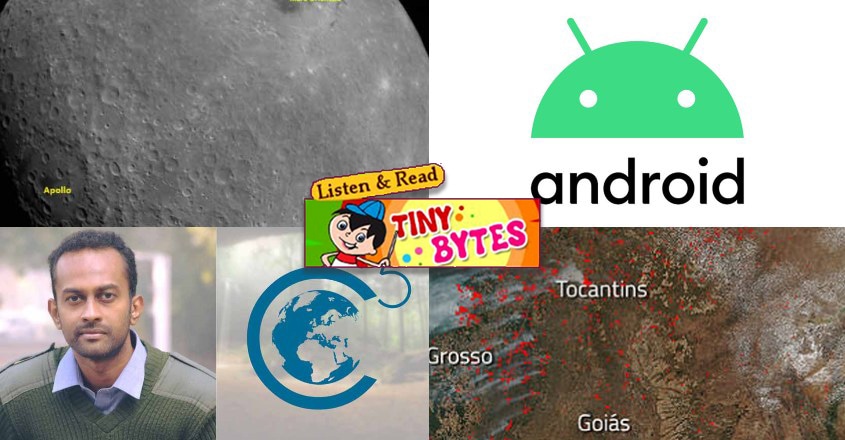 Fire outbreaks in Amazon rainforest at record rate
The Amazon rainforest in Brazil is experiencing a record amount of fires this year -- more than 74,000 outbreaks so far - which is an 84 per cent increase from the same period in 2018, according to data from the country's space agency.
The National Institute for Space Research (IPNE) said it detected more than 74,000 fires between January 1 and August 20 - the highest number since records began in 2013.
According to the agency, it observed more than 9,500 forest fires since last Thursday, mostly in the Amazon region. In comparison, there were slightly more than 40,000 in the same period of 2018, IPNE said. However, the worst recent year was 2016, with more than 68,000 fires in that period.
Greenpeace, the non-government environmental organization, said that the wildfires were so intense that smoke loomed over the city of Sao Paulo, more than a thousand miles away.
The satellite images showed Brazil's most northern state, Roraima, covered in dark smoke, while neighbouring Amazonas state declared an emergency over the fires. The hashtags #PrayforAmazonas and #AmazonRainforest were trending on Twitter on Wednesday.
Kerala's climate activist chosen for UN Youth Climate Summit

Young climate entrepreneur Vishnu P R from Thiruvananthapram will be among the 100 outstanding climate champions chosen from over 7000 young green crusaders across the world to present his solutions for climate change at the first ever Youth Climate Summit at the United Nations on September 21.

Vishnu, the CEO of 'Change Can Change Climate Change (C5) Foundation', will have a special 'Green Ticket' that will take him on a fully-funded trip to the UN Headquarters in New York. The objective is to provide the chosen 100 a carbon-neutral trip to the UN. This would mean that the part of the trip will be on train and bus wherever possible.

The young climate activist from India is among 100 outstanding climate champions selected from around the world for a special 'Green Ticket' that will help them travel to the UN headquarters next month to participate in the rst-ever Youth Climate Summit, a platform for young leaders to showcase their solutions for climate change on a global stage.

Google ditches dessert names for Android 10

Google, which named its operating system versions after tasty treats like Lollipop and KitKat, has announced that it will just use the version number going forward, and the latest edition is to be called 'Android 10'.

In a blog post, Google said its engineering team always used internal code names for each version, based on desserts in alphabetical order.
"This naming tradition has become a fun part of the release each year externally, too. But, we've heard feedback over the years that the names weren't always understood by everyone in the global community," it said.

"As a global operating system, it's important that these names are clear and relatable for everyone in the world. So, this next release of Android will simply use the version number and be called Android 10," it said. The versions included Cupcake (Android 1.5) that was launched in April 2009, Donut, Eclair, Froyo, Gingerbread, Honeycomb, Icecream Sandwich, Jelly Bean, KitKat, Lollipop, Marshmallow, Nougat and Oreo. Android P or Pie was released publicly in August last year.

Interestingly, a campaign was run in India before the release of Android L to name the version 'Ladoo' after the popular Indian sweet.

Take a look at the first Moon shot by Chandrayaan-2

The first picture of Moon captured by India's Chandrayaan-2 satellite, currently in the lunar orbit, was released by space agency ISRO on Thursday.

The picture of Moon was taken by Chandrayaan-2's LI4 Camera from an altitude of about 2,650 km from the lunar surface on August 21, the Indian Space Research Organisation said.

The Mare Orientale, shaped like a target ring bull's-eye, is one of the most striking large scale lunar features, located on the Moon's extreme western edge, and is difficult to see from an earthbound perspective, according to US space agency NASA.

It is said to be over 3 billion years old, about 950 km across and was formed by the impact of an asteroid sized object.