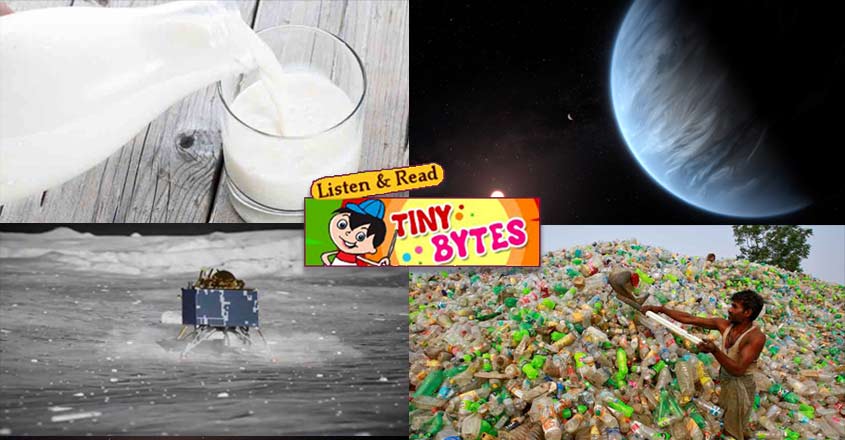 NASA joins ISRO to track moon lander Vikram
The Indian Space Research Organisation (ISRO) is continuing its attempt to reach out to India's moon lander sending communication signals with its Deep Space Network (DSN), said officials. It is also reported the American space agency National Aeronautics and Space Administration's (NASA) Jet Propulsion Laboratory (JPL) is sending radio signals to Vikram.
"Attempts are being made to re-establish communication links with the moon lander Vikram. The attempts will be made till September 20-21 when the sunlight will be there in the area where the Vikram has landed," an ISRO official preferring anonymity told IANS. The ISRO is trying to establish link with Vikram with its Indian Deep Space Network (IDSN) at Byalalu near Bengaluru.

Water found for the first time on super-Earth exoplanet

In an "incredibly exciting" finding, astronomers have for the first time discovered water in the atmosphere of a planet orbiting a distant star outside our solar system with Earth-like temperatures that could support life.

K2-18b, which is eight times the mass of Earth, is now the only exoplanet known to have both water and temperatures that could be potentially habitable, according to the study published in the journal Nature Astronomy. The planet orbits the cool dwarf star K2-18, which is about 110 light years from the Earth in the Leo constellation, noted the researchers who used data from ESA/NASA Hubble Space Telescope.
The discovery is the first successful atmospheric detection for an exoplanet orbiting in its star's 'habitable zone', at a distance where water can exist in liquid form.
At Rs 140 a litre, milk is costlier than petrol in Pakistan

The price of milk has gone out of control across major cities of Pakistan on the day when Muharram is observed, according to Pakistani media reports.

The price of milk has reached Rs 140 per litre in Karachi and the Sindh Province. Interestingly, petrol and diesel prices in Pakistan are lower than that of milk.

Petrol was selling Rs 113 per litre, while diesel was Rs 91 per litre in Pakistan, just two days ago. There have been even reports that milk is sold for as high as Rs 140 a litre in some parts of Sindh.
During Moharram, Sabeels (stalls) are set up in different parts of the city to offer milk, juices and cold water to the participants of the holy month's processions. For this, there is a huge demand for milk. Due to the increased demand, milk prices have shot up.
Want a free mobile recharge? Crush your plastic bottles at railway stations
In an effort to tackle the growing menace of plastic pollution, Indian Railways has introduced a novel method which encourages passengers to use the plastic bottle crushing machines installed at stations and in return recharge their phones. This comes in the wake of Prime Minister Narendra Modi's appeal to eliminate single-use plastic and find alternatives to plastic water bottles on a priority basis during his Independence Day speech.

Railways have issued directions that from October 2 this year, single-use plastic will not be used on its premises.
Railway Board Chairman VK Yadav has said that railways will install 400 bottle crushing machines at stations in which a passenger wanting to use them will have to key in his phone number into the machine and his phone will be recharged. However, details of the recharge were not known immediately.
Currently, 160 bottle crushing machines are available at 128 stations, he said. He also said that instructions have been given to railway staff to collect all the used plastic bottles at railway stations and send them for recycling.