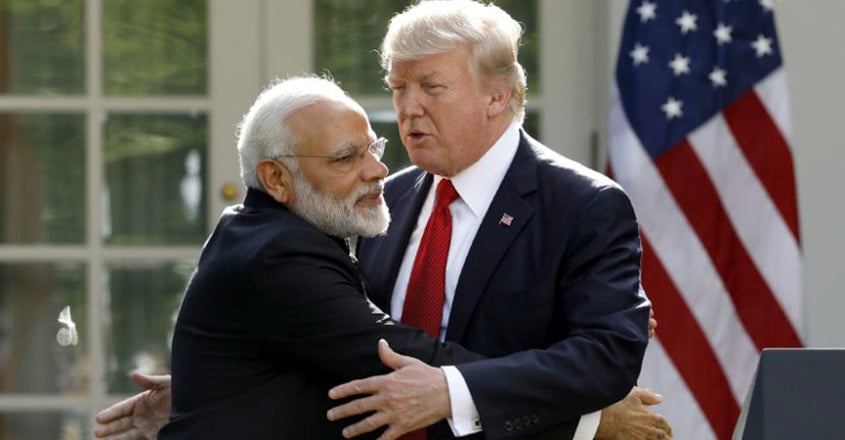 New Delhi: Prime Minister Narendra Modi will highlight India's many achievements and its role in the world and won't put the spotlight on efforts to counter terrorism as well as the Jammu and Kashmir issue during his week-long visit to the US starting this Saturday. 
India's actions in Kashmir had hit global headlines after it scrapped the special status to Jammu and Kashmir. Though many world nations have backed India's move, voices were raised on alleged human rights violation with even United Nations Organisation expressing its concern.

Jammu and Kashmir is off the agenda, it appears, with India making it very explicit that it is indeed an internal matter.

"Article 370 is an internal issue, there will be no discussion on it in the UN, we will have no discussion on it,"  Foreign Secretary Vijay Gokhale said on Thursday.

Apart from addressing the annual United Nations General Assembly (UNGA), Modi's schedule includes a bilateral meeting with US President Donald Trump in New York on September 24 and a diaspora event in Houston which will also be attended by the American leader. 
During his stay, Modi intends to hold as many as 20 bilateral meetings with leaders from all continents, Gokhale said, adding that the meetings are being finalised.
"Our prime minister will focus on what the high-level segment of the UNGA is meant to focus on which is -- as an important economy, as an important country, as a responsible member of the UN -- PM will flag what we are doing for development, for security, for peace and our expectations and aspirations of other countries," the foreign secretary said.
The prime minister will raise several issues such as development, climate change and other bilateral and multilateral issues "of which terrorism is one but the focus will not be on it, but on the role of India at the international platform," he added.
The prime minister at the UNGA and in his bilateral and multilateral meetings will reiterate India's position that multilateralism is at the centre of global politics and should remain so, he said while noting that the current form was not in sync with the ground realities.
By any yardstick, be it by population, size of the economy, participation in peacekeeping operations, in Sustainable Development Goals, India is a befitting candidate for the permanent membership in a reformed UNSC, he said.
The prime minister, in his remarks, will also showcase what India has done to address climate change issues and also spell out India's expectations and aspirations from the international community to address "this very pressing problem", Gokhale said.
As the world commemorates Mahatma Gandhi's 150th birth anniversary, India will also host a special event on September 24 where Modi will be joined by leaders of countries such as New Zealand, South Korea and Singapore.
The event will also see inauguration of Gandhi Solar Park -- installation of solar panels on the rooftop of the UN headquarters in New York from India's grant of USD 1 million as also opening of Gandhi peace garden at state university of New York campus of Old Westbury through remote control, and release of a UN postage stamp on Gandhi.
External Affairs Minister S Jaishankar will also be in New York and will have several meetings. After the prime minister leaves for home, the EAM will be on an official visit to Washington to meet with various political and economic leaders, Gokhale added.

(With inputs from PTI)