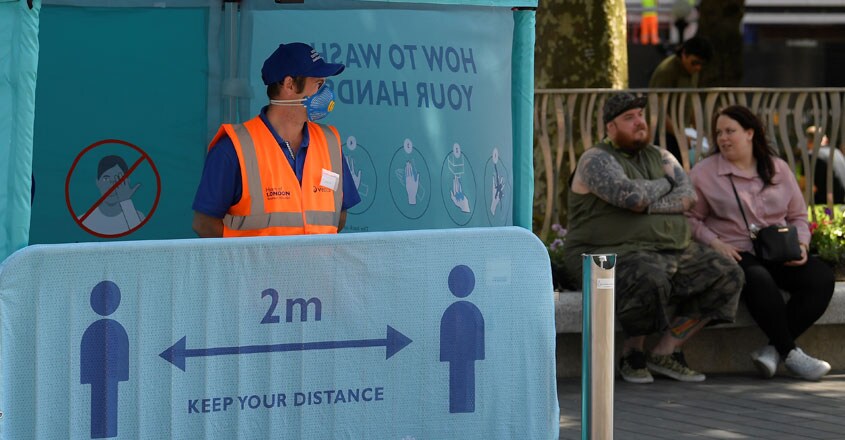 Washington: The overall number of global COVID-19 cases has topped 13.7 million, while the deaths have increased to more than 589,000, according to the Johns Hopkins University.
As of Friday morning, the total number of cases stood at 13,758,533, while the fatalities rose to 589,093, the University's Center for Systems Science and Engineering (CSSE) revealed in its latest update.
The US accounted for the world's highest number of infections and fatalities at 3,570,037 and 138,291, respectively, according to the CSSE.
Brazil came in the second place with 2,012,151 infections and 76,688 deaths.
In terms of cases, India ranks third (968,876), and is followed by Russia (751,612), Peru (341,586), South Africa (324,221), Mexico (324,041), Chile (323,698), the UK (294,114), Iran (267,061), Spain (258,855), Pakistan (257,914), Italy (243,736), Saudi Arabia (243,238), Turkey (216,873), France (211,102), Germany (201,450), Bangladesh (196,323), Colombia (165,169), Argentina (114,783), Canada (111,143) and Qatar (105,477), the CSSE figures showed.
The other countries with over 10,000 deaths are the UK (45,204), Mexico (37,574), Italy (35,017), France (30,141), Spain (28,416), India (24,915), Iran (13,608), Peru (12,615) and Russia (11,920).
US shatters record
The United States shattered its daily record for coronavirus infections on Thursday, reporting more than 77,000 new cases as the number of deaths in a 24-hour period rose by nearly 1,000, according to a Reuters tally.
The loss of 969 lives was the biggest increase since June 10, with Florida, South Carolina and Texas all reporting their biggest one-day spikes on Thursday.
More than 138,000 Americans have died from COVID-19, a toll that experts warn will likely surge following recent record spikes in case numbers and an alarming rise in hospitalizations in many states.
The hardest-hit areas in Texas and Arizona are running out of places to store bodies as their morgues fill up and are bringing in coolers and refrigerated trailers.
US deaths peaked in April, when the country lost on average 2,000 people a day. Fatalities have steadily fallen, averaging 1,300 a day in May and under 800 a day in June before rising again in July.
Americans have become increasingly divided on issues such as the reopening of schools and businesses and wearing face masks in public, hindering the fight against the virus.
The current tally of 77,217 cases surpasses the previous record set on Friday when cases rose by 69,070. In June, cases rose by an average of 28,000 a day. In July, they have risen by an average of 57,625 a day.
On Thursday, Texas reported over 15,000 new cases, while Florida reported nearly 14,000 new cases and California almost 10,000.
(With inputs from IANS and Reuters.)