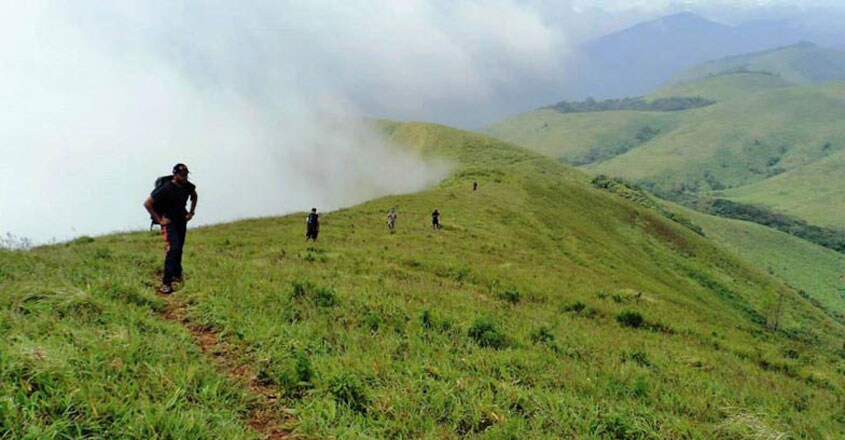 The beautiful woods at Brahmagiri are as ageless as a charming forest nymph. The majestic mountain ranges lull peacefully on the bosom of the lush green nature. The Brahmagiri ranges, a significant part of the Western Ghats, is spread across the Wayanad district of Kerala and the Coorg district in Karnataka. The mountain ranges, filled with beautiful evergreen forests, are also an ecologically fragile area. Brahmagiri is about 1608 meters above the sea level.

The small brooks, flowing rivers, lush green forests, and the cool and refreshing breeze makes the journey to the Brahmagiri ranges a unique and unforgettable experience. The scintillating views on top of the hills are sure to excite the visitors.
The Brahmagiri ranges are natural habitat to many rare species of wildlife, birds, and reptiles. Wild elephants, bison, leopards, wild cats, wolves, lion tailed macaque, and wild boars can be spotted at the forests. Besides, mongoose, Indian civet, otters, hedgehog, and Indian pangolin, too, can also be occasionally found here. Python, king cobra, cobra, and viper are some of the snake varieties that can be seen at the Brahmagiri ranges.
Malabar whistling thrush, bulbul and different varieties of doves with shiny green plumage can be spotted in the lush green woods. The edible-nest swiftlet which makes its nest with solidified saliva would amaze you with its intricately charming nests. The classic toadstool mushrooms, with their flaming red hue would definitely intrigue you. However, one should stay away from these extremely poisonous mushrooms that grow in the wilderness. Brahmagiri truly is an enchanting place which unleashes its pristine beauty in all its glory to those who seek it.
Brahmagiri is undoubtedly one of the favourite destinations of trekking enthusiasts. Those who love to have a tryst with adventure would be thrilled to trek through the dense forests and the mountain ranges. One could reach the wild life sanctuary by travelling 60 km from Coorg. A refreshing dip in the Iruppu waterfalls would be most perfect way to kick start the amazing trip from Coorg. If you are going via Wayanad, you could begin the trip from Thirunelli. Interestingly, trekking trips to the Brahmagiri mountains are allowed only with the permission of the forest department.