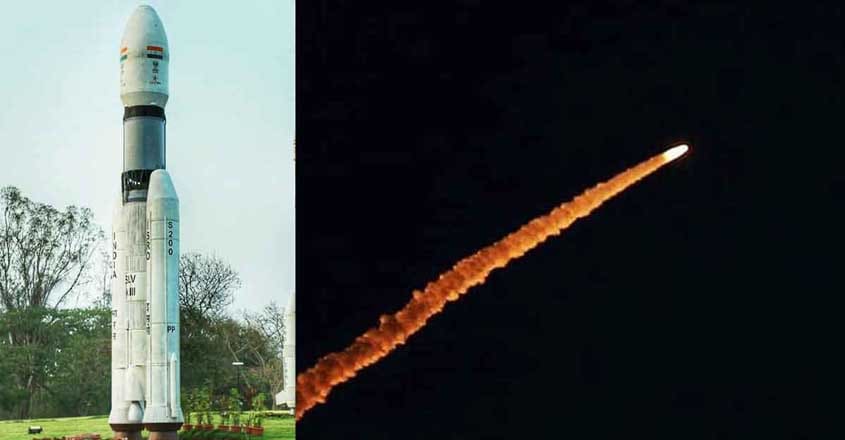 Have you ever wished to watch a rocket-launch at site? Your wish need not remain unfulfilled anymore. ISRO has made facilities at Sriharikota for people to watch its future rocket-launches. Now, any Indian citizen can watch the rocket-launch from a gallery, free of charge. The Satish Dhawan Space Centre has built a gallery where up to 5000 people can sit and watch the launching.

It was a mission to watch the launching of PSLV C46 on May 22. The first lap of the journey involved a trip to Chennai by train. The rocket-launch was scheduled at 05:30 on May 22. The public can enter the gallery between 3-5 am on the launch date. Since it was difficult to reach Sriharikota at that hour, it being an island, it was decided to reach there the previous night (There is no such problem if you have your own vehicle).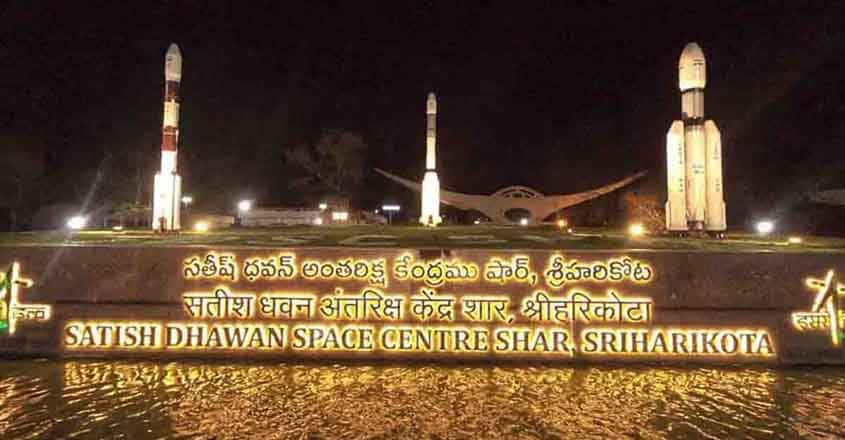 By noon of May 21, Sullurpeta, a town some 18 km from Sriharikota was reached. One has to stock up on food and water from here. This small town is by the highway towards Nellore, one of the major towns of Andhra Pradesh (One could take a Chennai-Nellore bus to go to Sullurpeta).
One has to travel about 2 km in an autorikshaw from the bus stand at Sullurpeta to get to a place from where buses, share-autorikshaws, jeeps etc start the service towards Sriharikota. On either side of the road towards Srikarikota, there are vast expanses of water. There is one more island, Pulicat on the way. There is a bird sanctuary here. One can get off here and walk about 5 km through this sanctuary to Sriharikota.
There is a police check-post before entering Sriharikota. Prior permission is required to enter the premises. Normally, entry is allowed only towards the time of the rocket-launch. If armed with a pass and with a bit of persuasion, permission may be granted to enter Sriharikota. The 5 km walk could be arduous if not for the sights around. The view of the sunset here can be an energy-booster. There are usually many vehicles going up and down, mostly of the staff working there. An occasional biker might offer a ride to solo-travellers. A lot of people arrive the spot by the previous evening. The entrance to the gallery opens only by 3 am.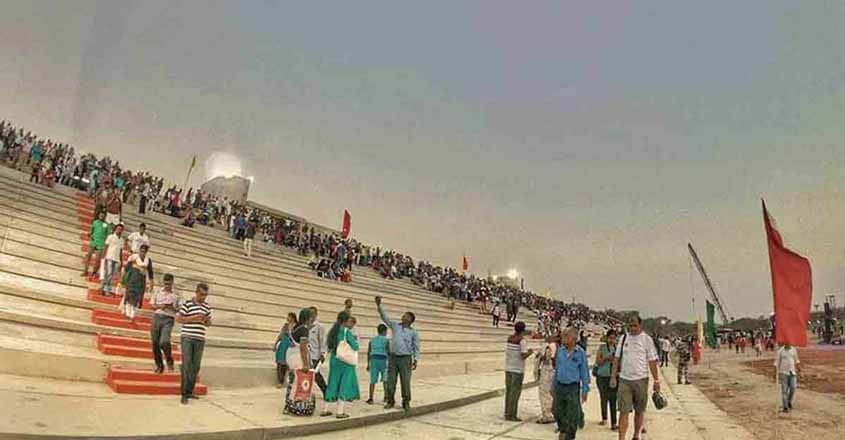 If you have some contact at Sriharikota, accommodation could be arranged through them. A separate pass is issued for this purpose. Otherwise, one has to sit through the night till 3 am to gain entry into the gallery.
By 3 am, the 'launch-view' gallery opened. The gallery is 2 km away but bus service is provided.
For the visitors, there is a museum behind the gallery. Toilets and make-shift shops are also there. The gallery was crowded by 5 am. At 5:27 am, the PSLV rocket with RISAT 2B satellite was launched. Once the successful rocket-launch was witnessed, a long-cherished dream was also realized. Those two proud minutes are worthy of carrying through one's life. On a screen placed at the front of the gallery, the live streaming of PSLV C46 accomplishing its mission could be watched. It was a fulfilling experience.
By 6 am, it was back to the entrance gate. Bus service is available from here directly to the railway station at Sullurpeta. These APSRTC buses start from Srikarikota around 6 am for carrying the passengers who had come to witness the rocket-launch. These buses ply from Sullurpeta to Sriharikota between 2:30am till 4am.
How to get pass
5 days before the launch, visit the website www.shar.gov.in and any Indian citizen can book passes online free of cost. Depending on from where you start the trip and provided you are using public transport, all costs including food and travel could be less than Rs 1500.