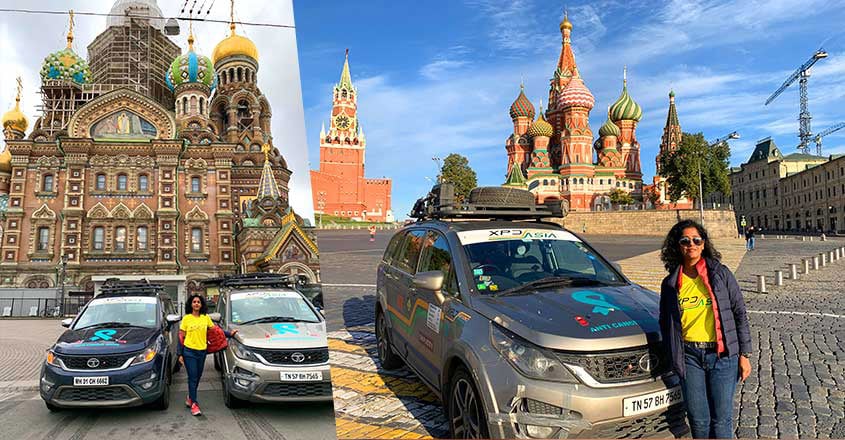 Meenakshi was born to drive and the tattoo of a manual gear shift pattern on her hand reflects this fact. Her love for driving along adventurous routes took an intrepid Meenakshi all the way from Coimbatore to Russia.
She covered the distance from the Tamil Nadu city to St Petersburg crossing the Himalayas and along the Trans-Siberian Highway in a Tata Hexa SUV. The route Meenakshi took was Coimbatore – Hyderabad – Kanpur – Pokhara – Kathmandu – Lhasa – Golmud – Shyan – Beijing - Vladivostok – Irkustsk – Omsk – Ufa – Moscow – St Petersburg covering India, Nepal, Tibet, China and Russia.
Meenakshi named her car 'Dhanno', after the horse owned by the character Basanti in the Hindi blockbuster movie 'Sholay.' Before the adventure, Meenakshi received training from the carmaker Tata in Pune. Tata also handed over the car free of cost to Meenakshi. Meanwhile, Meenakshi's team took another Hexa also for the adventure and named it 'Shairo.' An automatic car, Dhanno covered over 50,000 km abroad effortlessly.
The trip to Russia was planned by Meenakshi with the confidence as well as experience gained from a drive from Coimbatore to London in a Tata Hexa in 2016. That trip was all-women affair and Meenakshi was accompanied by two other ladies. However, Trans-Siberian Highway was not considered safe for women-only teams and Meenakshi's brother and his male friends joined the trip to Russia.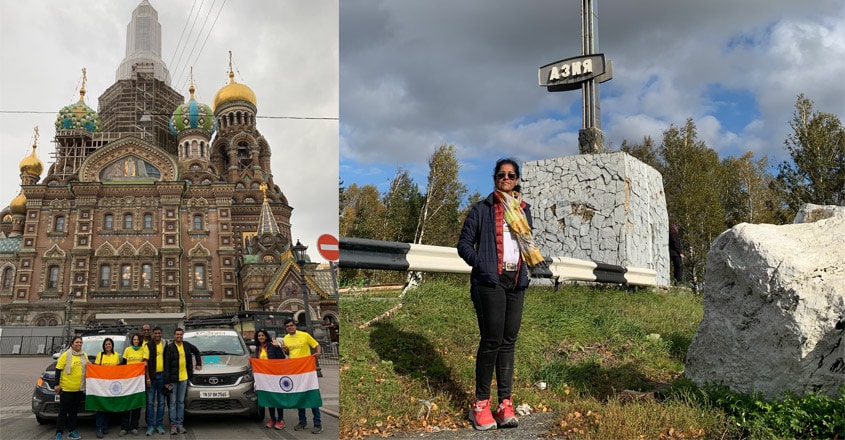 Worst stretch
According to Meenakshi, the most dilapidated road they encountered was in Nepal. It was the Kathmandu – Rusev Gadhi stretch, which was a namesake road at many places and the team took eight hours to cover the mere 35-km distance. "We could have covered the distance faster on foot," comments Meenakshi. However, Hexa negotiated such difficult paths without trouble, she adds.
The team stayed in Kathmandu for five days to obtain the documents to travel through China. "Nepal and China experience the same climate but present a striking contrast as far as the roads are concerned. Those in China are as smooth as silk," points out Meenakshi.
Travellers can drive up to base camp of Everest and from there electric bus trips are arranged to view the tallest peak in the world. "It was an unforgettable sight," says Meenakshi.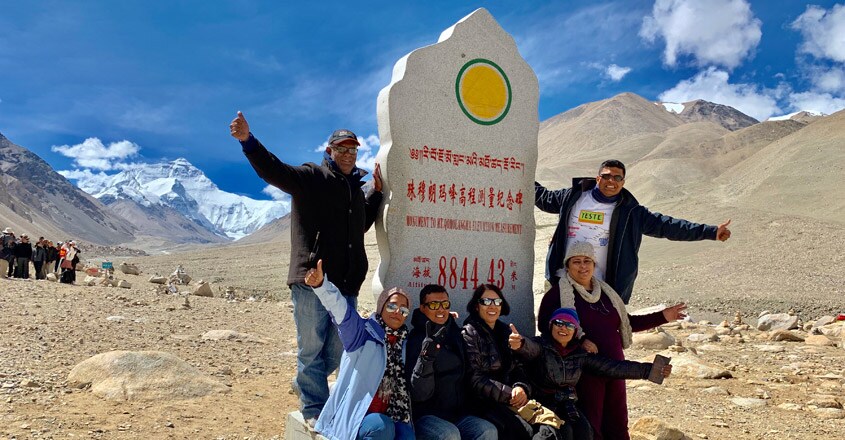 Chinese sojourn
The roads in China are alluring but a lack of freedom is felt everywhere in the country, according to Meenakshi. "It was in a city called Uiguru that this sense of captivity was most acutely experienced," she adds. There, armed soldiers kept guard every 100 m.
In China, travellers from other countries have to follow very strict rules and visitors have to obtain permissions in advance to visit a place. However, as a Tamil-speaking guide accompanied Meenakshi's team, the journey was uneventful.
In contrast, Russians exhibited a friendly attitude, says Meenakshi.
Trans-Siberian Highway
Extending to around 11,000 km, the Trans-Siberian Highway is among the longest roads in the world. It is also one of the most treacherous, being a single lane stretch along which huge trucks scream past at great speed.
With Hexa being a right-hand-drive vehicle and traffic on Russian roads proceeding along the right rise, the person on the left passenger seat at the front had a tough time guiding the driver. The highway passed long distances without any sign of human habitation in sight. Moreover, the extreme cold weather made driving extremely difficult.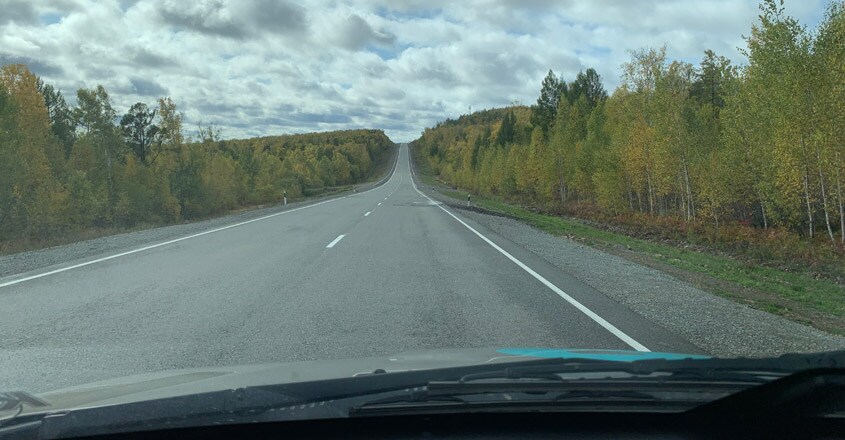 Another curious aspect of the road from Vladivostok to St Petersburg was that even a 15-km stretch would be in a straight line. "The Ural Mountain on the route marks the boundary of Asia and Europe," informs Meenakshi.
John the saviour
At a desolate spot on the Trans-Siberian Highway, Meenakshi's car came to a halt. The cause was poor quality fuel. There was nobody in sight and Meenakshi's brother and friend sought help from a truck camp. None there could understand English but with the help of Google translator they communicated with the people at the camp. Finally, a mechanic named John offered his services. As the team had carried all the spare parts of Hexa, Meenakshi's car was repaired by John.
John did not charge any fee for his service. But Meenakshi was concerned whether the vehicle would break down again as Moscow was still far away. So she requested John to join the team and he agreed. John travelled with the team for 1,300 km till Moscow and was given a flight ticket back home from there by Meenakshi. The team continued its journey to St Petersburg.
Interesting observations
As a woman, Meenakshi faced no hassles along the route. The team did not drive at night, spending the time in good hotels. Among the team members was a Keralite lawyer based in Madurai, Sarath Madhav. Another member belonged to Tirupur, who took the team to an Indian restaurant in Russia. There, they enjoyed Russian women dancers swaying to the tunes of 'Jimikki kammal', a Malayalam film song.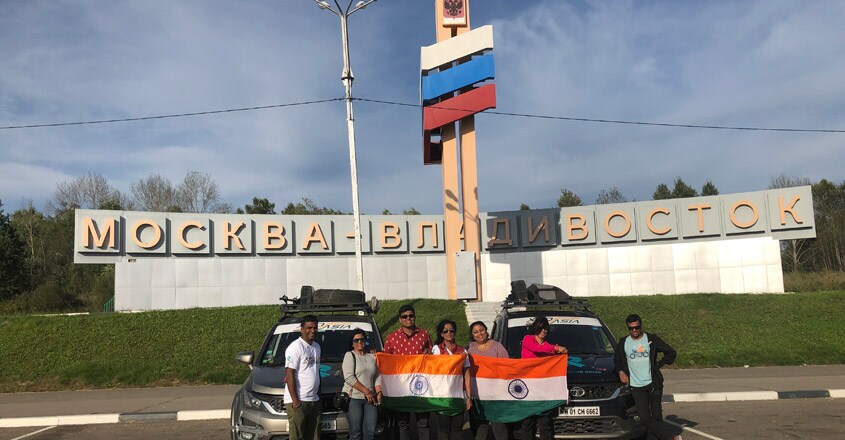 Future plans
Meenakshi says her next trip is a trans-Himalayan journey. "It would help me experience the soul of India," she feels.
From 2016, Meenakshi has been driving in various countries. Wherever she goes, Meenakshi rents a local vehicle. "I've travelled in 70 countries so far," she informs.
Finally, Meenakshi make another revelation. "I'm the cousin of Narain Karthikeyan, India's first Formula One driver," she says. No wonder, there is driving in the blood.