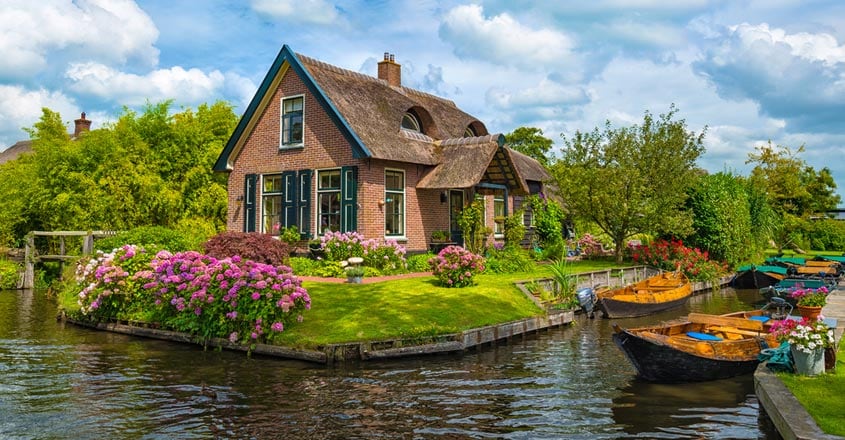 There are some unique places on earth where man and nature have joined together to create beautiful spaces. Giethoorn, a village in the Netherlands, is one such spot and it is now a major international tourism destination.
Centuries ago, this was an abandoned marshy land covered with forests. But now Giethoorn is a picturesque village criss-crossed by canals, streams and ponds, earning it the name 'Venice of the Netherlands.' Located in the Overijssel province, the village of less than 2,600 people has no roads. Naturally, motor cars and similar vehicles cannot be used here and the only means of transportation is by boat. There are some 180 bridges also in the village connecting the houses. No wonder, people in Giethoorn lead lives similar to the residents of Venice and Kuttanad in Kerala.
Early days
Giethoorn's beginnings could be traced to the year 1230, when some convicts from the Mediterranean settled here. Another version of history says that it was a group of saints who were the first residents.
When the people who arrived here cleared the woods and the marshy soil, they reportedly found a large number of goat horns. The horns are believed to have been deposited there in a great flood some years earlier. The place soon earned the name 'Great horn' which gradually became 'Giethoorn'.
In the late 13th century, the settlers who arrived here started farming activities. After some years, peat deposits were discovered and mining commenced. Large-scale exploitation of peat led to digging of several trenches and pits which gradually became canals and ponds. Boats plied in the area to carry loads of peat and the canals in Giethoorn were connected to the main waterways in Holland.
Picturesque village
Gradually, the population of the village swelled and new residents built houses in the strips of land between the canals. They also expanded the agricultural activities.
After several years, the peat deposits shrunk but the landscape of Giethoorn had transformed forever. Now the green and blue waters of the canal along with the red-roofed houses surrounded by lush lawns are a feast to the eyes.
The architecture of the buildings is that of Europe of Middle Ages. In short, Giethoorn gives the feel of a European village in Kuttanad.