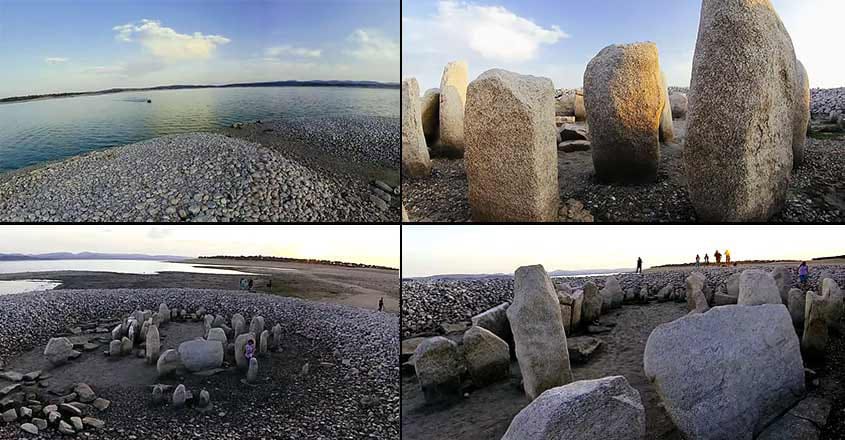 The world is full of mysteries and surprises. One such amazing sight presented itself before the residents of Caceres province in Spain during the severe summer of 2019. In fact, last year's summer was among the warmest in Europe in several decades and all the seven weather stations in Spain recorded all-time high temperatures during June. In the following months of July and August also the mercury level remained high and drought was experienced in several areas of the country.

However, when the Tagus River and the Valdecanas reservoir dried up during the drought, a wonderful historical monument was revealed on the riverbed. Estimated to be 4,000-7,000 years old, the megalithic monument had over 100 granite stones arranged in the shape of a circle. Known as 'Spanish Stonehenge', the monument comprised stones of up to 1.8 m tall and the diameter of the circle was around 26 m.
According to archaeologists, the structure was probably a temple, burial ground or a marketplace, considering its vantage position on the banks of the river that once flowed through the area. It is also presumed that Roman conquerors had later vandalized the monument.
Excavations at the site were carried out by a team of researchers led by the German archaeologist Hugo Obermaier in the 1920s. However, his findings were not published till 1960. Three years later, the Valdecanas dam and reservoir project was built to provide potable water and power to the less developed areas in Spain and the monument was submerged.
During every summer since then, the top ends of the granite stones used to appear above the water. But it was only in the severe summer of 2019 that the entire Stonehenge, which is also called 'The treasure of Guadalperal,' was fully visible after 60 years.
The spot soon attracted numerous tourists as well as local sightseers. The residents of the area said that the monument could not be protected without support from the government. They pointed out that as centuries had gone by, the weather had taken its toll on the Stonehenge.
Meanwhile, the region received normal rains during the autumn of 2019 and the reservoir was flooded, submerging the Spanish Stonehenge again.