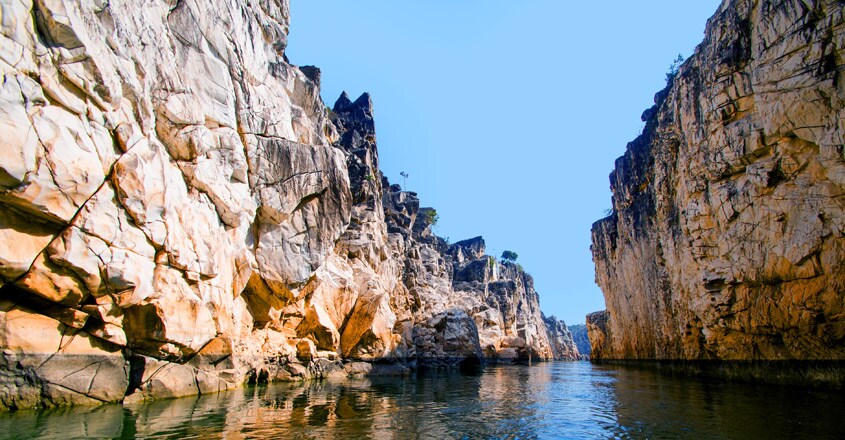 Bhedaghat on the banks of River Narmada in Madhya Pradesh attracts travellers with its glistening marble rocks that reflect sunlight as well as moonlight. Several films have been shot at this location, including 'Ashoka' in which Shahrukh Khan and Kareena Kapoor were in lead roles. Other places of interest at Bhedaghat are a waterfall and a number of ancient temples.

The marble rocks, which have an otherworldly beauty, extend 8 km along the banks of the Narmada. Local people create sculptures with the marble mainly for export. There is good demand for these sculptures abroad as well as in the domestic market.
Visitors can take a boat ride or travel by cable car to get a closer look of the marble rocks, which are of three colours – white, black and brown.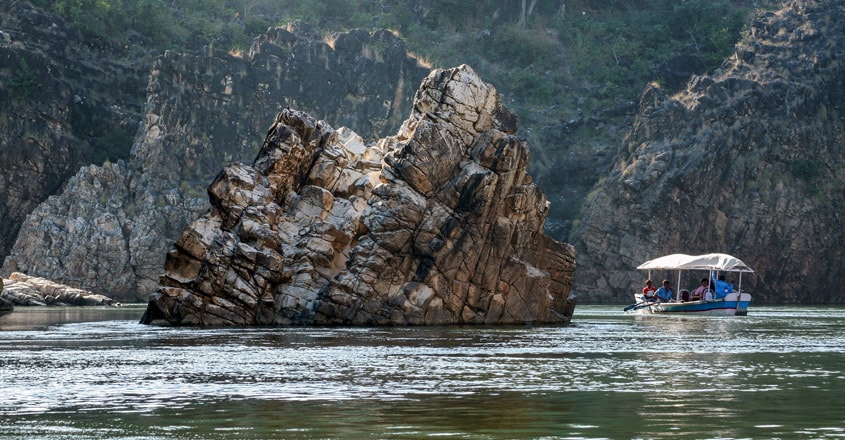 Waterfall and temple
Yet another tourist hotspot in Bhedaghat is a picturesque waterfall of 30 m height called Dhuandhar. The spray of water here resembles smoke, earning the spot its name. In the local language Hindi, 'dhuan' means smoke and 'dhar' translates as flow of water.
Travellers to Bhedaghat also pay a visit to Chaunsath Yogini Temple, believed to be built in the tenth century. Located on top of a hill, the shrine can be reached only by climbing 150 steps.
Built during the rule of the Kalachuri dynasty, the temple is among the four major shrines where sculptures of 64 'yoginis,' or female yoga mystics, can be seen. Along with the mystics, the idol of their parent goddesses Durga Devi is installed. The 64 female images are in the yoga pose of 'Lalitasana.'
Meanwhile, the architecture of the Yogini Temple resembles the shrines at Khajuraho.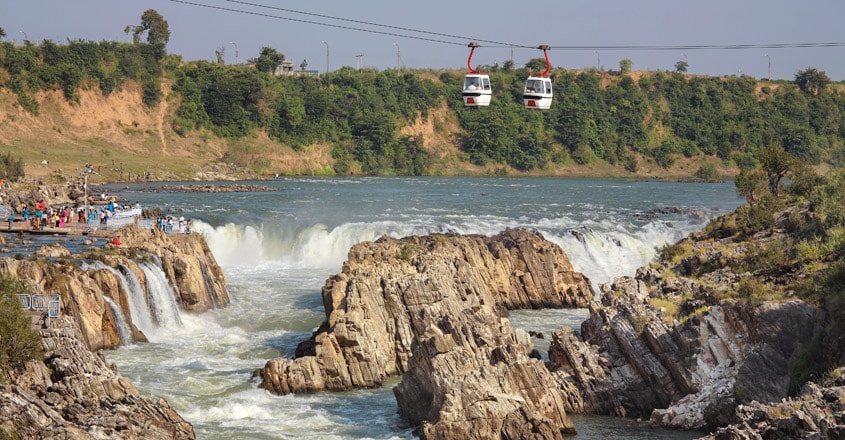 How to reach
The nearest airport and railway station to Bhedaghat are at Jabalpur, which is 33 km away. Travellers can take state transport buses, cabs, or auto-rickshaws from the Jabalpur airport and railway station to reach the site of marble rocks.