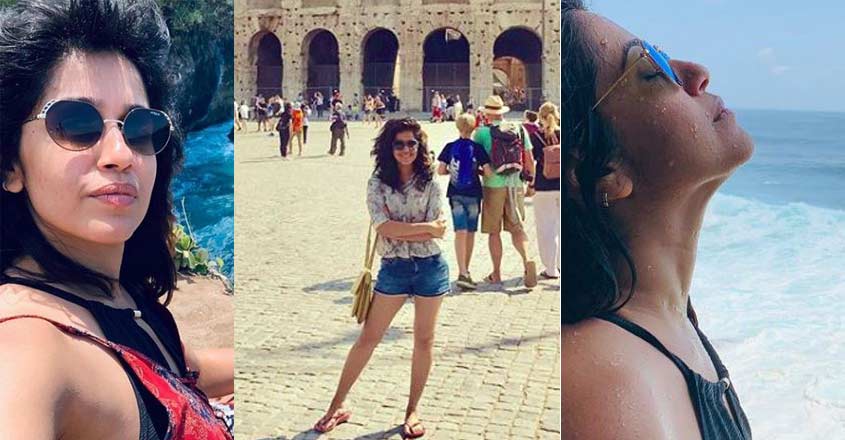 Presenter and actress Ranjini Haridas has earned numerous fans thanks to her outspoken nature. Known for her non-stop way of talking, Ranjini cites travel as one of her passions. Having been fortunate to visit numerous places as part of her work, the celebrity ensures that she regularly sets out on personal trips too.
"I wish to travel to every spot that attracts my mind," she says. Ranjini belongs to those few people who love adventure trips. Moreover, before starting each journey, she carries out a thorough study of the destination with the help of the Internet.
"This familiarizes me with the culture, people, cuisine, nearby attractions and history of the place," points out Ranjini. In addition, such knowledge prevents the chances of getting cheated in a foreign land, she adds.
"I am a person who plans every aspect of the journey. But planning something different makes the trip more interesting. For instance, I find thrill in activities like scuba diving, snorkelling, parasailing and swimming. In fact, I love watersports more. My other likes are kayaking, jungle safari, trekking and hiking," reveals the star.
Ranjini not only spends time sightseeing but also relishes the local food. "Wherever I go, I choose the cuisine of the place. I never demand Indian dishes. After a few days' stay, I become a local person," she says.
Fun-filled Goa
Beaches are Ranjini's preferred destinations. "Though I travel to all kinds of places, a beach has a special place in my heart," opines the celebrity.
However, the beach destinations in other states attract her more than those in her home state, Kerala. "Goa's beaches are some of the best in the world and I love going to that state. Moreover, it is one of the most developed states in India," feels Ranjini.
The beaches in Goa are spread over a coastline of less than 90 km but some like Miramar, Candolim, Baga and Anjuna are among the world's finest, says the star.
The bonus of a trip to Goa is enjoyment and fun round-the-clock. "Evenings filled with music and freely available liquor are a big draw," according to Ranjini.
Close to the Baga beach are a number of night clubs and there are bars everywhere. "It would seem that everyone is always happy in Goa," she feels.
Stunning Andamans
Another beach destination that captivated Ranjini is Andamans. "Havelock, Radha Nagar and other beaches are among the most picturesque on Earth. There are three villages named Long, Middle and Lalaji Bay on this island and Lalaji Bay is very beautiful," she informs. The hiking at Lalaji Bay was exciting, adds Ranjini.
Another popular spot in the Andamans is Marg Bay where camping facilities are available. "Spending a night on the sea shore was an unforgettable experience," she recalls.
It was in Andamans that Ranjini carried out her first scuba dive. She also engaged in snorkelling.
The lure of Africa
Often, Ranjini could visit foreign countries as part her work. "Whenever I reach a place abroad as part of a programme, I ensure that I spend some more days to explore the region," she says.
Ranjini has her likes and dislikes too regarding other nations. "I did not like America very much," she opines.
Having travelled to diverse places such as Austria, New York, Italy, Thailand and Indonesia, the actress knows the most suitable stay option for her. "Being safe, it is a hostel that I often choose for accommodation," she reveals.
Of all the places abroad she has visited so far, it is Africa that attracted Ranjini the most. "I've travelled to Kenya and Ivory Coast and was struck by the innocence of the people there. The culture and hospitality of Africa touched my heart and I wish to settle down there during retirement," she opens up. "Africa is the place to head to when you feel lonely," she adds.
A trip to Masai Mara also captivated the celebrity.
Beautiful Bali
Recently, Ranjini and her friends travelled to Indonesia. "There are around 17,000 islands in Indonesia, but Bali is the most scenic. The sights and water sports there were interesting," she says.
It was Ranjini's first trip to Bali. "We spent nine days on the island, which is the ideal spot to enjoy a budget holiday," she informs.
In Bali, Ranjini's group had a curious experience. "We were visiting the Uluwatu temple, which is located on a cliff near the beach, to enjoy the sunrise. The temple precincts are the haunt of a horde of monkeys. One simian snatched my friend Archana's costly mobile phone. I laughed witnessing the sight but another monkey suddenly robbed me of my mobile too. I had to fight with that monkey to retrieve my phone," she explains.
However, whenever their trainer appeared, the monkeys left behind everything they stole and ran away, adds the celebrity.
Some disappointments
Not all of Ranjini's journeys have been full of fun and laughter. She has faced setbacks too, that too in foreign countries.
Once, the celebrity travelled to Bratislava to celebrate a friend's wedding. "I thought why I shouldn't extend the journey to some interesting places nearby. So a trip was planned to Italy, Czech Republic, Austria, Rome and Hungary. My flight landed at Budapest and then I travelled to Rome, where some friends were waiting for me. However, I received a big shock when I reached there. An amount of 1,000 Euro - around Rs 70,000 - I had with me was stolen," says Ranjini.
She had started the trip with around Rs 3 lakh and did not have much cash left. "There were so many places to visit. I called my mother and cried a lot," remembers the stars.
However, Ranjini refused to be cowed down and continued the trip, keeping expenses in check. "I travelled to every place that I had planned to visit and relished every moment," she adds.
Another shock awaited the star during a trip to Thailand. "I had booked tickets through a travel agency for a full moon party for me and a friend. The trip was via Bangkok, from where we had to board a ferry. However, on our arrival in Bangkok we were told that such a ferry did not conduct service at all. We enquired at the office of another ferry nearby and learnt their ferry started late in the evening," says the noted presenter.
Ranjini and her friend were virtually stranded for hours on the road till the time of the other ferry. "It was a tense affair," informs the celebrity.
Dream journeys
According to Ranjini, each of her trips is a dream journey. However, she has some wishes. "I have travelled to Leh Ladakh taking the Kashmir - Srinagar - Kargil - Gulmarg route. Now I want try the Manali route," she says.
The celebrity's other travel wishes are a trip to Nagaland during December to watch the Hornbill Festival and another journey to Pushkar.