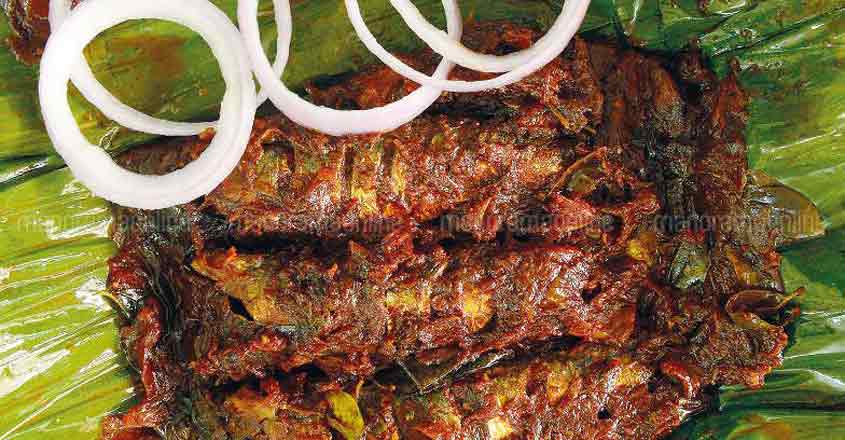 Meen pollichathu, aka fish baked in plantain leaves, is a favourite dish of Kerala. Made with karimeen (pearl spot fish) or avoli (pomfret), the dish is truly a delight for lunch.
But have you ever wondered whether plantain leaf has anything to do with fresh chaala (sardines)? Anju, the head chef at the Puzhayoram Restaurant, near the bypass on Kumbalam-Aroor road, says the leaf holds it all. At Puzhayoram, Anju roasts fresh sardines wrapped in plantain leaves, a signature dish at the eatery.
Anju and her husband, Shaan Chandran, gave up white collar jobs to pursue their dream career in the food business and opened the Puzhayoram restaurant. The couple says that they wouldn't compromise on the quality and taste of the dishes served in their restaurant. This is the reason why seafood lovers from all over Kerala throng here to relish the sardines roasted in plantain leaf.
Chef Anju is only too happy to reveal the 'secret recipe' of their masterpiece delicacy. Cleaned sardines are marinated in chilli and turmeric powder and salt. The gravy is prepared by sautéing onions, green chilli, ginger, garlic and diced tomatoes. Aromatic spices too are added to elevate the flavour of the gravy. The marinated sardines are slightly fried before coating it in the previously prepared gravy. It is then wrapped in plantain leaf and roasted in a clay vessel. The aroma of the cooked plantain leaf and the gravy drenched in sardine fat would floor any food lover. Anju says that this dish could be enjoyed even without the accompaniment of rice or appam.
Shaan says that it is ideal to consume sardines this season as most of them bear roes, which is highly healthy and tasty. The whole of these fresh sardines, including head, bones and tail could be eaten. After August the availability of fresh sardines would be less, says Shaan.
At Puzhayoram, one can also relish dishes like prawns roast garnished with fried coconut pieces, fried sardines, duck curry and buttermilk flavoured with pineapple chunks.