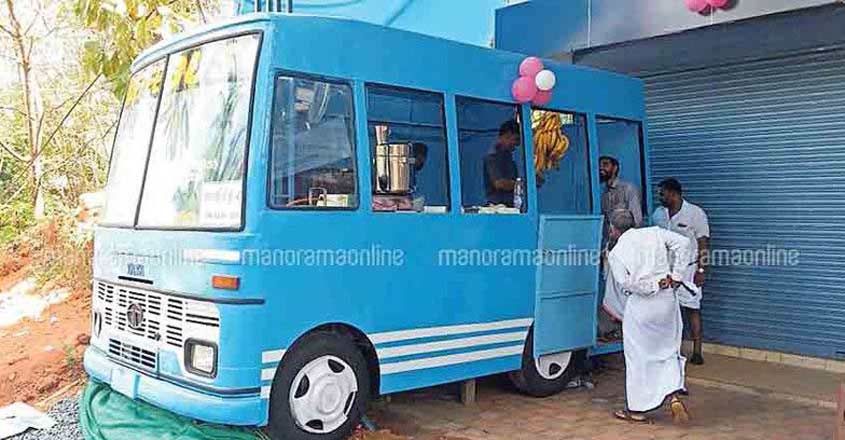 No ordinary bus, this! It's a coffee bus, or a bus converted into a coffee and snacks bar. The out-of-the-box innovation owes its genesis to the super brain of no management grad, but a simple man called Abdul Salam, owner of the vehicle.
Being the owner he was all too sure of the perils of getting a bus on road. Add to this the ensuing travail of making a profit. Next to impossible, was the prime thought that kept the bus off the road. That's how the bus became an eatery… a coffee bus. Head to Chengara on the Areacode-Manjeri road to see Salam's coffee bus. And there he is beside his shop-bus of which he is the conductor and driver.
You get everything right from tea, coffee, cool drinks, snacks, and other small bites in the shop. There are seats within the bus-shop and outside where one can relax and have some grub when business gets going from 8 am and goes on till 9 pm.
Salam attributes the novel idea to his long and fond association with buses which began at the tender age of nine when he started off by washing the vehicles. Salam who is 55 now looks back at the last three decades which saw him behind the steering wheel for several years and also his stint as the owner of a bus.
The man has no regrets. His future is hooked to the bus. The body of the bus was built right in front of his home. The glass and frame were sourced from Manjeri. The townsfolk thought Salam had opened a bus body-building unit. As the vehicle was covered, nobody suspected it would be a tea stall.
It was charity worker Feroze Kunnumparambil who inaugurated the bus-shop a few days ago.
As for the "collection", it's going great, says Abdul Salam.