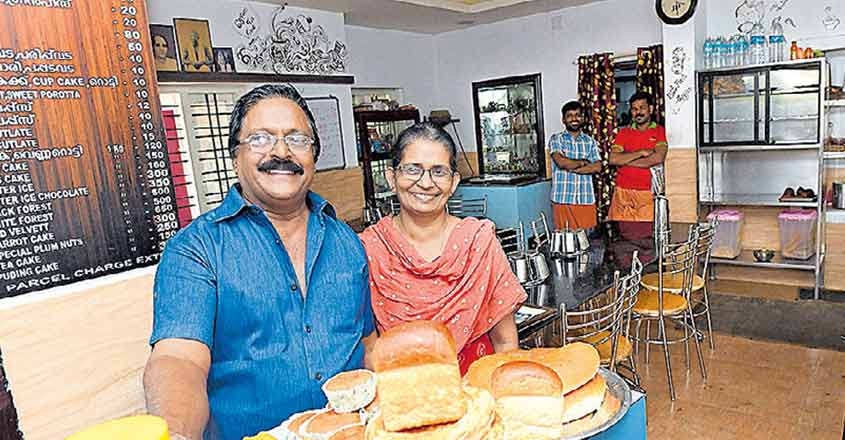 Thrissur's own Davison hotel celebrates 67 glorious years of serving some delicious dishes, which has made this quaint eatery a favourite of many foodies. The restaurant run by Jose and his wife Anna is an extension of their house opposite the Nellikunnu school. Though the eatery had been renovated a few times, the number of tables remains the same since the last 4 decades. It was Jose's grandfather Vareeth and Jose's father Devassy who opened the eatery with a few benches and desks. The hotel is now run by the third generation as Jose's son Jaison, who was an employee at the Annamalai University, helps his father at the hotel.
It is the genuine taste of the local cuisine which makes this eatery stand out. Wheat parotta made with the flour ground at the hotel and beef roast, breakfast dishes like puttu, masala dosa, ghee roast, idli and puri – masala are some of the specialities at the Davison hotel. Anna's family too had a hotel and she happily took up the role of the chief cook at the Davison hotel after her marriage to Jose. It is Anna who has been cooking the delicious beef roast for years. Though two employees were appointed recently to help Anna at the kitchen, it is she who oversees everything.
Revealing the 'secret' behind her mouthwatering beef roast, Anna said that it is the doneness of the meat and the flavour of the roasted masala that makes her dish extra special. Onions, ginger, tomatoes, coriander and chilli powders are sautéed well until its turns aromatic and flavoursome, before adding it into the cooked beef. The chilli, coriander and wheat are ground at the mill that the family runs behind the hotel.
Since all the masala powders are prepared in-house, it is written on the walls as well, to assure the customers about the quality of the ingredients that go into the dishes served at the hotel. There was even a baking unit here for 40 years. Achurotti or freshly baked bread which isn't sliced is still available at the hotel. For many, these little blocks of bread are something which excites nostalgia. Now, only a few batches are baked every day. Besides these, snacks like puff, coconut cake, sweet porotta and vettu cake too are available at the Davison hotel. The hotel opens at 6 in the morning and closes at 5 pm. It is Jose who runs the kitchen on Sundays when there will only be breakfast service. He would cook steaming hot puttu and kadala curry, and food is served only until 9 am. On Sundays, Anna takes the day off to relax or perhaps cook some delicacies for her family.