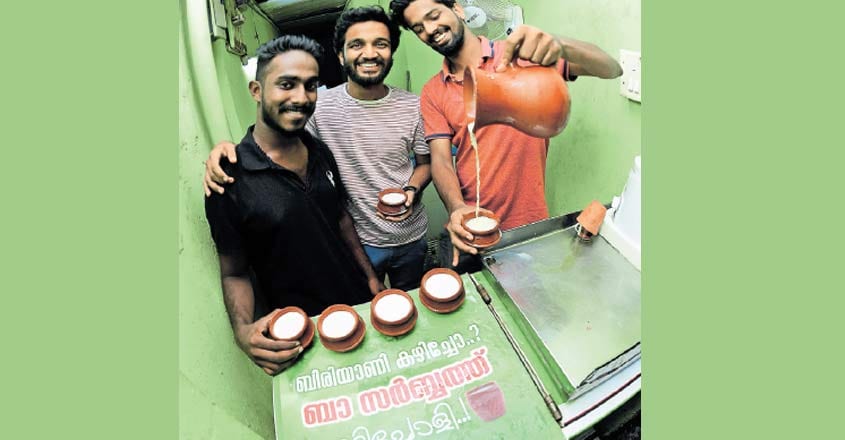 They are three friends from the National Institute of Technology, Calicut, and have received placement offers from three premier companies with good pay checks.
But before slipping into their corporate roles, the three friends started a wayside shop that sells naruneendi sarbath in earthen cups.
And the popularity of the outlet just swelled in no time. "Really good..." said their customers after finishing off a cup of sarbath at one go.
Ameer Suhail, Joel Chulli and Ananthu R Nair are final year engineering students at the NIT. Chalakudi native Joel is a chemical engineering student, while Ananthu from Kayamkulam is a mechanical engineering student and Thrissur native Ameer is a computer engineering student. Joel and Ananthu have been picked up by the MRF, while Ameer got selected to a software firm in Bengaluru.
The sarbath shop was Ameer's brain child. Sipping on sarbath at a stall on MG Road in Thrissur, Ameer thought of opening one shop. His friends backed him and the shop became a reality.
People arrive in droves to have the famous beef biriyani at Hotel Rahmath in Kozhikode. After helping themselves to a sumptuous plate of biriyani, foodies would crave for a cool sarbath. And the three friends managed to set up their shop right next to the Rahmath hotel. After the location was finalised, the friends began setting up the place.
From fixing lights to painting the place, the three friends did everything on their own.
People are asking what will happen to the shop once they take up their corporate jobs. However, for that answer too the gang just looks at the college. Ameer points out that their juniors have an eye on the shop. They are also ready to appoint anyone to run the shop.
Kozhikode is known to hold on to all things beautiful and tasty, and the friends are also in no plan to abandon their shop.