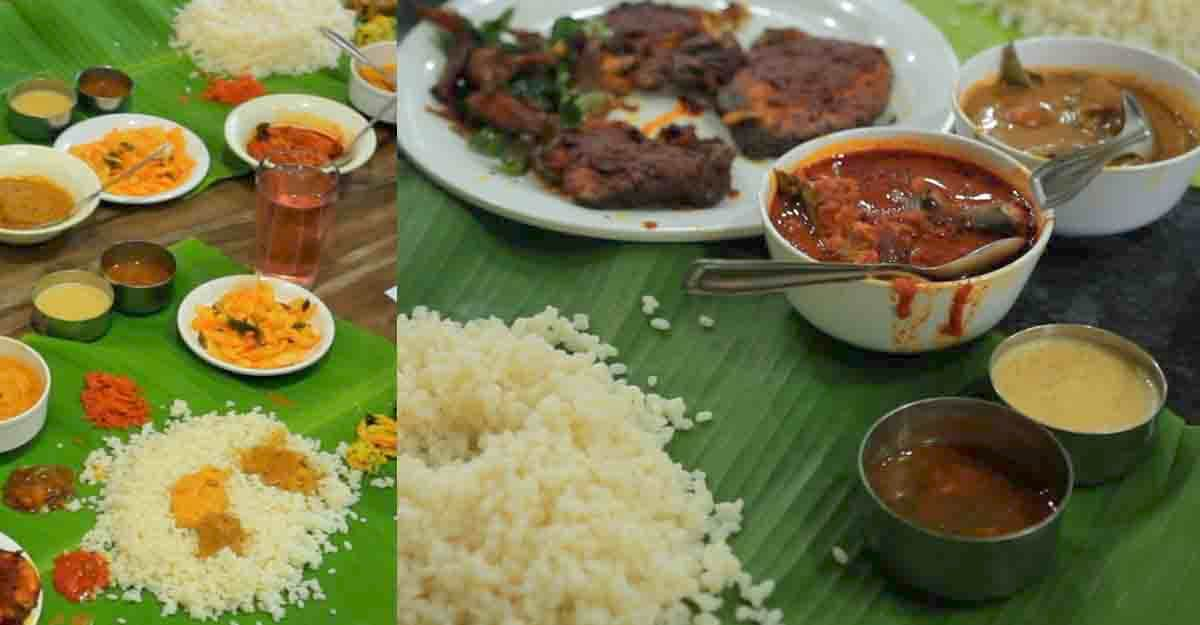 'Samudra sadya' may sound like an oxymoron given that sadya is the celebrated vegetarian feast of Kerala but Malayalis are not averse to experiment especially when it comes to food. A non-vegetarian version of sadya is not a new thing for people in northern Kerala but samudra sadya stands apart with its niche appeal to seafood lovers.
Samudra sadya can be translated to 'sea feast' and it is exactly what it sounds like – a feast of seafood on your platter.
The ultimate samudra sadya
You can find this unique sadya in a few restaurants in Kerala but Ambika Hotel in Malabar's food capital Kozhikode serves 18 seafood delicacies to make it the ultimate one out there.
Served only on weekends (Saturday and Sunday), samudra sadya at Ambika is popular even beyond Kozhikode.
The 18 dishes are not just your regular fish or prawn curries but well-thought recipes which are prepared giving a 'fishy' twist to the usual sadya items.
You will get 'aviyal,' 'sambar,' 'rasam,' 'thoran,' 'puli inji,' and even 'achaar' but all with a unique flavour of the sea.
Sambar becomes 'meen sambar' and rasam becomes 'crab rasam' at Ambika Hotel.
Even the beloved pappadam is tossed in spicy prawns powder and given a new avatar.
The samudra menu
If you are curious to know all 18 items on Ambika Hotel's samudra sadya menu, here's the list for you:
• Meen molugu (fish & chilli curry)
• Coconut milk fish curry 
• Kerala-style fish curry
• Meen uperi or fish/prawns stir fry
• Fish thoran is prepared with mathi (sardines) and kappa (tapioca) 
• Fish puli inji
• Fish pappadam
• Meen achar aka mango pickle with a fish twist
• Crab rasam
• Prawns sambar
• Squid aviyal
• Chemmeen or prawns uperi
• Prawns chamamthi
• Unakkal (dry fish)
• Koonthal or squid roast
• Meen koottukari
• Ayikora fish fry
• Small fish fry
Packed like sardines
If you think they went overboard with all the varieties, you probably don't belong here. But there are enough curious foodies and regulars at Ambika who make a beeline to taste this feast. Bookings are very popular and others come in hours early to get a seat.
Tip: Parking space is very limited here so park nearby and walk to the hotel, if possible.
The dining space is abuzz with happy faces on weekends. Hotel's owner Sagil himself makes sure that the service is up to the mark and everyone goes home with a satiated appetite.
You can visit here for the regular meals as well, but you will be drowned in the scent of fish and prawn dishes.