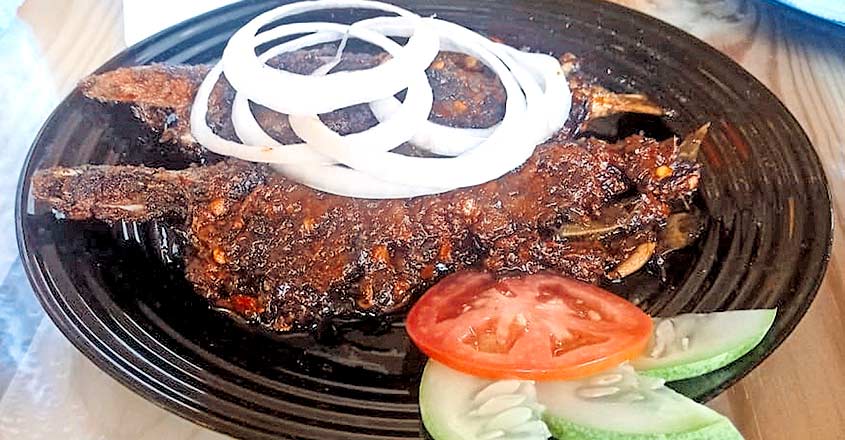 If you are looking to enjoy an extravagant thali meal that celebrates seafood, then head to Lucamo Resto Café at Thumbakadavu Bridge Road in Aluva Thuruthu. From prawns and pearl spots to fresh mackerels and sardines, you could experience and enjoy the real flavour of the coast. Besides the seafood dishes, the thali meals include regular dishes like sambar, kaalan, rasam, long beans stir fry and payasam for dessert.
Ayala ammapori, which is their speciality, is a unique dish prepared by dressing fried mackerels in a spicy and sour masala. The final masala dressing would be freshly done only on orders. There would be two large masala coated fried mackerels in a plate of ayala ammapori. Meanwhile, the karimeen pollichathu or baked pearl spot has a good hit of pepper that is incredibly delicious. Creamy coconut milk is added into the black pepper masala to make the marinade extra special. The pearl spot marinated in this flavoursome masala is wrapped in a plantain leaf and then baked to perfection. Deep fried clams and prawns fry roast too have many takers. Fried prawns are sautéed in a tasty masala mix made of ginger, onions, tamarind, chillies and their special masala powders.
Fish curry with thick, creamy coconut based gravy too is served with piping hot rice. All these dishes are served in earthen plates which enhance the flavour and aroma of the food. Thick and delicious wheat payasam is the perfect dessert to end this sumptuous feast on a sweet note.