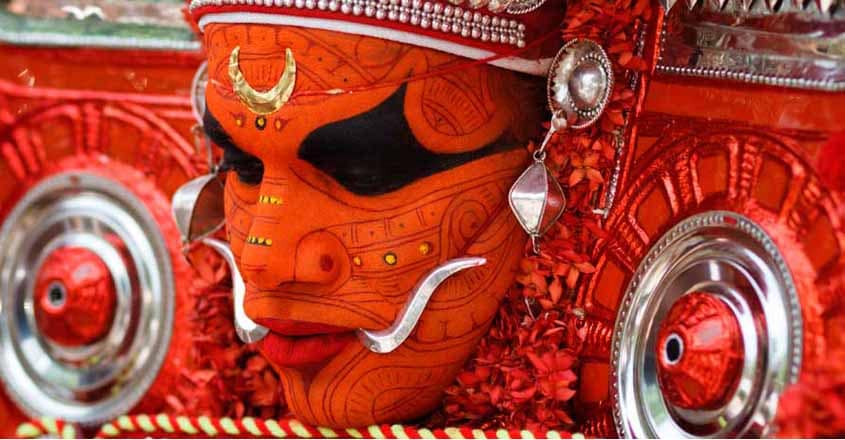 The northern part of Kerala is all ready for 'Theyyams' as the month of Thulam commences. Theyyam deities offering the bemoaners the holy 'kanakarathna' powder will now be a usual sight in villages. The honour given to these multi-faceted human gods by the villagers is very high and such staunch is their worship too.

This art ritual portrays many gods like Vishnu, Shiva, Chamundi and so on in all their divine vigour before thousands of believers.
From the invocation of a single performer to a mass performance of about 100 Theyyams known as Perumkaliyattam will happen this year in the land of Malabar. Different variants of the same deity are presented in different places; like the Theechamundi performance of Kannur is popular as Vishnumurthy in the Kasaragod district.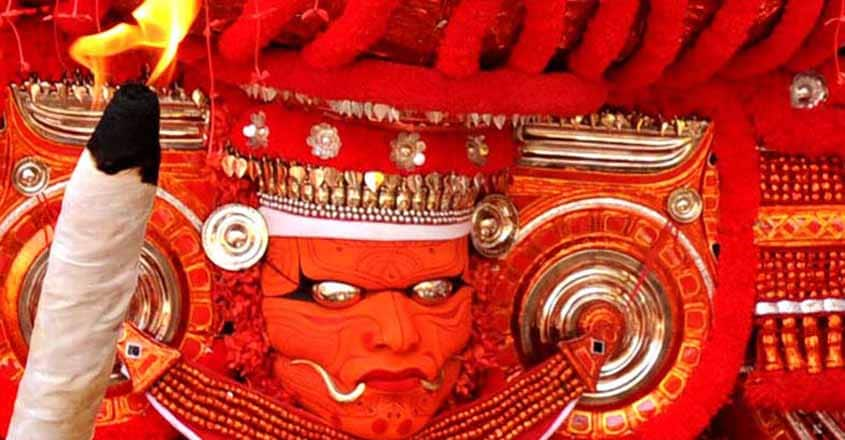 The Vishnumurthy who jumps into the blazing pyre, clad in leaves, is the favourite deity of the north. Of the deities portraying the emotion 'anger,' the important ones are Parammelamma, Madayi Chamundi, and Karinchamundi. And it is believed that the Parammelamma theyyam performed in places like Chanadukkathu and Chalukunnu colony in Kayyur-Cheemeni panchayat should not be watched by women. On the other hand, when the same Theyyam performs in Naalukunnu colony, only women are allowed to watch. However, women not from the region are forbidden from watching the same.
The fire of belief
The amount of pain a theyyam dancer undergoes is enormous while performing in both belief and worship. It is said that a person portraying Vishnumurthy as an Otakkolam looses one year from his life span as he jumps into the fire 101 times during the course of his performance.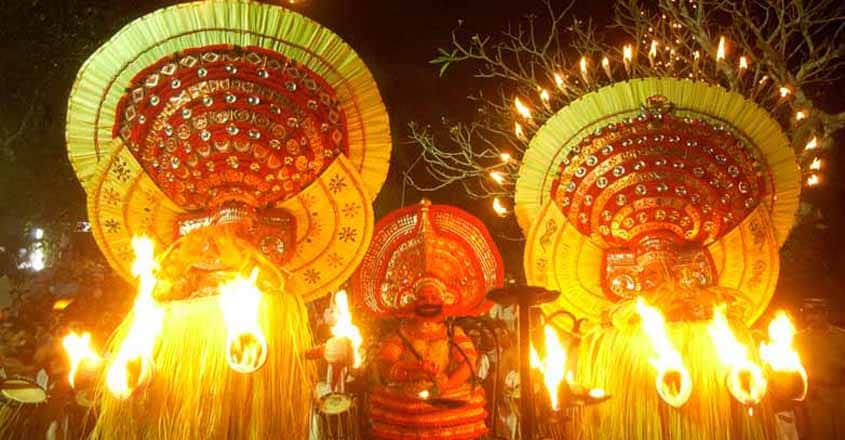 Chronic back pain and problems with the eye sight are often talked about issues among theyyam artists. But the payment given to the artists during the season remains meagre.
The artists who give their life and energy to safeguard the beliefs of many are not cared for themselves. Performers enacting deities like Vishnumurthy, Chamundesswari, and Gulikan who jumps into the fire, are entitled to only Rs 18,000. A group of 16 artists are required to perform an Otakkolam and the artists who plays chenda and other instruments are to be paid Rs 2000 out of the Rs 18,000.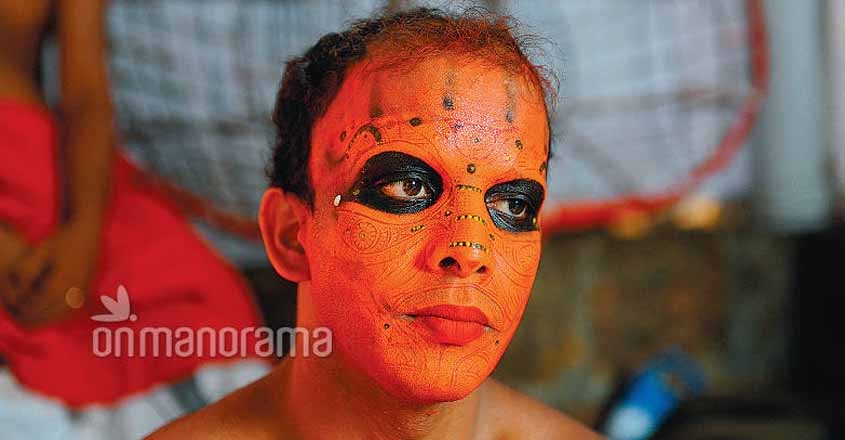 After giving away all the shares, only a little amount is left with the theyyam performer. Irrespective of all his hardships, his responsibility towards the worshipping community keeps the cult alive.
People who spend lavishly on celebrations in connection with Kaliyattam end up ignoring the pain of these artists.
Entry of the youth
The avid presence of youth in this cult is a new hope. Young people playing bigger roles like Theechamundi is becoming an often sight. One-fourth of the youngsters who have come into the art have already been recognised by the authority as Panikkars.
Yadu Krishnan, a second-year graduation student in Kanjangad Nehru College received the fellowship from the department of cultural affairs, Government of Kerala this year.