This is the idyllic place where the sky romances with the rain. The refreshing zephyr and the rock that resembles the head of an eagle are reflections of nature's charming beauty. The mystical mist and rains give that perfect touch to Parunthumpara (literally meaning eagle rock) at Peeramedu panchayat in Idukki district which is a traveller's delight, to say the least.
At times, the most sought-after tourist spots such as Kodaikanal in Tamil Nadu and Munnar in Kerala will pale before this mesmerizing small hill station. Travel 2 kms on the Kottayam-Kumily road from Peeramedu, take a right turn and drive for another 3 kms and you are in the arms of Parunthumpara, which is 4,700 feet above sea level.
Death Valley
Parunthumpara was earlier known as 'Sambra kokka'. The local people changed the nomenclature to Parunthumpara as they thought that 'Sambra Kokka' lacked the requisite pomposity. But one of the milestones reveals hill station's another name - the Death Valley. The deep valleys, meadows and undulating hills always had stories of riddle wrapped in mystery.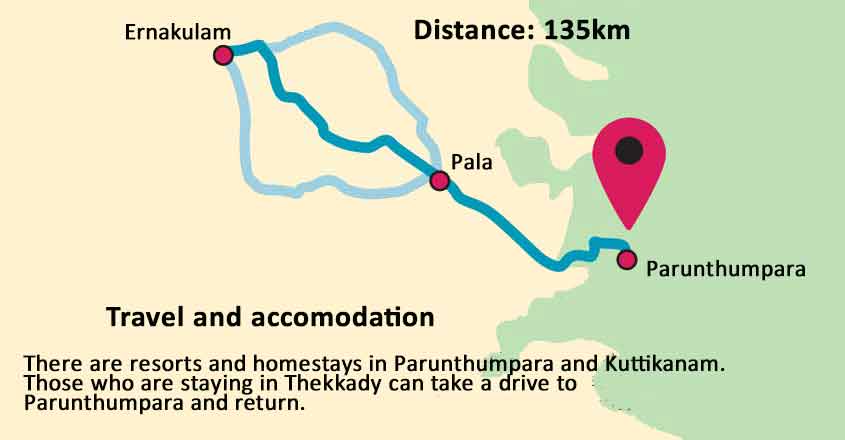 The main attraction of Parunthumpara is the 'Suicide point', and many people had killed themselves there. The Peeramedu panchayat erected fences around the point after two people, years ago, jumped from the cliff with many onlookers around. The authorities also built a walkway for the tourists to soak in the scenic beauty of Parunthumpara.
Going by the positive changes at Parunthumpara, it seems that Peeramedu is God's own panchayat. The soothing sight of mist caressing the rocks and slowly enveloping the hill is bewitching and something unique to Parunthumpara.
One should spend at least half a day or a night to get a ringside view of this enchanting hill station. But unfortunately many tourists travelling to the more popular Thekkady don't take a de tour to Parunthumpara for the simple reason that they don't know such a beautiful place exists on the way. Those staying in Thekkady and Kuttikanam can reach Parunthumpara in one hour's drive.