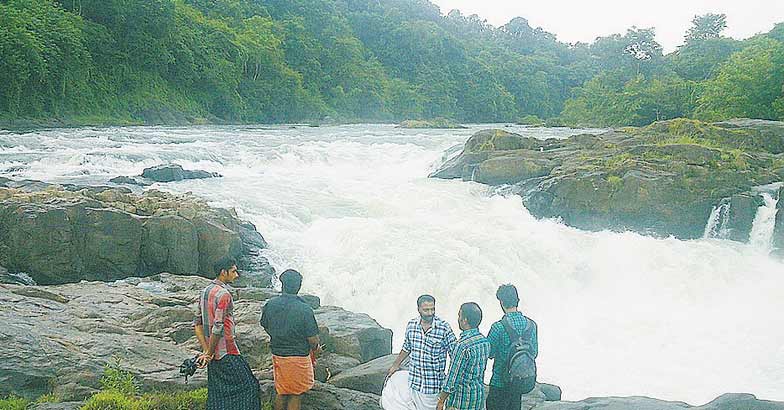 The wind carried the sound of water cascading down the rocks from a distance. Perumthenaruvi, was brimming after the rain; and down the waterfall.
Perumthenaruvi meanders through the villages of Vechuchira-Naranammoozhi in Ranni, Pathanamthitta. It takes on a different dimension once it reaches Edathikavu Kayam. From there the river cascades down through a series of small waterfalls and finally takes an almost 60ft plunge at Perumthenaruvi Waterfalls.
The reserve forest on the other bank adds to the lush greenery. The DTPC has plans for setting up cottages at Perumthenaruvi.
Perumthenaruvi will enthrall you. Lure you. However it is advisable to exercise caution while here. The rocks are slippery and during the rains the currents are strong too.
There are two ways to reach Perumthenaruvi. You can drive up to Mokkuttuthara and Chathanthara or from Vechuchira through Navodaya; both roughly 10 Kms from Erumeli.
Important
There are no restaurants at Perumthenaruvi now, it is ideal to carry food if you are planning a picnic.